This summer, take the time to slow down and enjoy nature. The Upper Peninsula of Michigan is simply brimming with outdoor adventures. For the uninitiated, Marquette, the largest city in the UP, might just be the retreat you're looking for to indulge in craft brews and food locally sourced and made with love.
Call it a trip for nature and craft enthusiasts — craft being defined as embracing food and beer-making as an art form. In Marquette, a collection of eateries boasts dishes with creative flair. The town, with a population of less than 25,000, hosts a tight-knit community with a, as one would anticipate, simpler and quieter way of living and darn good food and drink.
Not only is visiting this Lake Superior waterfront town a trip, but Marquette is also within a short drive of numerous day trips worth planning. 
So, whether you're spending the day hiking Sugarloaf Mountain to capture views beyond belief or kayaking Lake Superior, when it's time to eat breakfast, lunch or dinner, you'll quickly discover that the food scene in Marquette doesn't disappoint.
Here, the Yoopers — a play on saying UP and what the natives proudly call themselves — take pride in brewing arguably Michigan's best craft beer. Breweries are fun and laid back and local musicians are known to turn up and play.
Marquette is situated along a stretch of Lake Superior to the north and pine forests to the south. The pace begs you to slow down, with good reason. You'll want to soak in the local sights and flavors.
Fun fact. Yoopers eat pasties, a local take on the English savory hand pie filled with meat and potatoes. It's hearty good food that energizes for the day, ideal for fueling up before or after outdoor activities.
The pristine UP has a lively cultural scene, with a calendar of summer events suitable for families. Here are some suggestions of where to eat, drink and explore summer happenings.  
Delft Bistro
Eat UP
Breakfast, lunch or dinner, choose from more than a dozen restaurants with outdoor and patio seating. Fuel up for your ride, hike or swim with local food that's fresh and delicious.
Donckers is a popular fixture in downtown. In existence for 125 years, this local favorite is housed in a quaint building, where diners can see downtown views and enjoy creative cuisine such as a watermelon-feta salad and homemade decadent chocolates. There's also an ice cream shop for sweet, cold cones to go or eat on-site.
The Vierling Restaurant and Marquette Harbor Brewery is a neat eatery that hosts beer-battered fish fry on Friday nights. Whitefish or cod is served, and there's a wonderful view of Marquette's harbor. This charming historical restaurant serves American food, such as smoked whitefish and microbrews.
Opened just a few years ago, Iron Bay Restaurant and Drinkery has become a popular place to grab good grub and draft brews. The ambiance is warm and inviting. Built in 1872, this historical building used to be at the center of Marquette's once-thriving mining industry.
Portside Inn offers a casual pub-style place for lunch, dinner and drinks with a focus of made-from-scratch menu items. It's been a go-to locale since 1983.
BODEGA is a locals' slow-food movement kind of eatery where sustainability and good conversations are celebrated. Breakfast is a hit, serving "American fare with global flair."
Wherever you end up, expect food prepared from local sources, meats from local butchers, fresh whitefish caught from Lake Superior, and fruits and veggies, maple syrup and honey from nearby farms.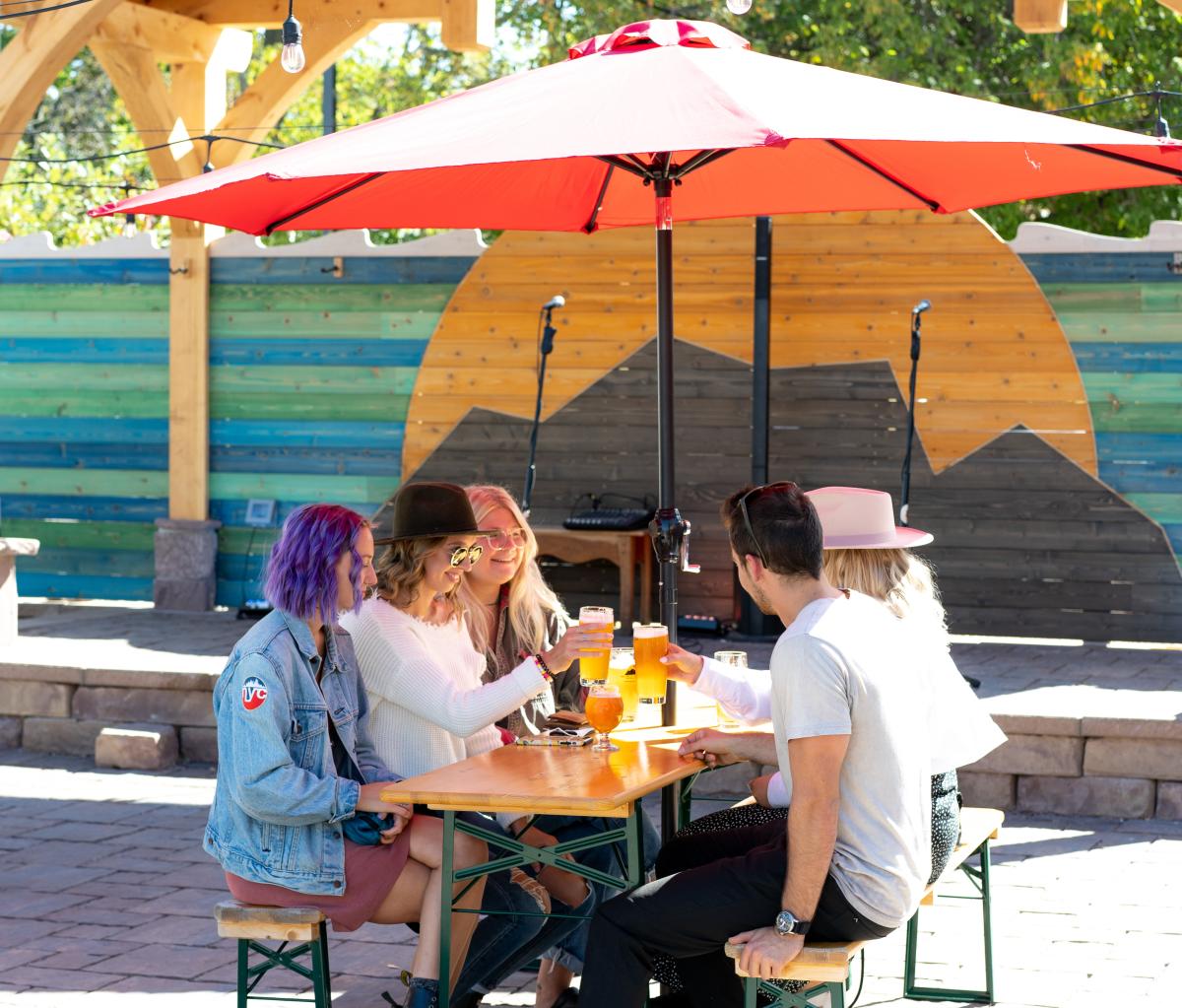 Blackrocks Brewery
Drink UP
Drinking is taken seriously among the locals. That's why craft breweries are a major part of the town's culture. Plus, it's fun to wind down, listen to music and chat among friends over a seriously good brew. 
Blackrocks Brewery is a microbrewery with a stage for live music and extensive outdoor seating boasting a casual and cozy atmosphere with fire pits.
Ore Dock Brewing Co. is all about craft. Housed in an 1864-built two-story building, Ore Dock uses traditional brewing processes with premium ingredients in each beer crafted. Belgian, English, American ale — take your pick.
With ten rotating taps, there is always something new to try at Superior Culture. This taproom and tea house serves hard kombucha, cider, specialty seltzer, mead made with UP wild honey and more. Grab a flight if you're into variety.
U.P. Fall Beer Fest
Summer 2021 events
Summer is a glorious time to get outside. Check out these summer events to keep you entertained. For a full list of annual events in Marquette, visit here.
Farmers Market
June-Mid December
The Downtown Marquette Farmers Market occurs every Wednesday evening through Sept. 15, 2021, from 5:00 p.m. to 7:00 p.m. and every Saturday through Oct. 30 from 9:00 a.m. to 1 p.m.
First Thursdays Art Walk
Started June 6
First Thursdays are a monthly art stroll where art galleries, studios and creative spaces in the city of Marquette come together to put on a series of fun events utilizing their space and creating an "Art Crawl." There will be a map created by Marquette's Art and Culture Center of all the creative spaces involved in this event that you can follow along on your art stroll. The art walk will continue each first Thursday of the month through Oct. 7.
Saturday, August 21
If you're into classics, you won't want to miss this. Get down to downtown Marquette for Classic Cars on Third to enjoy the large display of unique cars lining the Third Street Corridor. If you're interested in showing a car, registration is just $5, including day-of-registration. The show takes place from 10:00 a.m. to 4:00 p.m., with awards at 3:00 p.m.
September 3-5
This festival features world-class blues performers, dancing, artist workshops, local food vendors, craft brews and more.
Saturday, September 11
Taking place at the scenic Mattson Lower Harbor Park overlooking Lake Superior, attendees can choose from 600 craft beers from 80 different Michigan breweries. Local food will be served. The event features a lineup of musicians.

While this list by no means covers all of what there is to eat, drink and do in Marquette, we hope it serves as a handy launching point for your travels. And, of course, you'll want to snap up a few photos during your time in Marquette. Click here for a curated guide of the Most Instagram-able Spots in Marquette and Family-friendly Hikes. You'll be glad you did.