A Four Paw Adventure
There is nothing quite like spending the entire day with your best four-legged friend. Just you and your furry pal, out on the trails, strolling along the beach, then stopping somewhere for a bite to eat—somewhere your fuzzy buddy doesn't have to wait in the car. Lucky for you, there is an abundance of places where both you and your pup will be welcome in Marquette, from comfortable pet-friendly hotels, motels, cabins, and campgrounds, to cozy coffee shops and brewery patios, to our scenic parks, beaches and trails. 
M O R N I N G

Third Street Bagel, Marquette
Fuel up for Fun
Start your morning at Third Street Bagel where sidewalk seating provides a great opportunity for you and your pup to people watch and take in the neighborhood scene. Fuel up for a day of adventures together with a breakfast bagel sandwich for you and a dog biscuit and pup-acinno for your bestie. 

NTN Trails, Marquette
Tails and Trails
Then, shift into four-paw drive and hit the trails. The Noquemanon Trail Network offers more than 30 miles of peaceful, wooded trails for non-motorized use. The mostly easy-to-intermediate well-marked network of singletrack is a perfect spot to hike with your pup and—bonus—even includes a waterfall. With plenty of parking and easy access, Wright Street Falls is the perfect spot to stop and explore and have a tail-waggin' good time. 
If you are both still feeling ambitious, and looking for a different perspective, head a bit further north to Sugarloaf Mountain. This half-mile climb on mostly stairs will reward you with 360-degree views. 
A F T E R N O O N

Iron Bay, Marquette
Burgers with Your Bud
After all that exercise, you and your pup have surely worked up an appetite. Head back into town for burgers—or Whitefish—with your bud at Iron Bay Restaurant and Drinkery. They offer a hitching station out front with water bowls and bacon strips to keep your pup occupied while you dig into their Iron Ore or Foundry Burger with black pepper fries, or Superior Whitefish Tacos.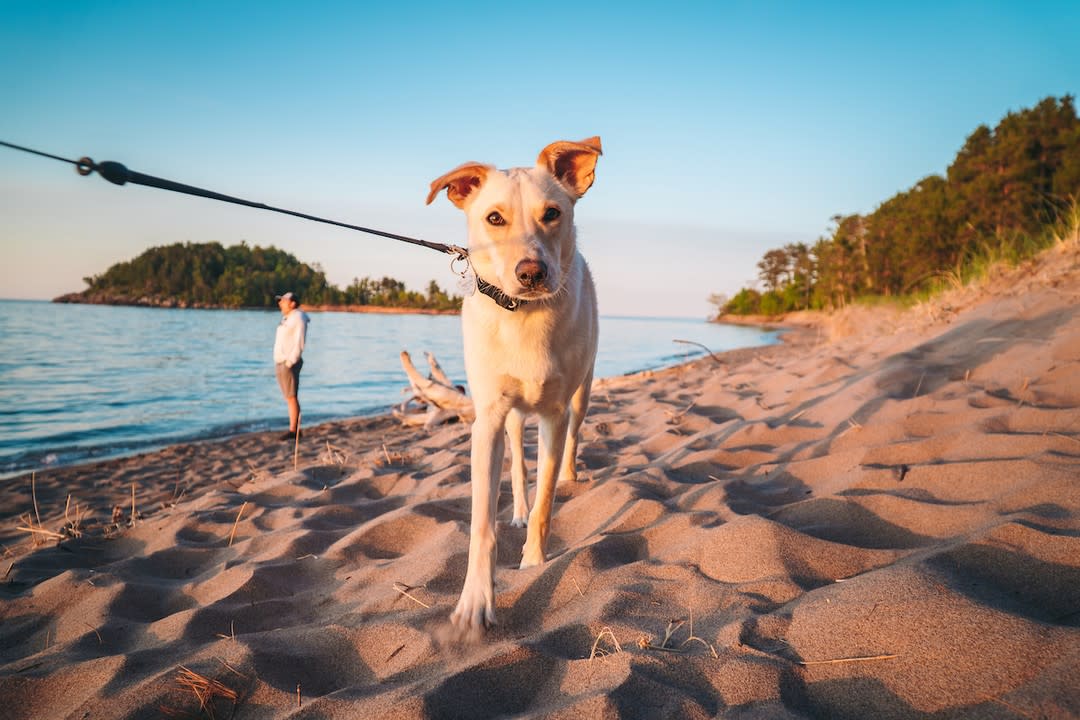 Photo Courtesy of @TheMittenMutt
Paws in the Sand
After lunch, head down to South Beach, a long, wide stretch of sand that's perfect for letting your playful pup dash in and out of the shallow water at top speed. Bring a blanket or folding chair and choose a spot on the sand and take in the impressive views of the Lake Superior horizon. 
 
E V E N I N G

Photo Courtesy of @Alexisraeabbott
Brews and snooze 
By now, Fido might be ready for a rest. And you probably are too. Thankfully, Marquette has plenty of pet-friendly breweries and wine bars where both you and your pup can sit and sip and wind down from your adventures. Stroll on over to Drifa Brewing Company, just steps from the beach, where they have a dog-friendly outdoor patio and grassy area, and order up a Lower Harbor Light, or one of their other delicious beers as you take in the view. Or head down to Zephyr Wine Bar for a charcuterie plate and glass of vino, while Fido (hopefully!) rests at your feet. 
Doggy Do's and Don'ts 
Do:
Don't:

Keep your pup on a leash in public

Pick up after your pooch 

Ensure vaccines are up-to-date before vacation

Let your dog explore off-trail/off-leash

Ignore city laws and signage

Forget to bring your pooch's shot records