In the past week since first dining at Steinhaus Market, a local full-service deli, I've been fighting what feels like a losing a battle. Can I continue to explore the diverse dining options around Marquette County with an open mind or do I just give up now and declare Steinhaus Market my absolute favorite dining experience? Steinhaus Market makes their own sausages, cures their own meat, and serves sinus-clearing mustards made right in the kitchen. And then there's the pastries that, well, just abandon your gluten-free lifestyle for the evening.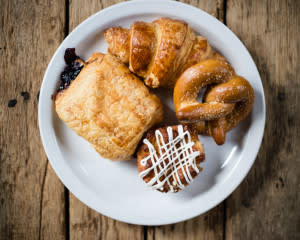 More than a neighborhood deli, the Market beckons you to take a seat with your meal. If you're not familiar with the deli-food beyond Oscar Mayer, you'll soon find out that it makes you happy, a sentiment heard echoed from table after table over the course of our 3-hour dining experience. I arrived for dinner with a good friend, and was immediately greeted by the radiant staff at the door. These ladies set the pace for our evening with the kind of smiles on their faces that old friends give while welcoming a family for dinner. Once inside, that notion of pride was immediately understood. We entered into the middle of what one patron described as the "Steinhaus Market Showroom." It's the front portion of the deli holding all of their retail gold. My eyes darted around the room, over the delicate Austrian wafer cookies, Manner, and jars of fermented foods. Standing on the poured concrete floor, I tried to downplay my excitement, but there was no way to subdue the 6-year old boy coming alive in me as I touched each countertop and examined the contents of every cooler, rack, and shelf. I've found the grown up place for kids who love candy stores, but here the sweets are actually bottles of wine, cornichons, and pounds upon pounds of house-made sausages. Because there are no full walls separating the kitchen from the dining room, the deli feels very personal, it's like you're in a relative's kitchen before a family meal. The portions are big enough to be grandmother's too, but they're made by two muscular bearded men waiting behind the grill. I smiled and nodded at them, a sign of my upcoming order. They nodded back, donned aprons,  and took metal spatulas in hand.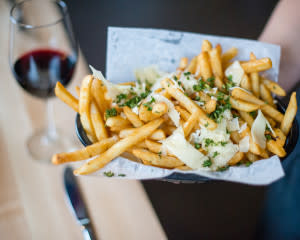 First from the kitchen to accompany our drinks were Black Truffle Parmesan Fries. Hot and fresh, not-too-thinly sliced french fried potatoes topped with thick, half-curled pillow-like shavings of parmesan cheese and black truffle oil. These are the fries that I thought only existed in my college memories of Belgian street food. Between sips of beer and half-grunting conversation, my dinner partner and I could be seen shoveling these fries into our faces. We were shameless. We were happy. Our laughter grew louder and our appetites greater. After the fries, came our sandwiches. I ordered a medium Burger Deluxe with a fried "shroom bomb" added for good measure. Crowned with lettuce, bacon, tomato, thin slivery red onions, mayo and pickles and the best pickles I have ever tasted, this burger has become my standard for all other burgers. Although it was a lot of burger, everything came together to create pure magic on my plate. In fact, the burger was so large I found myself standing during those first few bites, feeling that a defensive stance was needed so as to not allow the burger to overtake me.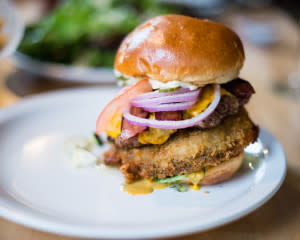 Pure and simple, Steinhaus Market is an old-world German-style butcher shop and deli. Here, it's all about the food. Apart from some retail items, just about everything is made fresh in-house and the staff seemingly obsesses over every last detail until it's right. And with that comes a feeling of hard-earned pride that moves out from the kitchen, into each level of service, and finds its way to your table.   For More Info/Hours?Etc Click HERE -Words and Photos By Dominic M. Davis