When we first started talking about our low-key wedding, we had a few requirements: 
A Michigan destination we could visit annually on our anniversary
A place we could hike and explore
It must have a darn good brewery (we are beer lovers + my husband owns a brewery in Suttons Bay, Mi).
Marquette was always at the top of our list since neither of us had been there and we were big fans of Blackrocks Brewery. Once I did some research and stumbled upon the stunning historical courthouse in downtown Marquette, I knew we had found the place to elope.
From there, we planned our entire wedding from our Traverse City home. Honestly, it was pretty easy as the attendee list was small—as in just the two of us! Before you ask: our parents already gave us their blessings to elope, they were just happy we were finally tying the knot.
We arrived in Marquette on the evening before our wedding, a Wednesday. We decided to get married on Thursday, September 20, because it was cheaper and it worked out great for our schedule (this marriage thing is already off to a great start, eh?).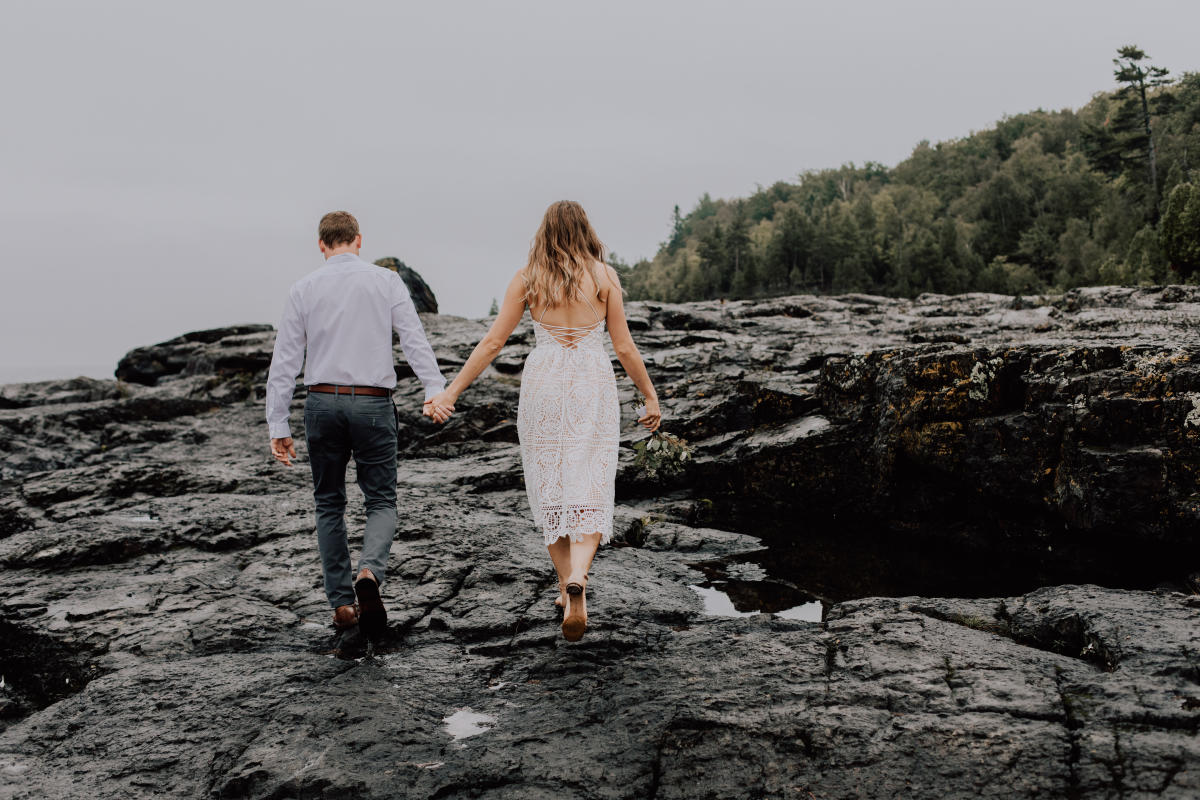 Our first stop in town was, of course, Blackrocks Brewery. Neither of us had pre-wedding jitters (likely because we didn't have 200 people ready to watch us tie the knot), so we shared a few beers and watched a band from the cozy space. Beer recommendation: Nordskye.
The next day was our wedding day! Our courthouse 'appointment' wasn't until 1 p.m. and we had some time to kill. First things first, bagel sandwiches from Third Street Bagel. No wedding diet here! 
Breakfast was solid fuel for hiking Sugarloaf Mountain—because nothing relaxes you before you take the most important vows of your life like a good hike. We climbed to the mountain's top and spent a few minutes surveying the city. We didn't have much time, but we vowed to come back and climb it year after year.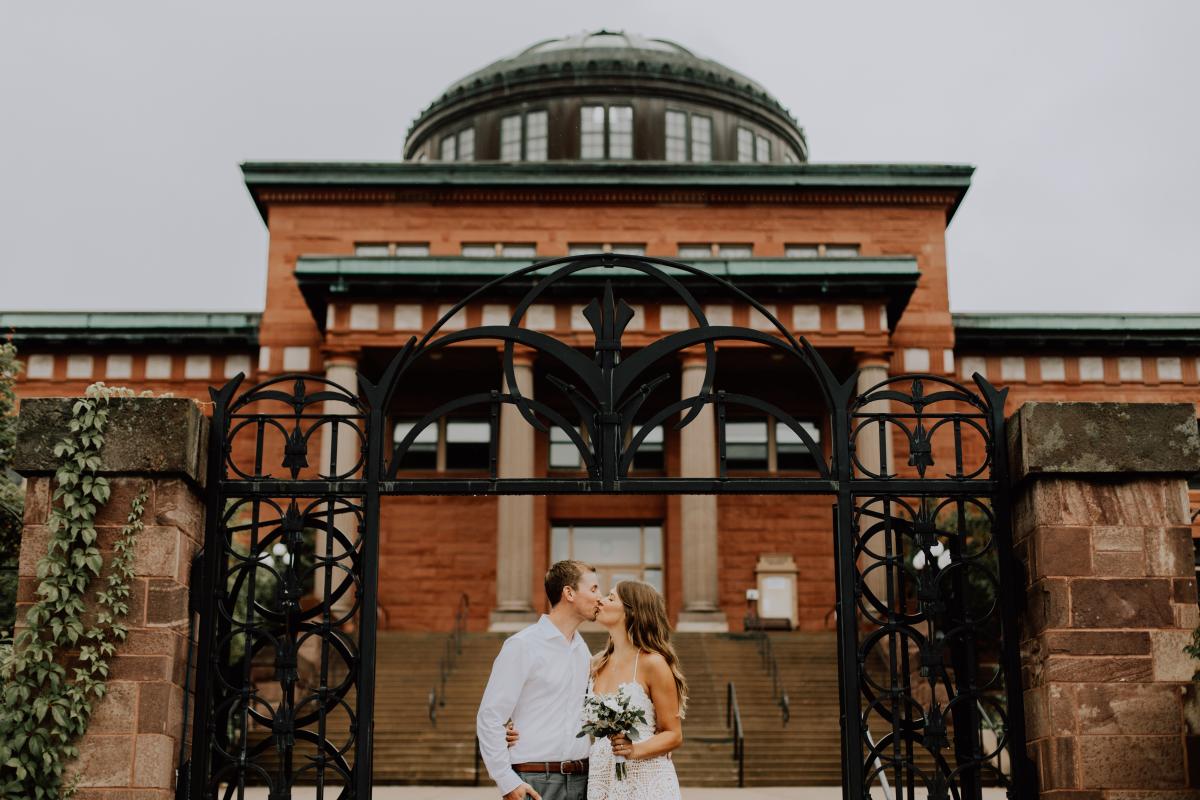 Back downtown Marquette, it was time to get down to business. We got into our wedding gear, picked up my bouquet from Northwoods Flora and headed to Presque Isle Park where we met our photographer, Katherine Jarvi, and her husband (coincidentally also our wedding witnesses!). At this point, the early fall weather caught up with us and it began to pour. (If I had a dollar for every time I heard, "Rain on your wedding day is good luck.") But my almost-husband and I didn't care. We posed for photos in the rain, scampered on the *actual* Black Rocks, chased each other through the forest and got completely soaked. Photo Op Alert: The Upper Harbor Ore Dock made a stunning backdrop with the grey skies and blue of Lake Superior.
We arrived at the Marquette County Courthouse early and were immediately floored by the beauty—wall-to-wall marble, solid oak. We paid our $10 marriage ceremony fee(!) and headed into the courtroom. Again, our breath was taken away. The stained-glass dome and high ceilings were incredible. In the end, we were married. Yay!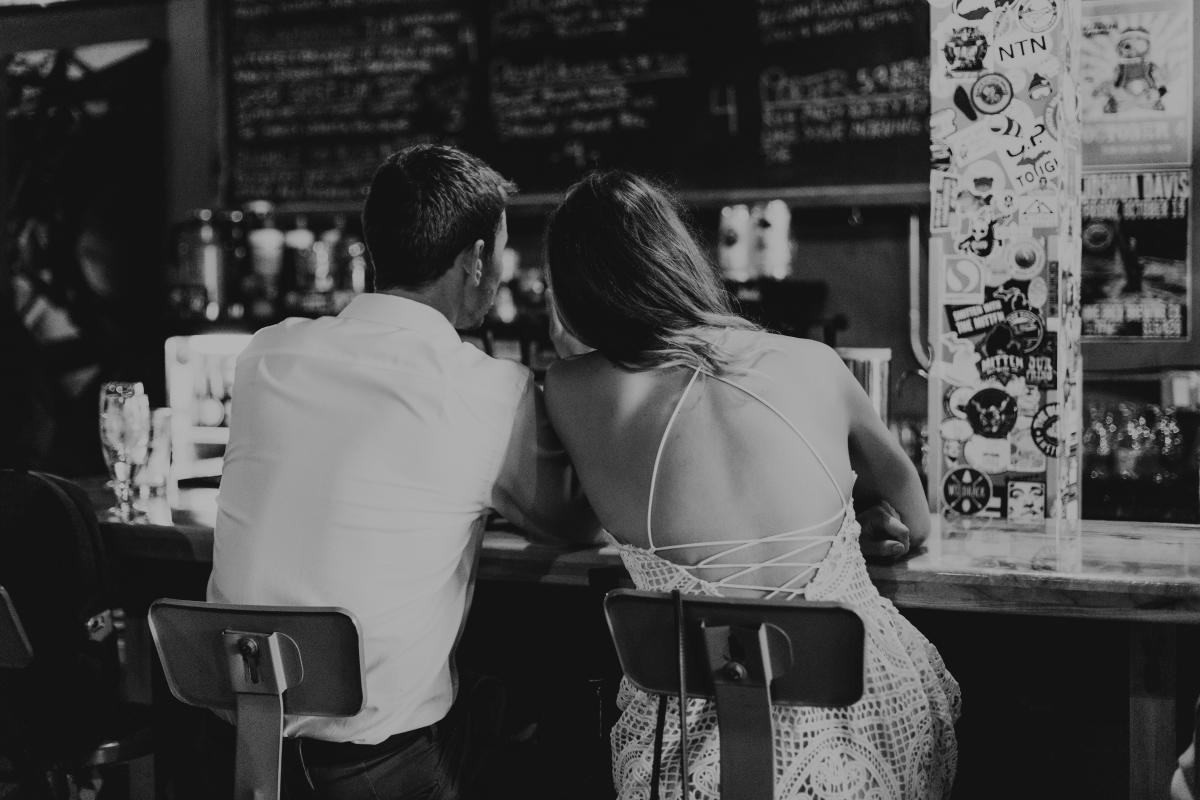 Following the ceremony, it was time to celebrate. Just steps (as in 500 feet) from the courthouse gate sits Ore Dock Brewing Company. We headed in and appropriately ordered two "I Do PAs" and called our parents to let them know we are officially husband and wife. Later on, we wrapped up our magical day at the Steinhaus (still in our wedding attire!) where we slurped huge steins of German beer and dove into the Wurst Plate and Wiener Schnitzel. 
The next day, before departing on our mini-moon to Pictured Rocks National Lakeshore, we strolled along Washington and Front streets and peeked into some shops for wedding souvenirs. We came away with a charming print of the Lower Harbor Ore Dock and also found a hand-painted ornament with the courthouse to commemorate our special day. 
As we drove off, we were filled with gratitude to the city that started the first day of the rest of our lives together. We already can't wait for our first-anniversary trip to explore more of Marquette's restaurant scene and stay a few nights in one of the city's unique hotels.
All images by Katherine Jarvi Photography