Winter is a magical time for outdoor adventure in Marquette, if you know how to do it right. Experience the quiet solitude of snow-covered woods, or the exhilaration of the wind in your face as you race down the slopes.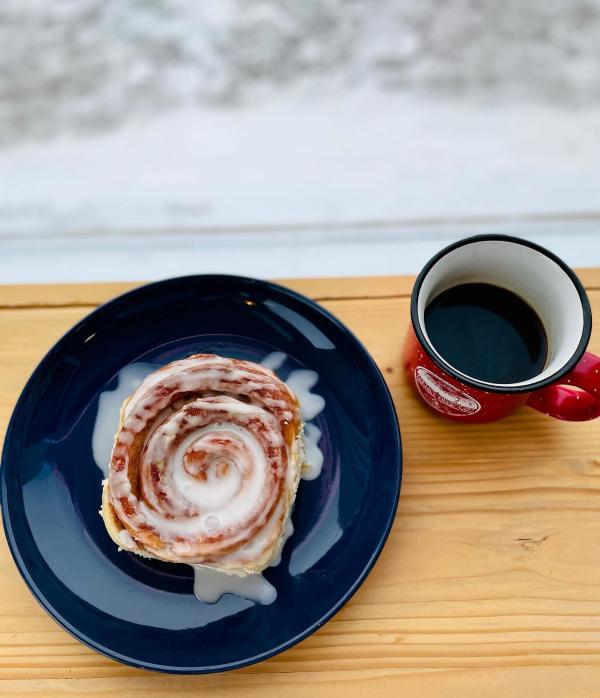 WARM UP FOR ADVENTURE
Start your day at Trenary Toast Cafe, famous for the bakery of the same name and their authentic Finnish Dunk- ing Toast, sold in brown paper bags in supermarkets throughout the Midwest. Dig into one of the cafe's melty, open-faced breakfast sammies on homemade bread and you'll be fueled up for a day of adventure in the Northwoods. Grab a Gingerbread latte or Toasted Marshmal- low cappuccino to warm you up from the inside out and head out into chilly sunshine to explore.
YOUR OWN POLAR ROLL
A fresh dusting of snow just beckons you to go out and play in it and what better way to explore than on two wheels. If you have never experienced fat-tire biking in the snow, Marquette is the perfect place to try it with 60 miles of trails and several gear rental places in town. Plus, there's nothing more peaceful than biking through a snowy forest and around icy streams with nothing but the quiet whisper of winter to accompany you.
COME IN FROM THE COLD
Warm up by the fireplace at Third Street Bagel and sit down for a stacked bagel sammie on your choice of bagel or gluten-free bread. With its cozy atmosphere and window on the world, you'll want to relax and stay awhile and watch the snow fall, but more adventure awaits.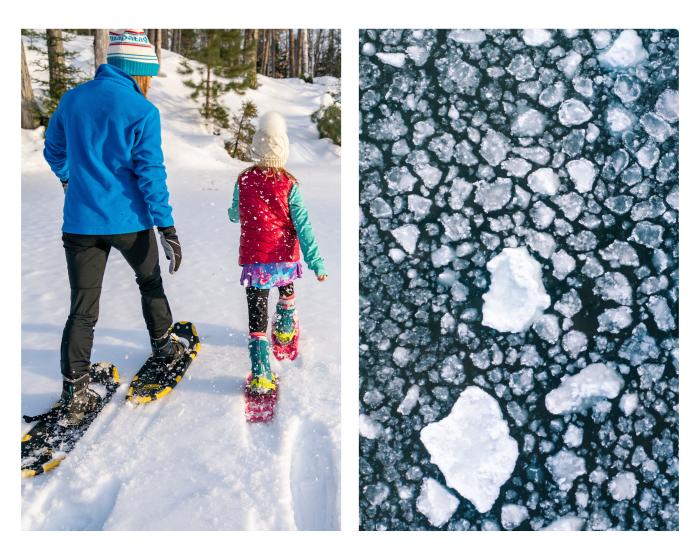 SNOWSHOE STOMP
Work off those carbs with a snowshoe hike through snow-covered pines. Crunch along a shore blanketed with snow and marvel over the ice formations on the driftwood and rocks on the Little Presque Isle trail. If the conditions are right, look for "ice pancakes" on the lake. For a longer leg stretch, head out to Wetmore or Harlow Lake Area Trails to discover a winter wonderland of snow-draped pines and icy inlets just waiting to be explored.
CULINARY REWARD
Head to Lagniappe, Marquette's authentic Cajun eatery, for some crawfish étouffée or shrimp creole for a hearty winter dinner or tuck into some schnitzel, sauerbraten, or a wurst plate at the Steinhaus. You'll leave satisfied and fortified to brave the slopes for your next adventure.
APRES-DINNER SKI
Keep it moving with a downhill dash under the lights at Marquette Mountain. With 20+ well-groomed runs on 170 acres of terrain—and 650 vertical feet—this mountain is a blast to explore.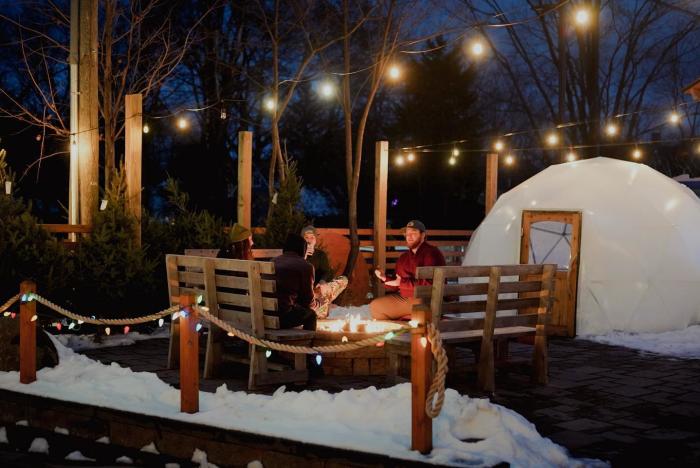 WIND DOWN WITH A NIGHTCAP
Cap off your evening with a toast to your day full of winter adventures at a local brewery where you can swap stories of your triumphs and tribulations over a pint of local ale or hard cider. With nearly a dozen breweries to choose from—and even a kombucha house!—the toughest decision will be deciding where to go. Blackrocks Brewery is a popular in-town spot with cozy vibes and fire pits to keep warm while you sip your pint.