Marquette MI, Waterfalls
Are you looking for an outdoor adventure? How about chasing waterfalls? With vast natural forests and pristine lakes, Marquette County is home to many natural wonders, including an array of waterfalls. With options for everyone, here is a quick list to get your adventure started.
Great Trips For Beginners
Wright Street Falls
If there were a difficulty rating for Marquette waterfall access, Wright Street Falls would be the bunny hill. Located just a ten-minute drive from downtown, these falls are easy to access and beautiful to explore.
To get to the falls make your way west of town on Wright Street. Shortly after passing the Board of Light and Power on your right side, you'll come to a dirt parking lot. You can either park here and walk a short distance along the river trail, or find parking in a smaller lot directly next to the falls a little further down the road.
These falls sit in the middle of an extensive network of trails known as the Noquemanon North Trail Network. These are non-motorized, multi-use trails that are popular for biking and hiking.
Cataract Dam Falls
Along the Middle Branch Escanaba River, you'll find an easy trail that leads to Cataract Dam Falls, located three miles from Gwinn. Though the trail may be difficult to find, it is best to trail the river until you get to a big sandy bend. The waterfall is also a great fishing spot for bluegill, perch, and bass.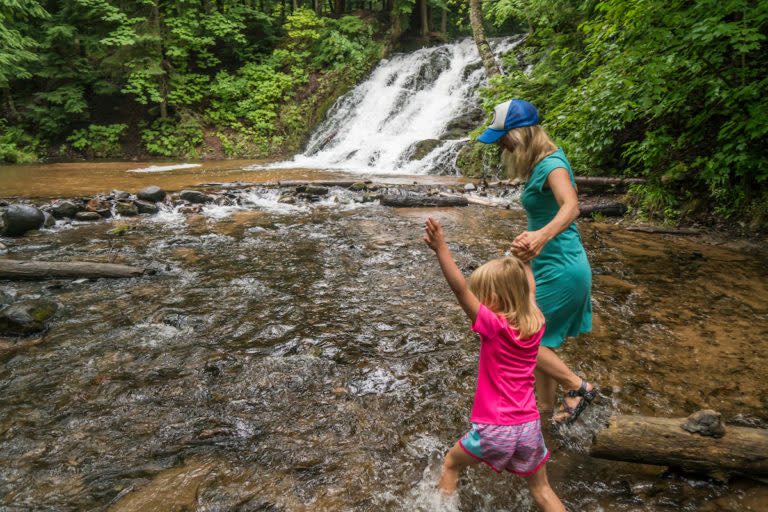 MORGAN CREEK FALLS
Mt. Marquette Rd, Marquette, MI
Level of Difficulty: Intermediate
Family-friendly
Dog-friendly
Note: Mt. Marquette Rd. closed to motorized traffic.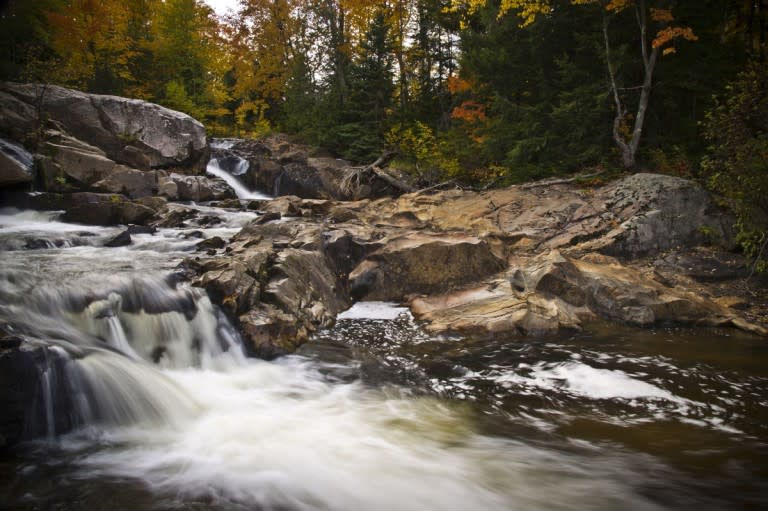 YELLOW DOG RIVER FALLS
Level of Difficulty: Easy
Family-friendly
Pet-friendly
4WD Recommended
Morgan Falls
Morgan Falls is a relatively easy 2.8-mile trail just outside of the city of Marquette and features a short decline to the falls perfect for a leisurely hike. This trail is also dog-friendly, though pets must be on a leash at all times per state law. 
To get to Morgan Falls you will travel south of town on M-553. Right before passing the sign for Rippling River Resort, you will come to a large dirt parking lot on your left. This is the Noquemanon Trail Network South Trailhead and is where you have to park. Do NOT park on the dirt shoulder on the right side of the highway, this is not allowed and is dangerous with the short sight distance and high speed of traffic. 
After parking at the NTN South Trailhead, you can follow the trail from the parking lot that takes you south to a designated highway crossing and allows those who cross, either on bike or by foot, much longer and safer sight lines for traffic in both directions. Once across M-553, take the path that leads to Mount Marquette Road. This is closed to motorized traffic but is open for bikers and hikers to use. 
Walk the road for approximately 1.5 miles. You'll be able to hear the waterfall from the road — just follow the path down, cross the wooden footbridge and you'll see the 20-foot falls (and a large pool) just below you.
Yellow Dog Falls
20 miles outside of Marquette, Yellow Dog Falls is well worth the car ride, and once you get to the trailhead, the falls aren't that far. Named for the main drop on the Yellow Dog River, these falls are as fun to hike to as they are to watch—featuring over 7 drops of varying distances within a mile-long walk.
The drive to the falls begins by heading towards Big Bay and CR 550. Just before Big Bay, turn left onto CR 510 and drive seven miles, be sure to continue on 510 by turning left at the intersection of AAA Road.
After crossing the Yellow Dog River bridge, park on the left side in the small parking area, and follow the trail about 3/4 of a mile downstream to the 20-foot falls. For a longer and more adventurous hike, keep following the river another 1.5 miles downstream to Bushy Creek Falls — an equally awesome, multi-tiered fall that also offers good brook trout fishing in its pools. The Yellow Dog River in general drops very fast over a small distance before emptying into Lake Independence, so if you're heading that way and have a whole day to spend exploring, be sure to look into the many other small falls in the area.
Pinnacle Falls
As long as you're heading up to the Yellow Dog Falls, a lesser-known trail worth a visit is Pinnacle Falls. Take 510 Road south from County Road 550, for about 3 miles to the AAA Road. Turn west and travel for about 5.5 miles to Pinnacle trail on the left. Turn south for about one mile, then curve east then south for 1/2 mile until the road dead-ends in a small parking area. Take the foot trail to the south of the parking area and follow the hill downward southeast, for about 15 minutes. Down by the river follow the ancient trail upstream to the falls.
Little Garlic Falls
Little Garlic Falls can be a challenging 7.6-mile hike round-trip or you can opt for the alternate 2.2-mile route for a shorter trek. Follow the well-marked trail and listen as the river guides you along the way.
Follow these seven principles when visiting Marquette County to keep our forests, lakes, and natural spaces as special as when you found them.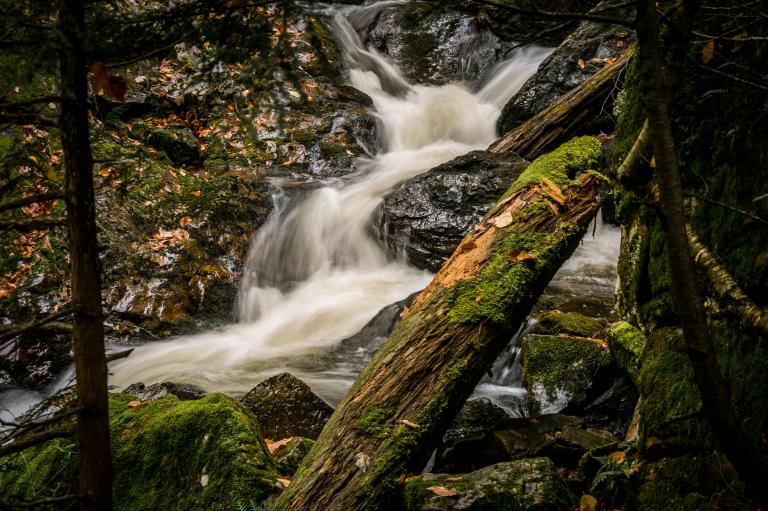 Big Pup Creek Falls
Level of Difficulty: Easy
Family-friendly
Dog-friendly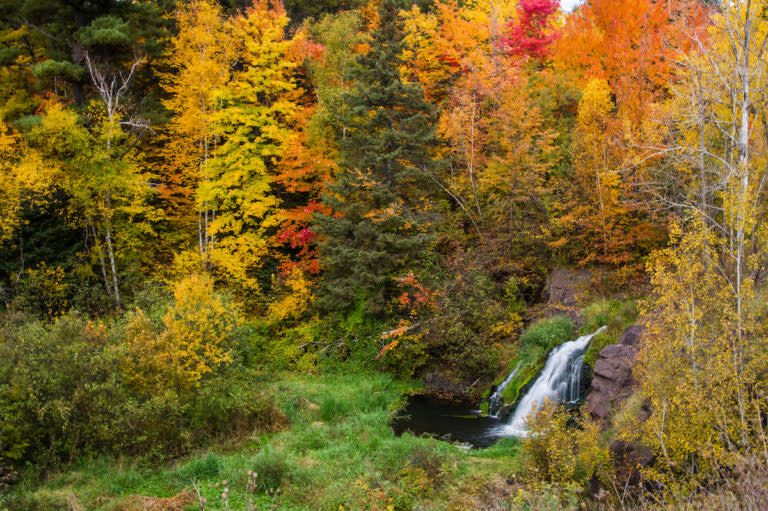 WARNER CREEK FALLS
Level of Difficulty: Easy
Family-friendly
Dog-friendly