Presque Isle Park
Summer, 1891. Fredrick Law Olmsted, a landscape architect most famous for his role in designing New York City's Central Park visits Marquette to work on a design project. To make the most of his visit, the city also directs him to a large peninsula just north of town in hopes of designing a management plan to turn it into a suitable park. Upon touring the land he gives the city relatively straightforward advice that can be summed up in three words:
Don't touch it.
Presque Isle Park is one of the most visited sites in Marquette County for good reason. With ease of access, this 323-acre forested peninsula extends into the water offering visitors unmatched views of Lake Superior.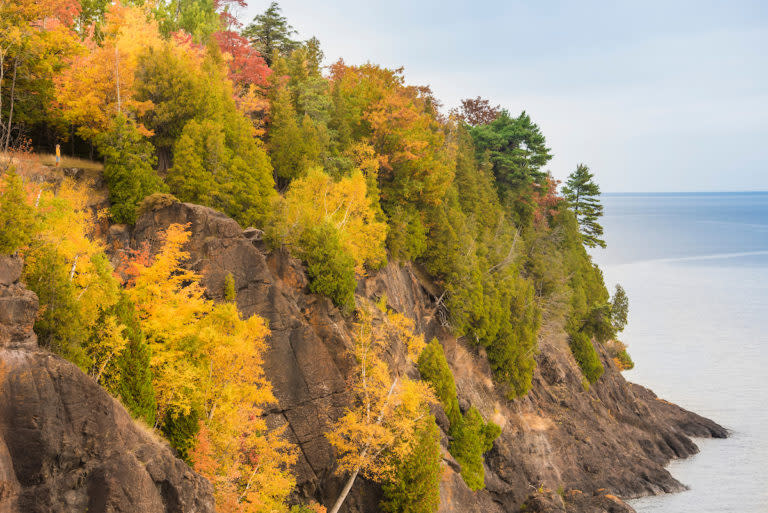 Eastside Outlooks
The park's east end sits high atop sandstone cliffs carving in and out of the peninsula. Park your bike and walk out to one of several outlooks along the loop. These offer a great vantage point for watching Lake Superior's waves carve out the ancient coves and rock outcroppings hundreds of feet below.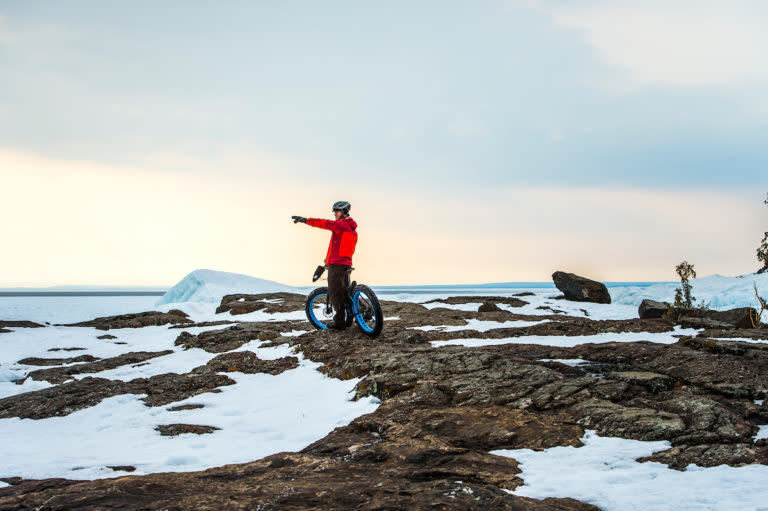 Biking
The narrow Peter White Drive wraps itself around the park's perimeter. The nearly two-mile scenic roadway is accessible by foot, bike, or car. Bikers can expect a modest climb for the beginning of their ride paired with an extended descent to finish things off—but don't set your stopwatch, this ride is meant to be savored.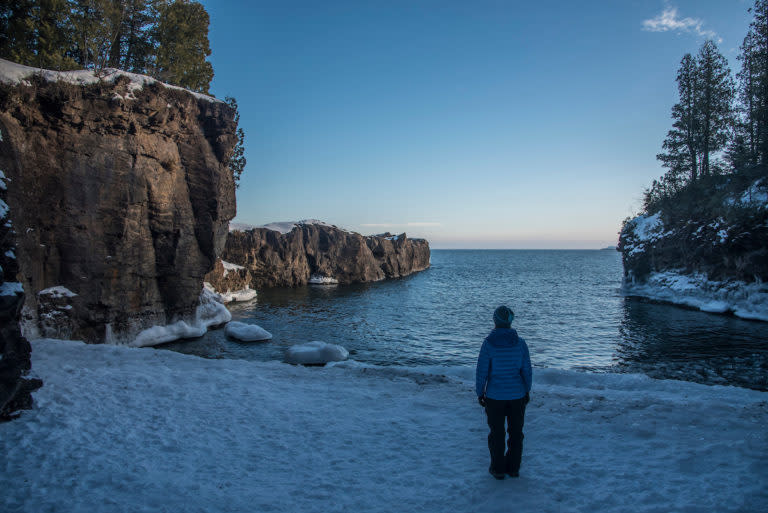 Hiking
Miles of hiking trails stretch through Presque Isle's central forest, which boasts over 100 species of native plants amongst various other wildlife. A friendly (and rare) white-tailed deer population has even been known to roam the peninsula. Presque Isle is also a stop for many migrating birds, and with good timing, lucky visitors may catch a glimpse of a snowy owl.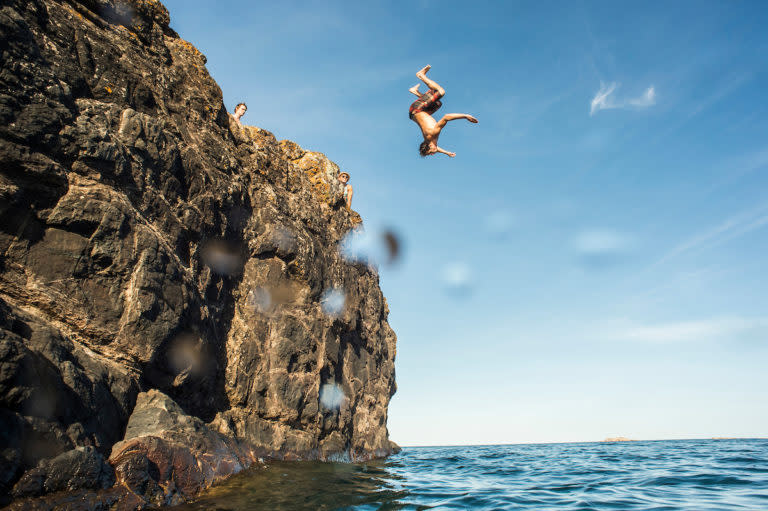 Blackrocks
The roadway continues through a tunnel of pines and hardwoods as glimpses of Lake Superior tempt the biker's attention. If your ride has you sweating, make a stop at Blackrocks and dive in. This ancient rock formation is a Marquette standard. Visitors can soak in the cool lake breeze, or dive from 10 to 15-foot cliffs into the crystal clear water below.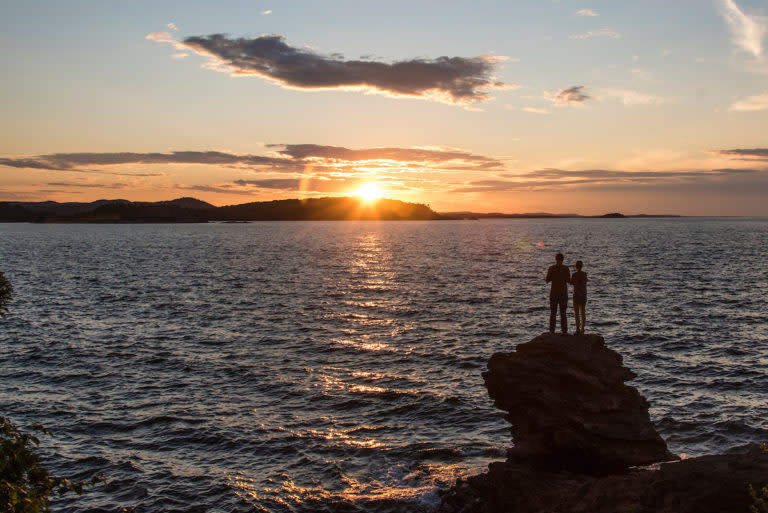 Sunset Point
Sunset Point sits on the peninsula's western shore and offers one of the best viewing spots in Marquette to watch the sun sink below the horizon. Silhouetted against a sky of pink and orange, the Huron Mountains and various small islands offer a view that seems almost tropical. The lake reflects all the colors of the sky, making this brilliant sunset one that can't be missed.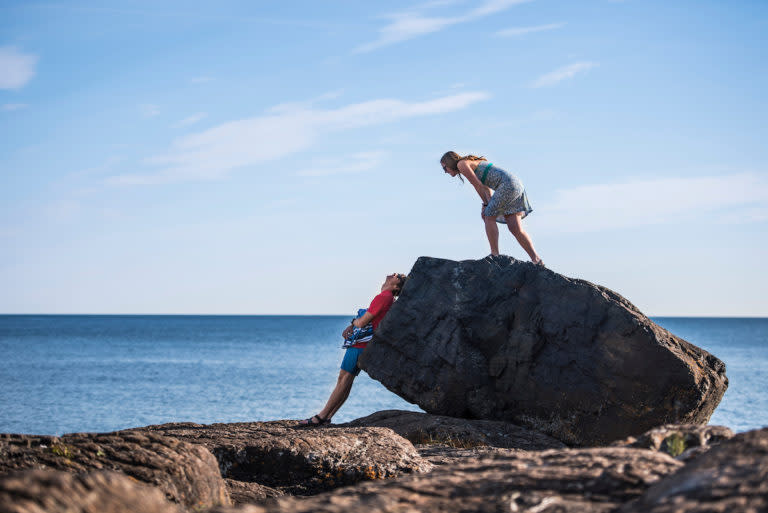 Still questioning if a trip to the park is really worth it? Consider this quote from Olmsted's final report as he backed away from the city's request for him to help make a plan for developing the piece of land, "Preserve it, treasure it, as little altered as may be for all time."
__________
Directions:
From downtown Marquette, follow Lake Shore Boulevard north for about three miles and you will find yourself at the park's entrance.
Hours:
Winter hours: Presque Isle Park winter hours go into effect on Nov. 1 – open from 7 a.m. to 8 p.m.
During the summer, the park is open until 10:00 p.m. nightly.
Peter White Drive is restricted to non-motorized traffic at certain times during the week:
Saturday and Sunday: 7:00 a.m. – 10:00 a.m.
Monday and Wednesday: 6:00 p.m. – 8:00 p.m.
Tuesday and Thursday: 7:00 a.m. – 1:00 p.m.
Winter parking ban: Effective Nov. 2 the road around Presque Isle Park is closed for the season. (Non-motorized traffic is welcome.)
Find additional park info on MarquetteMI.gov.