Climbing
Looking for a thrill like no other? Try scaling the sandstone slopes and granite boulders of Marquette's rock-climbing regions. As the Superior Shoreline transforms into an icy adventure, it becomes the perfect terrain for the season's ice climbers. Ice climbing used to be a local secret, but today, seasonal festivities, including Michigan Ice Fest, draw many visitors throughout the country. Here is your guide to Michigan's premier rock and ice climbing adventures.
Marquette Rock Climbing
Join the local rock climbers as they scale rock formations throughout the UP. Marquette rock climbing offers a breadth of climbing options from rocky coastline to rock slabs with unique mountaintop outlooks and panoramic views of Michigan's coastline. Rock climbing is a great, thrilling outdoor adventure during the summer months, with elevations as high as 79 ft. Check out Mountain Project's climbing guide for the best climbing trails in the country, including popular climbs like AAA and Presque Isle.
Marquette Ice Climbing
Ice climbing is the perfect mix of challenge and reward and is a great outdoor outlet for thrill-seekers. As winter arrives, the Superior sandstone slopes freeze into spectacular blue formations perfect for ice climbing. The season's change brings ice climbers the unique opportunity to scale waterfalls and cliffs. Wolf Den and the Grotto on Hogback Mountain are fun day's adventures that will get you back downtown for happy hour. For more information, check out Marquette's Ice Climbing Guide for all available treks this season.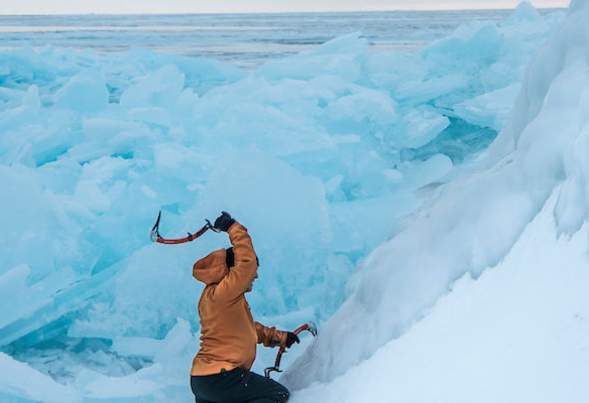 Whether it's scaling the icy formations of our Superior shoreline or ascending the elevation... Read More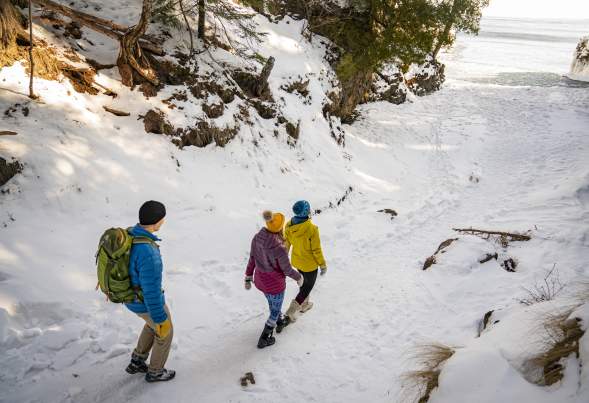 If you harbor the soul of an explorer, a winter adventure in Marquette, MI rewards you with the... Read More
Munising Ice Climbing
Known as the mecca for ice climbing in the Midwest, Munising ice climbing offers premier ice terrain for climbers. Only a 45-minute drive from Downtown Marquette, it makes a great day trip. Swing your ax into Life's a Pitch, a local favorite climb spot along Sand Point Road. The climb is packed with fun and is a must for visitors. Two recommended climbs with lakeshore views are Dairyland and HMR. Join the locals' ice climb at the annual Michigan Ice Fest hosted in Munising. The festival is a great opportunity to scale the backcountry with the region's best-in-class climbers and witness the beauty of a Michigan Winter.
Follow these seven principles when visiting Marquette County to keep our forests, lakes, and natural spaces as special as when you found them.