After my recent trip to Detroit and Ann Arbor, I had the opportunity to take a road trip to Michigan's Upper Peninsula (U.P.), and specifically the largest city in the U.P., Marquette. The drive from Ann Arbor to Marquette is a bit long at approximately seven hours, but I had the chance to stop in some fun destinations along the way thanks to a wheelchair-accessible van rental from Detroit's Creative Mobility Group. 
While road tripping up to Marquette, I visited Bronner's Christmas Wonderland (the world's largest Christmas store), rolled through the treetops on the accessible Canopy Walk at Dow Gardens, and even enjoyed an overnight stay at the gorgeous Inn at Bay Harbor in Petoskey, Michigan, which is about halfway between Ann Arbor and Marquette. During this road trip, I discovered that Michigan has so much to offer in terms of wheelchair accessibility and it made me fall even more in love with the state. I'll have more information here on the blog soon about everything that I enjoyed during my epic Michigan road trip, but in this blog post, I'd love to share with you what all I was able to do in the quaint, but phenomenal city of Marquette.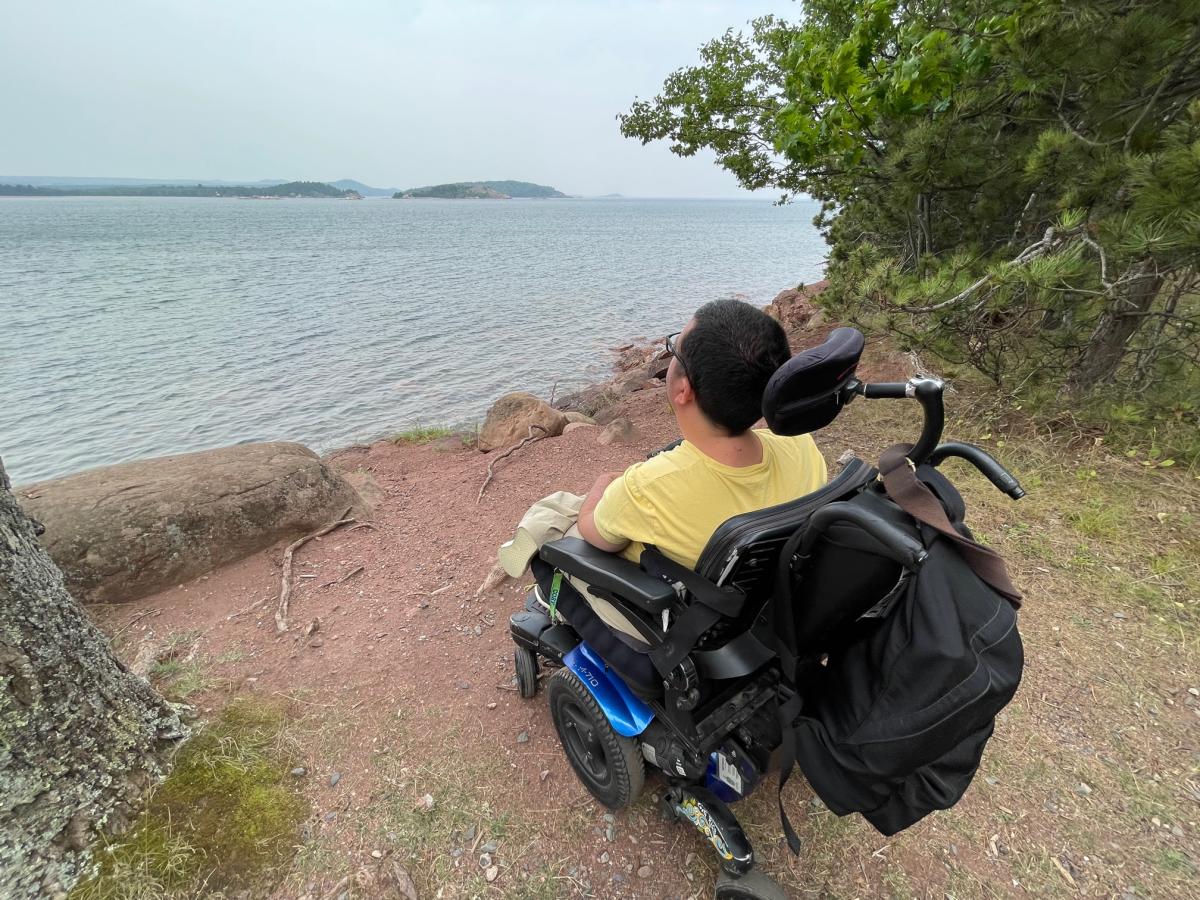 To be completely honest, I hadn't even heard of Marquette until just a few months ago. Somehow, it had managed to stay completely off my travel radar, but after a few days in the city in August 2021, I am now a huge fan of Marquette, Michigan and am already dreaming of returning. Marquette is essentially the best of what Michigan has to offer; it has incredible outdoor experiences, a lively downtown area, some of the friendliest people you'll ever meet, and so much more. And the best part? It happens to be a wonderful destination for wheelchair users as well. 
From rolling beside Lake Superior on accessible trails to drinking at some great breweries and more, there are so many wheelchair-accessible Marquette attractions and things to do that you'll likely have a difficult time doing them all within one trip. Whether you want to enjoy the great outdoors or get in touch with your creative side and enjoy some art, there is something for everyone in Marquette, Michigan. 
In this wheelchair-accessible Marquette, Michigan travel guide, I'll start by sharing some of the best accessible things to do and then dive into where to stay while in the city. By the time you finish reading this guide, I'm sure that you'll be excited to book your own accessible trip to Marquette (and I'm likely to be booking a return trip alongside you).
Wheelchair Accessible Marquette Attractions & Things to Do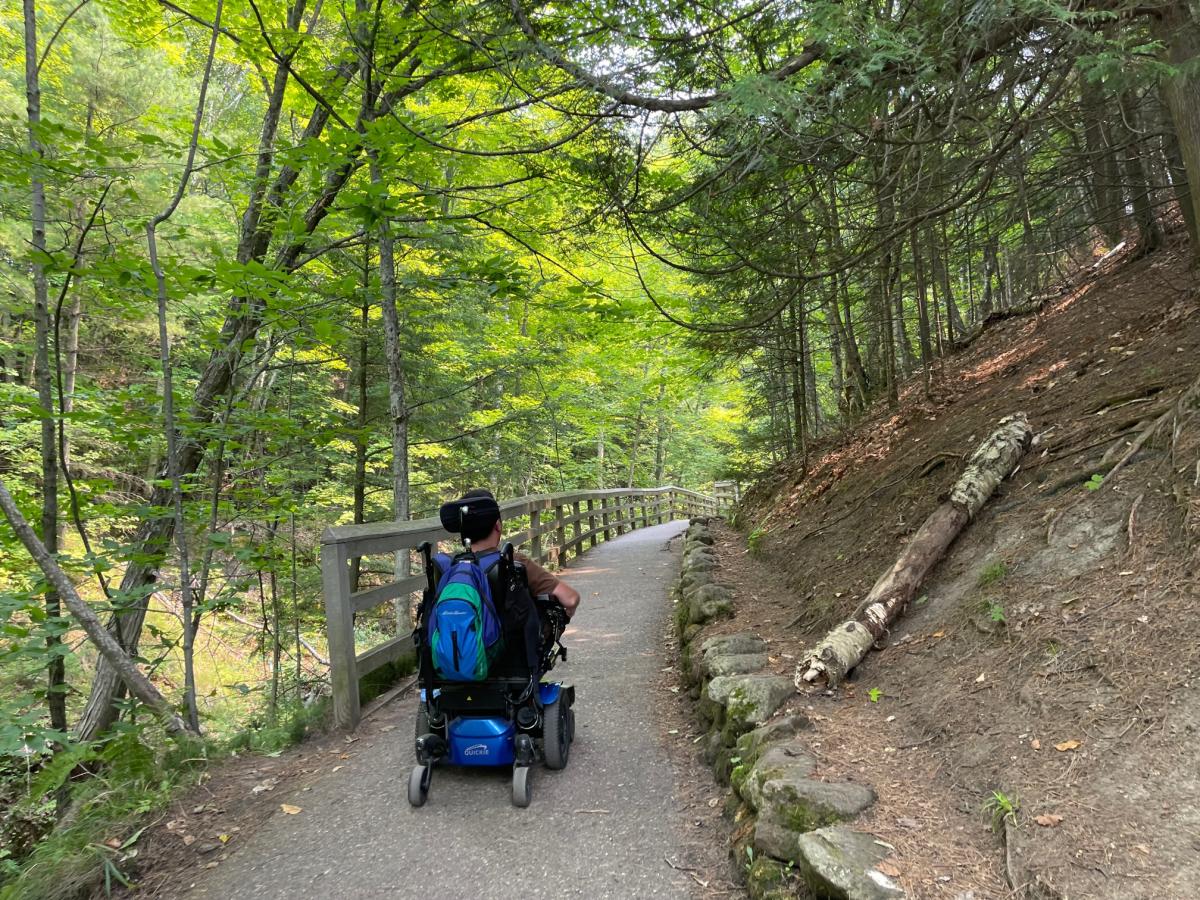 Munising Falls at Pictured Rocks National Lakeshore
Technically, Munising Falls isn't in Marquette, but since it's a little less than an hour away, it is easy to get to and definitely worth the drive. I visited Munising Falls on my way to Marquette and it was one of my first impressions of what the Upper Peninsula had to offer. It certainly impressed!
To reach Munising Falls, there is a paved, albeit steep at some points, trail to get to the waterfall. The trail is about 800 feet long and my Quickie Wheelchair handled the steeper points very well. If you use a manual wheelchair or lightweight scooter, however, you may need a push on the way up and some assistance with getting back down as well. 
Once I made it up to the waterfall, it was beautiful. There was a boardwalk viewing area, where I could easily see the waterfall from my wheelchair. The water drops approximately 50 feet over a sandstone cliff and I enjoyed sitting there and watching it for a few peaceful minutes. 
The water falling from Munising Falls is a relatively small amount compared to other waterfalls (all waterfalls can't be Niagara, I guess), but I really enjoyed my time here and would definitely recommend visiting. Aside from seeing the waterfall, the roll on the trail is a fun activity, and it's a great way to get outdoors, as well. 

Presque Isle Park
On a nice day, Presque Isle Park is the place to go in Marquette. It's just a short drive from downtown and a favorite of visitors and locals alike. I arrived at Presque Isle Park at about 10 am on a weekday and there was already a good bit of people there. It didn't take long for me to figure out why. 
Accessible parking spots are available at the Presque Isle Pavilion and then you can just follow Peter White Drive for the full paved loop. It is a beautiful trek. From the park's two-mile paved loop, I was able to see gorgeous Lake Superior for almost the entire way.
The entire loop is completely wheelchair accessible, but there are some steeper hills at certain points. I didn't have any problems with the route in my powered wheelchair and I think most wheelchairs should be able to handle the entire loop just fine. It was such a fun two-mile roll and I could've easily done another loop around if there weren't so many other amazing things to see in Marquette.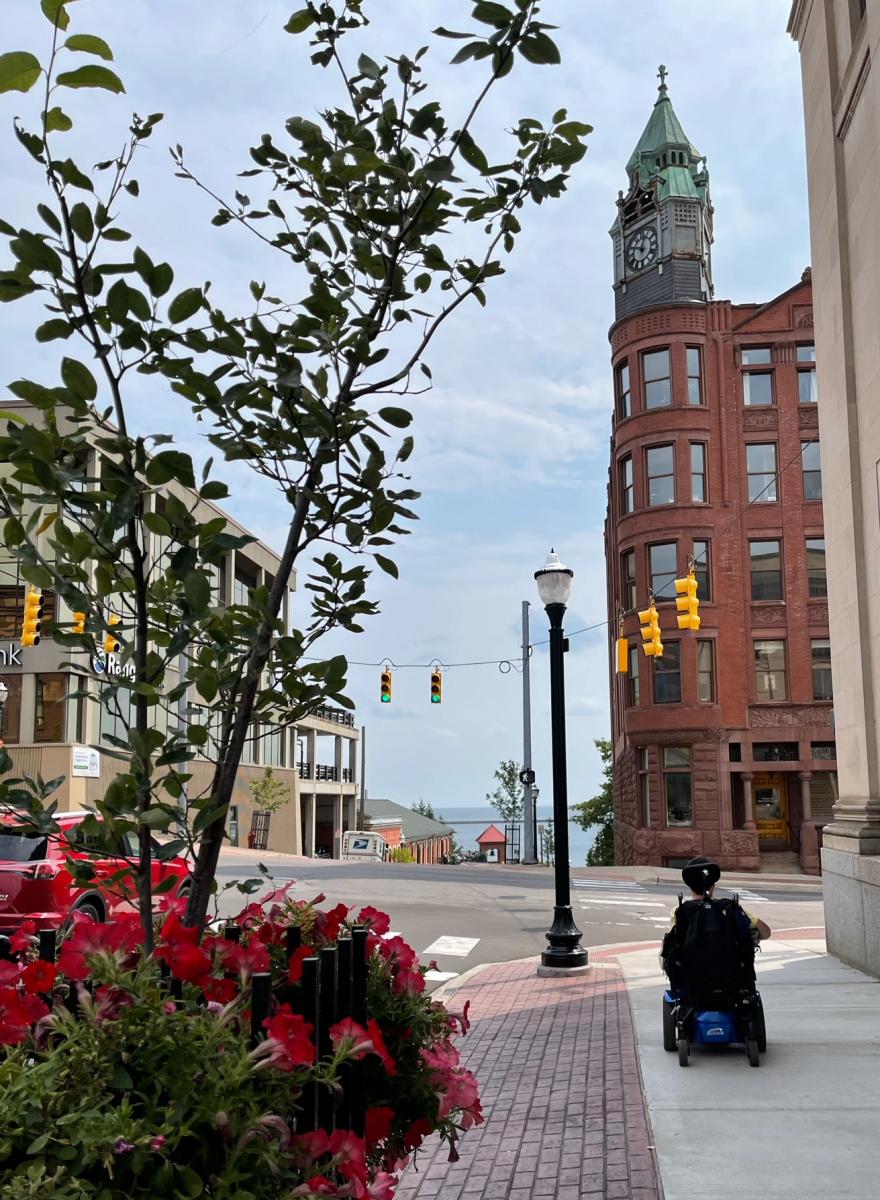 Downtown Marquette
Downtown Marquette is quirky, cool, and a fun place to wander around on a nice day. Downtown has so many awesome shops & restaurants, and the large majority of them are wheelchair accessible. I enjoyed popping into the various shops and spent about four hours one afternoon just rolling through downtown and shopping. For Marquette to be a smaller city, compared to big cities like Detroit anyway, I actually liked its downtown area more than most places. I'm telling ya, downtown Marquette is a whole vibe.
There were smooth curb cuts at all crosswalks in downtown, so it was easy for me to get around in my powered wheelchair. Sidewalks were in good condition as well and wide enough, but some of the streets in downtown Marquette are quite steep, so definitely be careful while going up and down the steep hills. I didn't have any issues, but it could prove to be a little challenging with a manual wheelchair in some areas.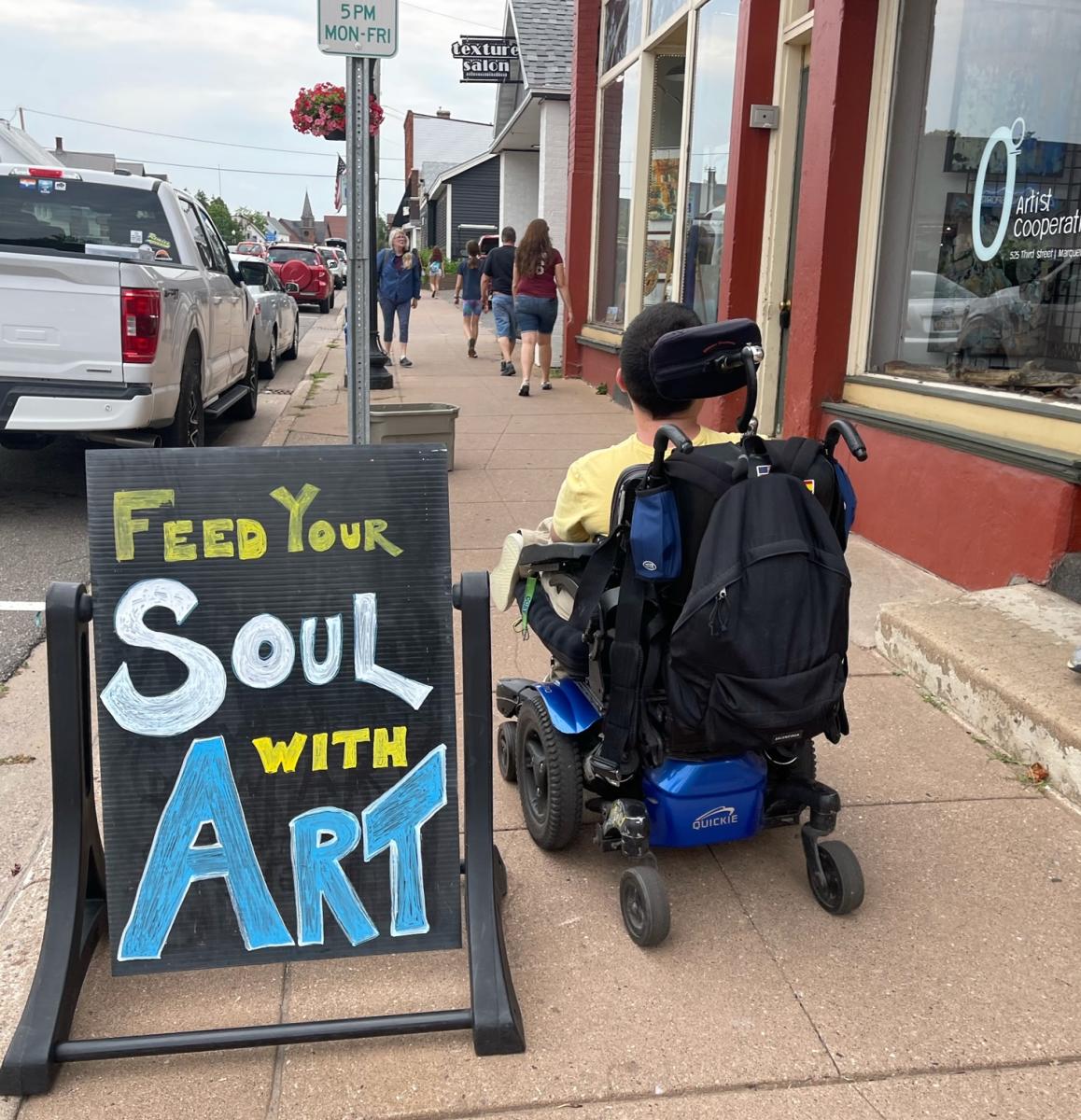 A fun downtown activity to participate in if you're in Marquette on the first Thursday of the month from June-October is the First Thursdays Art Walk. This is a monthly art stroll, where local studios and galleries come together to create a fun and interactive art crawl through downtown. Many of the shops are within walking/rolling distance of each other, but you will need to drive to some.
There are around a dozen art shops on the First Thursdays Art Walk and most of them are accessible. Some of my favorites were Gordon Gearhart, who is a talented blacksmith and creates metal sculptures, The Gallery, Hotplate Pottery, Hotplate Clayworks, and Rock Street Studio. After visiting these, I was impressed with just how much talent is in Marquette. And remember, even if you're not in Marquette during First Thursdays Art Walk, you can still visit the many galleries and studios.
Blackrocks Brewery
Established in 2010, Blackrocks Brewery has become one of the Upper Peninsula's largest and most popular breweries. And it is no wonder! This microbrewery in Marquette offers craft beers, live music, and outdoor seating, making it the perfect place to relax after a long day of sightseeing. 
Blackrocks Brewery does not serve food, but you definitely will not go hungry here. When I visited, there was the most delicious food truck parked on the street's edge selling pizzas and apparently, you can find a food truck here pretty much every evening. In my opinion, nothing is better than pizza, beer, and a perfect summer breeze with live music in the background, so I was quite happy. 
The Blackrocks drink menu contains American IPA's, dry-hopped cream ale, seasonal beers, lager beers, and delicious barrel-aged brews. Whether you want to drink some beer, watch some live music, or both at the same time, this is a place to add to your list while in Marquette.  
Marquette Maritime Museum
This museum specializes in the maritime history of Marquette, Lake Superior, and the iron ore trade. Its exterior is a beautiful brick building and it is all on one level for easy wheelchair access. Check the museum's calendar before heading over though, as it is only open from mid-May through mid-October. 
While relatively small in size, the Marquette Maritime Museum is full of interesting exhibits and information. You can learn about the city's maritime history, notable shipwrecks in the area, and what it takes to live out at sea. One of my favorite details inside the museum was the "knot station". This is a hands-on display of ropes and the pictures of different sailor's knots for you to try. Trust me, those knots are harder than they look to figure out! 
Since 2002, the museum has also been associated with the Marquette Harbor Light, a lighthouse that serves traffic in Marquette Harbor and adjacent waters of Lake Superior. Unfortunately, the lighthouse does not have an elevator and is not wheelchair accessible. However, it is worth catching a glimpse of from the outside. 
Iron Ore Heritage Trail and the Marquette bike paths
I love being outdoors on accessible trails and Marquette, Michigan certainly has a LOT of them! The Iron Ore Heritage Trail and Marquette bike paths stretch for 47 miles and 35 of those are wheelchair accessible. I didn't roll the entire path (my wheelchair can't go quite that far on a single charge), but I did roll some of it & had great views of Lake Superior! 
The bike paths and Iron Ore Heritage Trail go through downtown, near Presque Isle Park, and much further. I started rolling on the trail from Clark Lambros Beach Park, but you could absolutely start somewhere else along the trail. Before heading out, just think about where you want to start and stop, and then plan your route.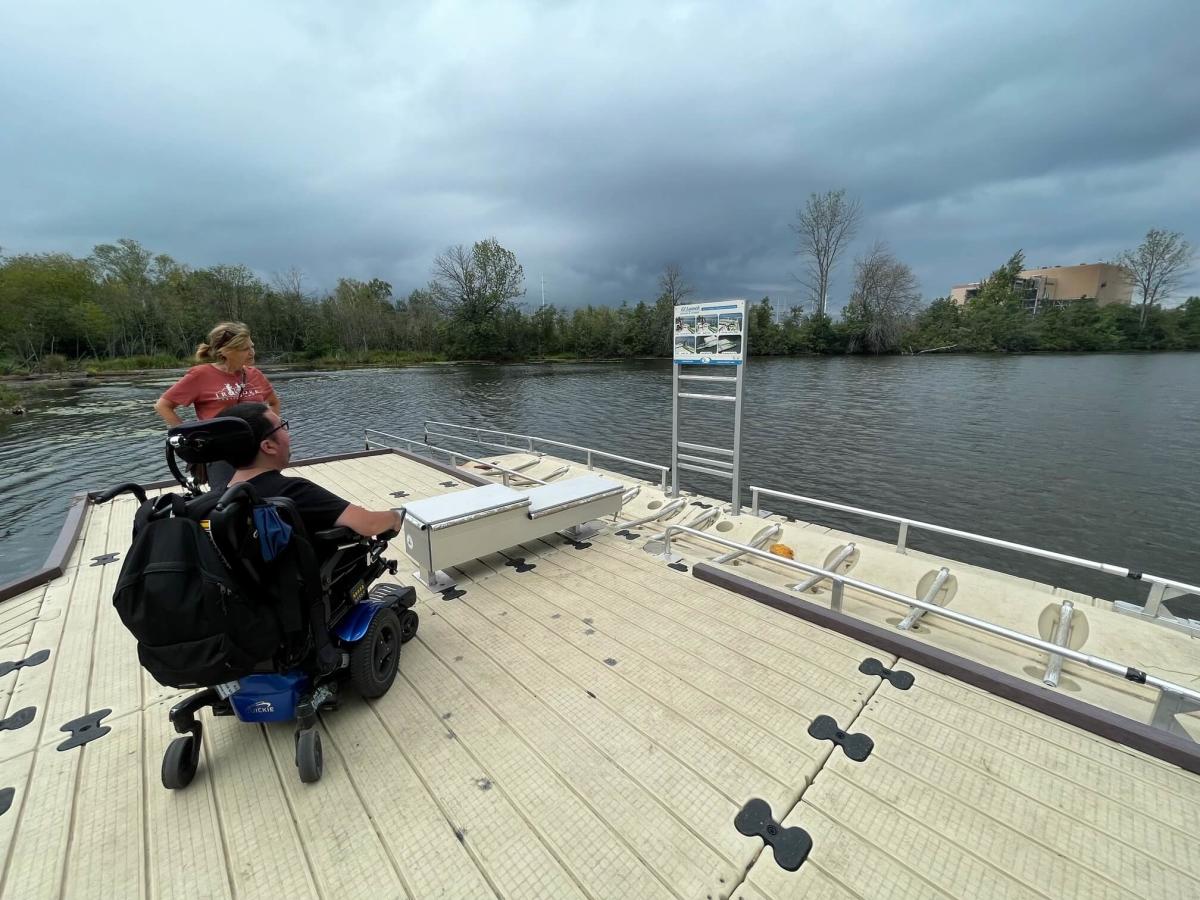 Across the street from the Clark Lambros Beach Park is an EZ Launch for kayaks and canoes. This kayak launch is adapted for wheelchair users to make the process of actually getting in and out of the kayak easier. You just slide over some sturdy benches until you're down in the kayak and then make your way into the water. It's an easy way to get out on the water and I loved the fact that Marquette had this, as water activities can frequently be off-limits for wheelchair users due to a lack of access.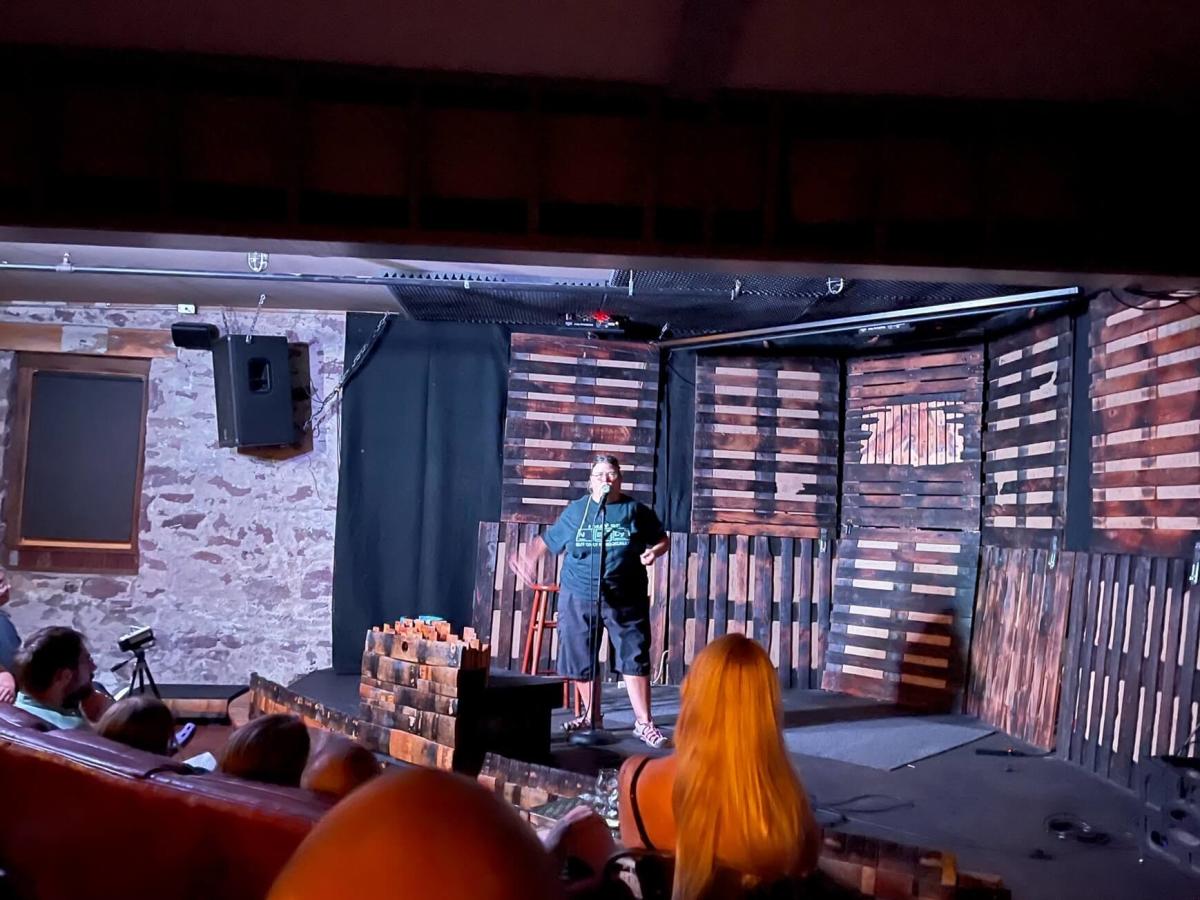 Ore Dock Brewing Company
If I lived in Marquette, Ore Dock Brewing Company is the place that I would be at every weekend. It is much more than just a bar, although the drinks are great. It's also a place to socialize, enjoy live music, a comedy show, or simply unwind.
Ore Dock Brewing Company opened in 2012 and since then, it has become one of the best breweries in the Upper Peninsula. They have a variety of beers on tap and if you want to try five of them, you could do a sampler flight. I had the Blue Canoe beer and loved it, so I'd definitely suggest trying it. 
Every weekend, Ore Dock has live music and sometimes, they have comedy shows. On the night that I visited, it was open-mic comedy night, which was a lot of fun to watch. The shows take place on the second floor, which is wheelchair accessible via an alternative entrance. Whether you want to hang out downstairs or be entertained upstairs, the brewery is fully accessible.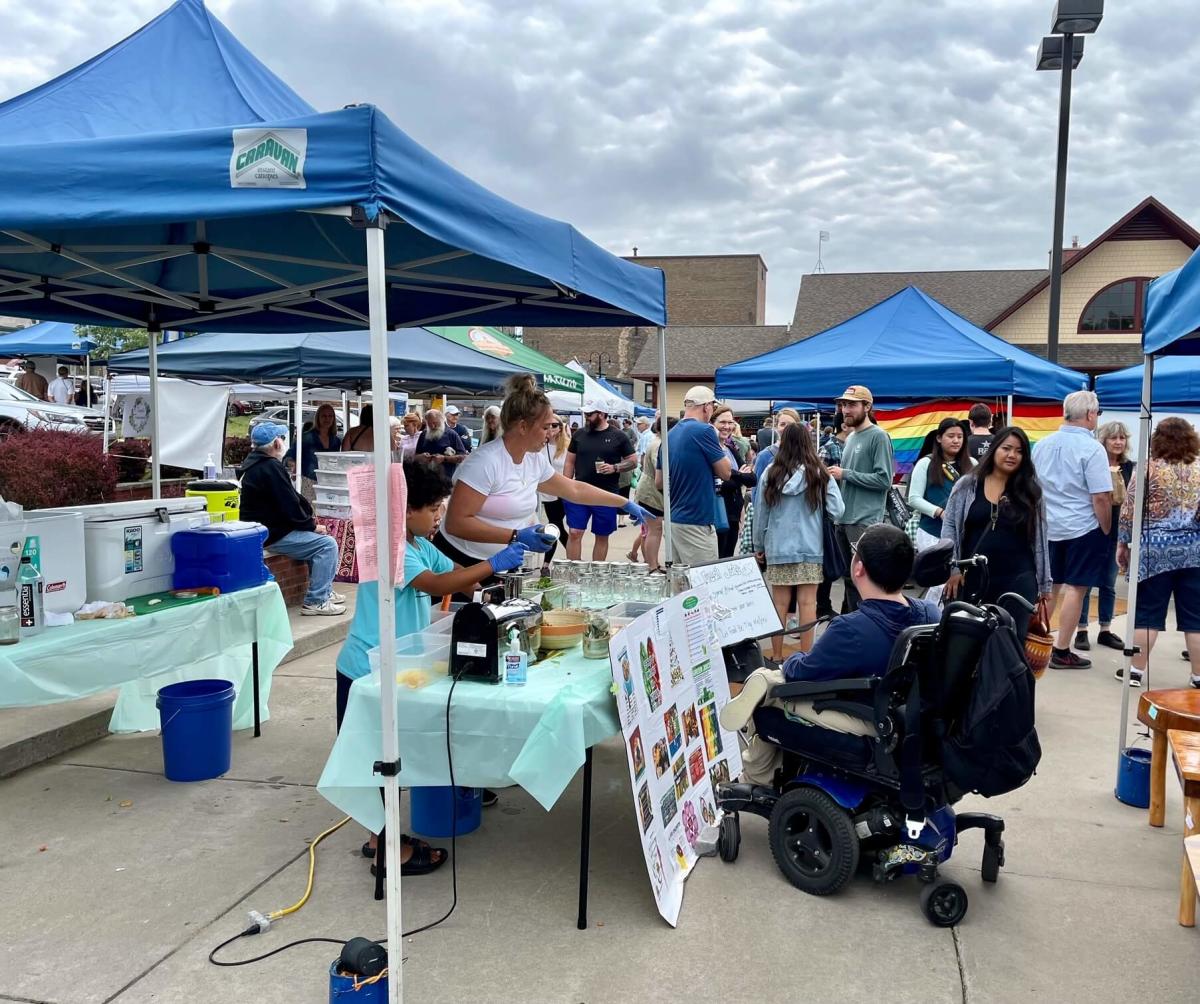 The Downtown Marquette Farmers Market
Every Saturday morning from May until the end of October, downtown Marquette overflows with local vendors at the Marquette Farmers Market. There are all kinds of things for sale here, from artwork to food, flowers, and pretty much anything you can imagine. And the best part is that it's all made by locals!
While at the farmer's market, I bought a piece of art and enjoyed some kale/carrot/turmeric juice (followed up with a scone, of course). There is truly something for everyone here and the market is fully accessible. There are smooth paved paths between vendors, so you should have no problems shopping from a wheelchair. 
There are about 50 vendors at the Marquette Farmers Market every Saturday morning, but if you won't be in town on a Saturday, you could also visit the Wednesday evening market. It runs every Wednesday from 5-7 pm from mid-June to mid-September. 
Lakenenland Sculpture Park
Lakenenland is one of the coolest roadside attractions I've ever been to. Lakenenland Sculpture Park in Marquette, Michigan is such a unique place because not only is it completely free and open 24/7, but all of the sculptures were created by one person, Tom Lakenen. 
Across 37 acres, there are dozens of sculptures made of junk metal and scrap iron. The sculptures are fun to see and it amazed me that just one person created all of them. Many of the sculptures are politically driven, but there are also many that aren't. 
You can choose to walk/roll throughout the sculpture park or drive. It was raining a bit when I visited, so driving was the best option. It is a dirt path, but hard-packed, so it would probably be possible to roll in a wheelchair if you really wanted to. However, Lakenenland is pretty big, so I'd likely suggest driving through it.
Thomas Rock Scenic Overlook
Thomas Rock Scenic Overlook is only a 30-minute drive from Marquette, Michigan and has beautiful views of Lake Superior. To get to the overlook, there is a trail (about a 1-mile long loop) that winds through the woods and is wheelchair accessible. 
The mile-long trail was very easy to do in my powered wheelchair, but there were a couple spots that were a bit steep. Interpretive signs are along the trail and they describe the surrounding trees, wildlife, and plants. As I rolled along the trail, I enjoyed learning about the area through the many interpretive signs.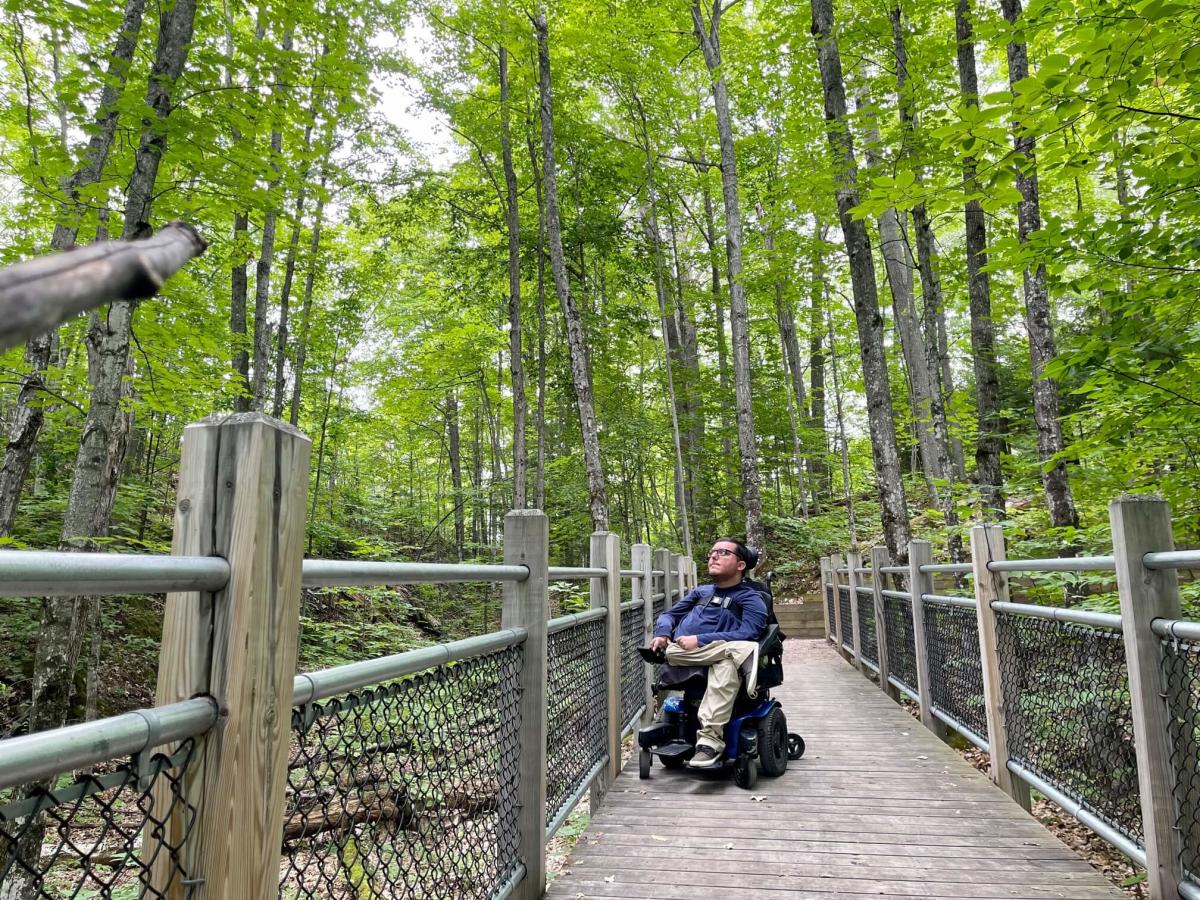 Approximately halfway on the trail is the overlook spot, where the views stretch for miles. I could see Lake Superior and the gorgeous scenery, and I sat there for a while taking in the beauty of Michigan's Upper Peninsula. This is easily one of the best, and most scenic, places in all of Michigan. It should be an absolute must-do on your wheelchair-accessible Marquette itinerary!
At the start of the trail, there are accessible parking spaces and accessible restrooms. The restrooms are spacious and single stalls, so they're perfect for families or if you require a companion.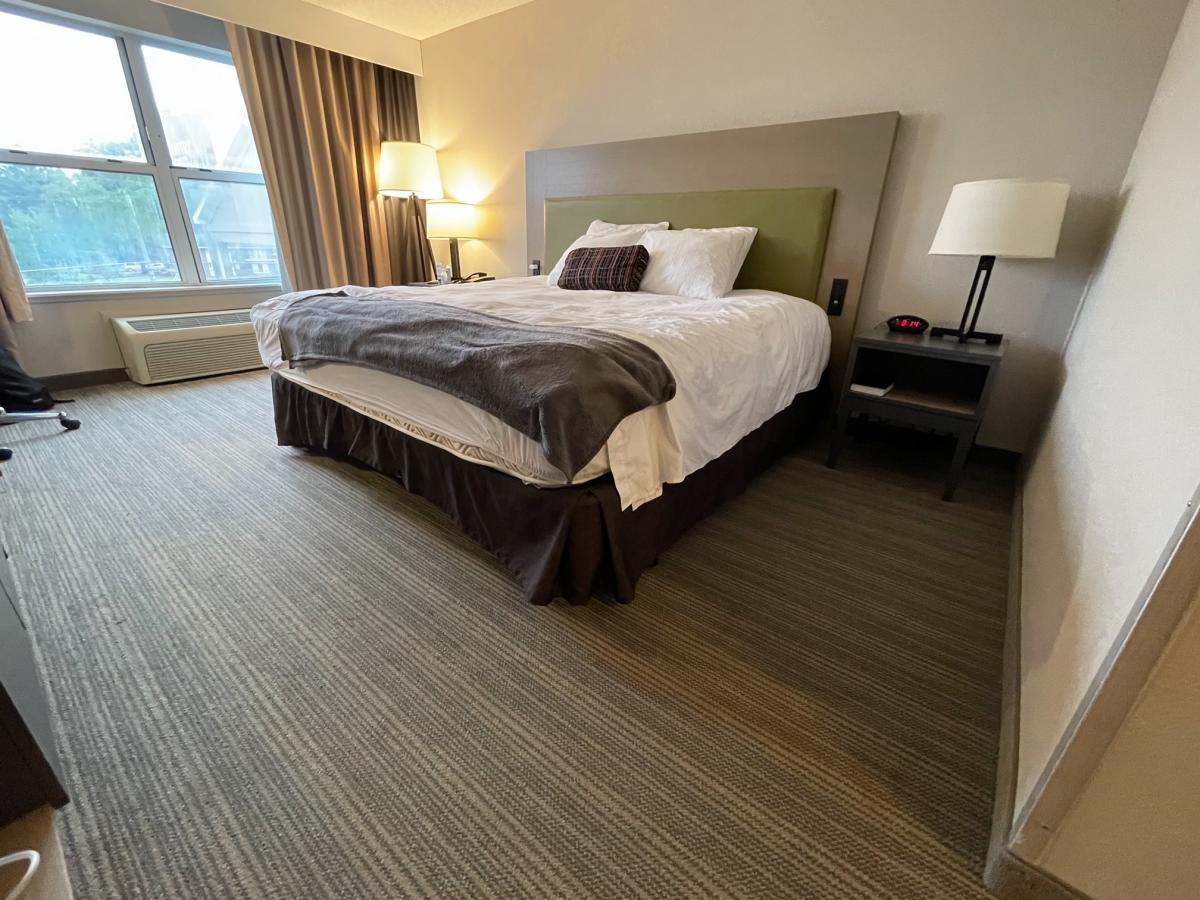 Where to Stay in Marquette: Country Inn & Suites by Radisson
While in Marquette, I stayed at the Country Inn & Suites by Radisson. I had never stayed at a Country Inn & Suites until this stay, but I was quickly impressed and really liked this hotel. It was in a great location, just a 10-minute drive from downtown Marquette, and there were plenty of restaurants in the surrounding area. 
My wheelchair-accessible room had one king bed and was spacious enough for me to maneuver around. There was also plenty of clearance underneath the bed for a Hoyer lift/hoist if you need that.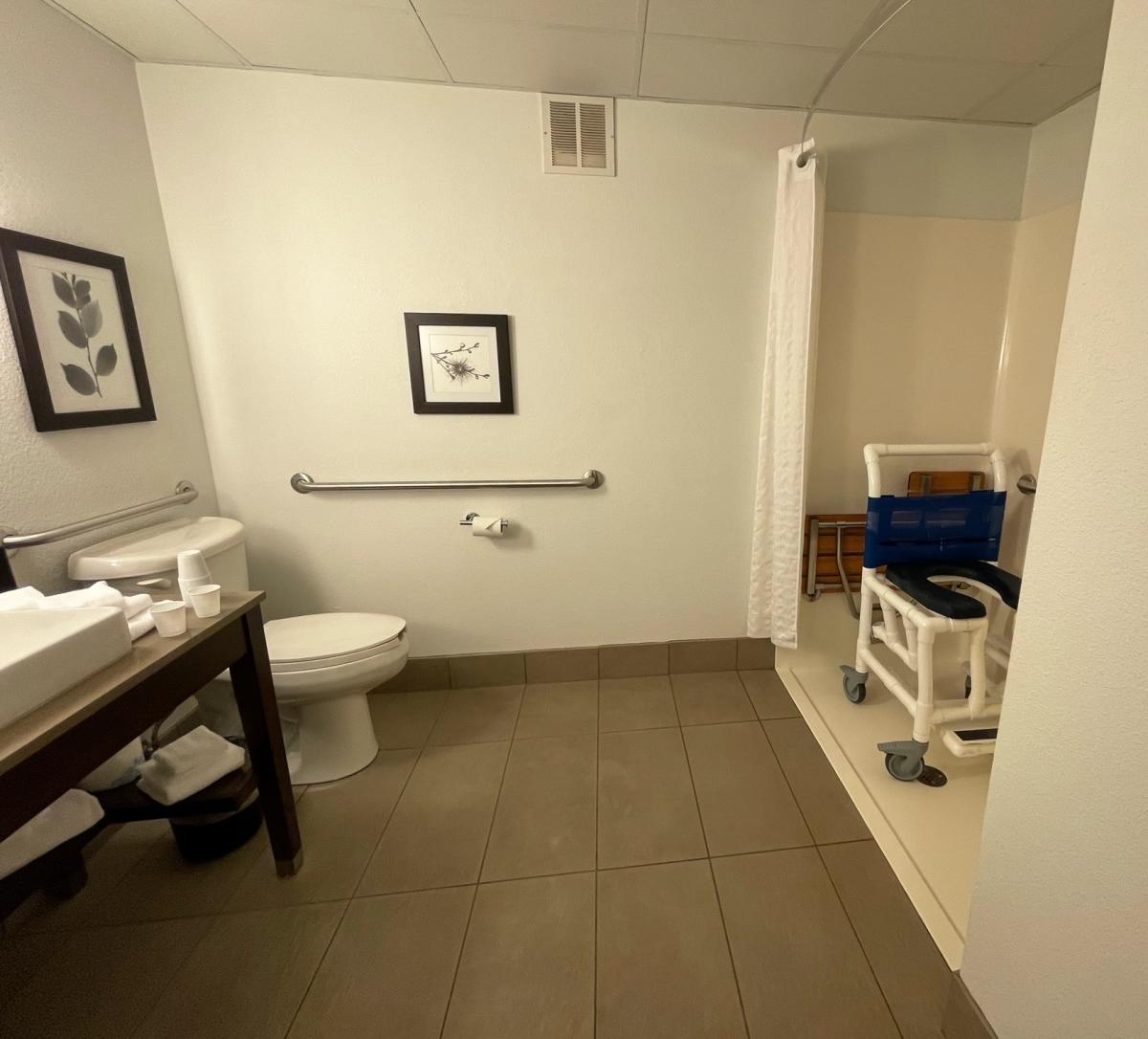 In the bathroom, there was a pull-under sink, grab bars by the toilet, and a roll-in shower. The roll-in shower had a fold-down seat, but the fold-down seat was on the opposite side of the shower as the controls and handheld shower wand, so they could be difficult/impossible to reach if you're sitting in the fold-down seat. Aside from that, the room and bathroom were great for my accessibility needs. 

Another feature that I liked was that the Country Inn & Suites by Radisson had complimentary breakfast every morning. There was a good selection of breakfast items and it was the perfect way to start the day before embarking on fun excursions around Marquette! 

 

Marquette, Michigan is a destination that I'm already dreaming about returning to. And to have not really known anything about the city before visiting, it completely blew me away. From friendly locals to a plethora of wheelchair-accessible Marquette attractions and great accommodations, now that you know just how spectacular this city is, it's time to plan your own adventure to Michigan's Upper Peninsula!

 

*Thank you to Travel Marquette for working with me on this trip and showing me the best wheelchair-accessible Marquette attractions! While most of my experiences in Marquette were complimentary, all opinions expressed are authentic and my own.