Upper Peninsula Northern Lights
5 Tips To See The Northern Lights
Getting a photo of the Northern Lights, Aurora Borealis, or most commonly referred to as Holy smokes, what's that in the sky? isn't exactly easy. For starters, they're largely unpredictable. Next, they're hard to find, most of the time you need to be pretty far north geographically. And lastly, it needs to be dark. Real dark. Luckily, winter in Marquette is all of those things and is perhaps one of the best spots in the Continental US to observe this phenomenon.
Is the thrill of spotting a winter aurora while sitting on snow drifts on the shore of Lake Superior at 2 a.m. in January already getting your heart pumping and your teeth chattering?  Good, because it takes a certain level of insanity to venture outside under those circumstances for phantom lights and Instagram likes.
Fortunately, we enlisted the help of world-renowned and Marquette-based night sky photographer Shawn Malone of Lake Superior Photo, to compile a few tips and tricks for you to consider an Aurora adventure in Marquette this winter:
1. Think Cozy- Be Cozy.
"I always bring a headlight and layers, especially on my feet and hands," she says. "If your feet go, you're done, and if your hands go, especially as a photographer, you're done." -Shawn Malone
There's no doubt that a winter Aurora viewing will, to put it lightly, awaken your senses a bit. The snow and cold don't have to negatively affect your experience, though. In fact, the cold climate can serve to freshen an experience that might otherwise be just another Northern Lights outing — this is where a healthy combination of fire, blankets, and a Thermos of something hot will come in handy. You might find yourself stumbling through the snow, following the faint path of your headlamp in search of a spot with a good view of the north while your lungs and legs burn from the cold. It might take some trial and error to figure out what kind of layering is right, and if you don't plan ahead you could end up with chilly digits before the first green rays emerge from the horizon.
Still, there's nothing like spending a few hours under the stars, and this is particularly true in the winter, so go overboard with warm things until you get it right.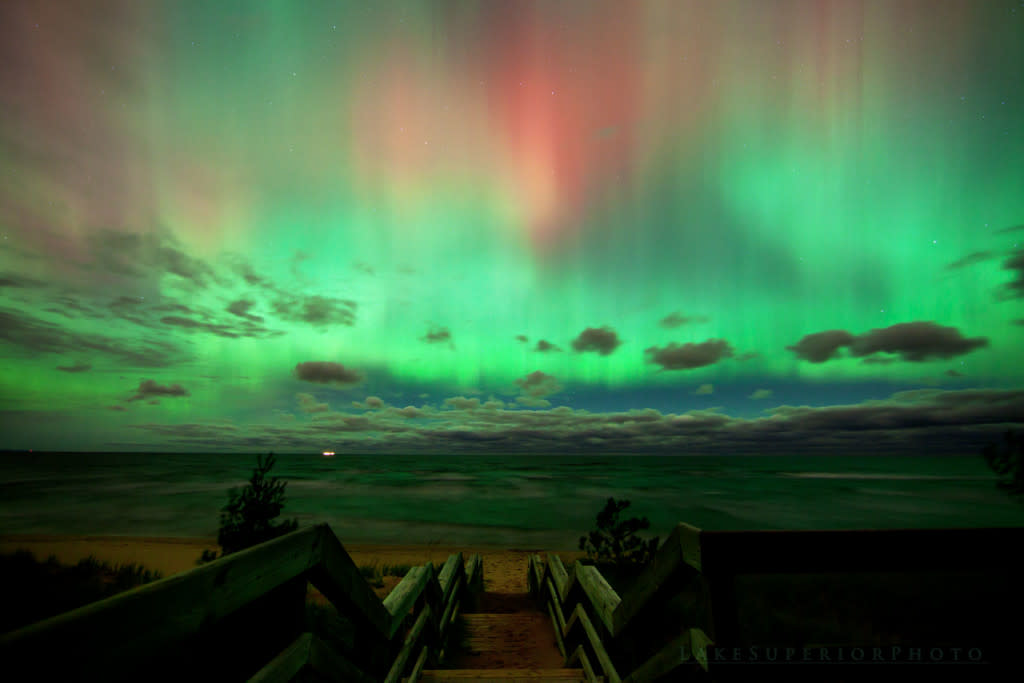 2.     The South Shore Of Superior Is An Ideal Aurora Spot
Malone — whose night sky videography and photography has been shared by countless news and science organizations, including the Smithsonian Magazine — is adamant that the south shore of Lake Superior is one of the best places to watch the Northern Lights in the lower 48. Her claim is easily substantiated, as the lake is pretty much a freshwater stage for the lights to dance across.
Just keep an eye on the moon.
"In the winter the moon actually rises in the NE and sets in the NW, so on the night of a full moon when the light might compete with the light of the aurora. During very active aurora displays, if the moon is behind you (when it is highest in the sky) as you look north to view the Aurora, the moon acts like a light that illuminates the foreground very nicely in your aurora photos " says Malone.
3.     Choose Your Own Adventure.
Marquette's vantage point on the south side of Superior also makes accessibility virtually effortless, according to Malone.
"A couple no-brainer places that are very accessible and are probably some of the best viewings in the lower 48 are the M-28 turnouts," she says. "Because of Lake Superior we have no obstructions and we have very little or no light pollution, which is half the battle with seeing the aurora."
Whether winter or summer, the ability to sit in your car and enjoy a view of the Aurora without the annoying glow of industry and street lamps is a luxury not afforded to most living in the United States (or even the world). That being the case, Malone has had the opportunity to introduce a worldwide audience to the reality of the light-pollution-free world of the Marquette night sky through her imagery and social media channels.
"It's such an amazing phenomenon to see light in the sky, and not a lot of people in the country have the opportunity to see that," she said. "You have people paying big bucks to go to Norway or Alaska, and you have the opportunity to see that same phenomenon here, even if it doesn't happen on nearly the same frequency that those two places have. But from my images, you can see that the opportunity is out there, and it's just indescribable."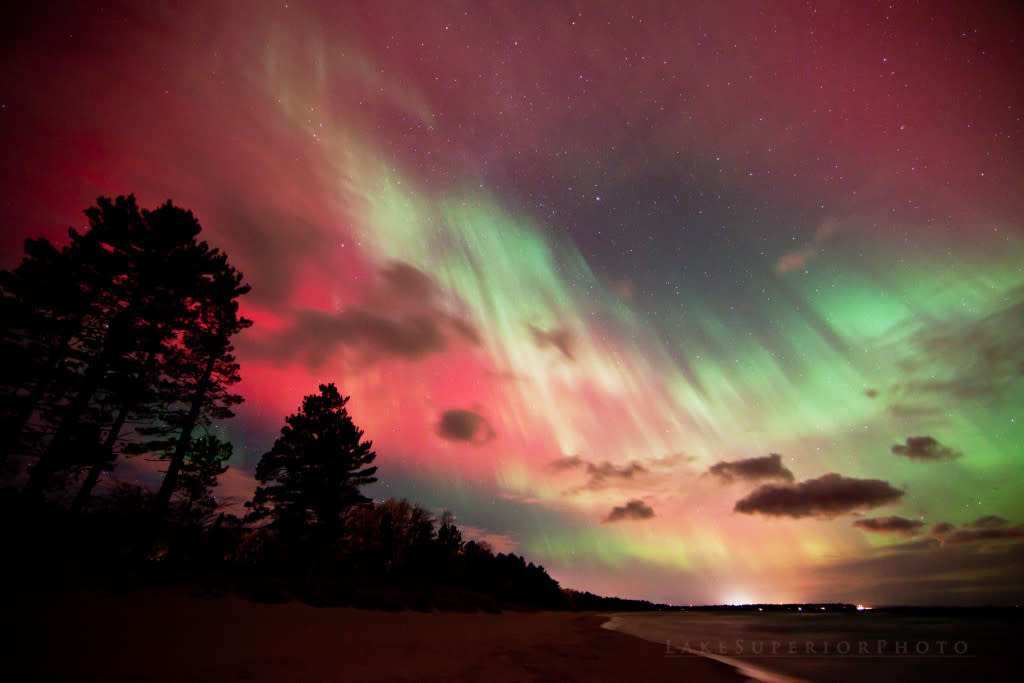 4.     Finally Figure Out Night Sky Photography
It's human nature to see something awesome and want to document it for later.
Malone offers budding night sky photographers intermittent classes so they can learn the obsession of chasing the Aurora. While her workshops cover this niche in great depth, she does have a few tips for those who have DSLR cameras and would like to give night sky photography a chance.
"Everyone has all kinds of different gear, but this is definitely not going to work with an iPhone," she says, adding that a DSLR with a wide-angle lens will get you one step closer to quality Aurora photography. From there, she recommends keeping the aperture wide open (2.8 or as low as your camera can go), and to maintain a relatively high ISO — say around 1600 or higher. From there, you can adjust the shutter speed accordingly, though it will usually be between 15 and 30 seconds where there aren't city lights or the moon to compete with.
A tripod and remote shutter release for stable shooting is also a must.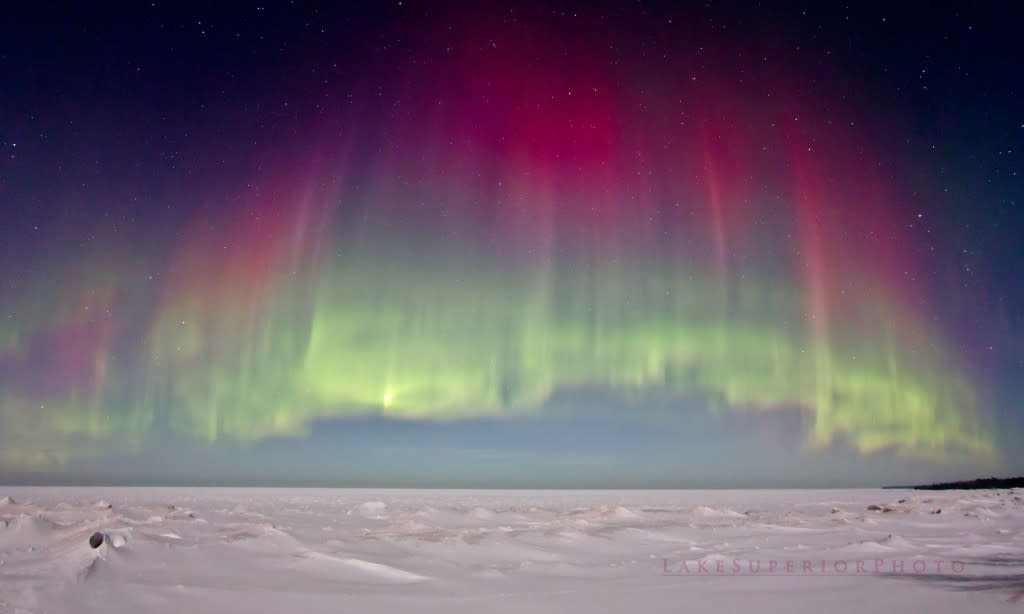 5.     Because There's No Better Time Than Winter
Quite possibly the only benefit of long, dark winter days is that darkness is a third of the recipe needed for an Aurora event (the others being solar activity and a clear, cloud-free sky). With about two times more darkness than during the summer, winter is (in theory) the most ideal time to try to witness the lights. Malone also asserts that the lack of humidity on crisp, clear winter nights helps to bring out the detail of Aurora events, as opposed to humid and hazy summer events that tend to look a bit blurry or foggy. And while Lake Superior has a tendency to throw crazy weather events at the Marquette region with little to no warning, Malone assured that once the lake freezes over a bit, it allows for crystal clear skies and the better viewing opportunities that present themselves when sporadic lake-effect weather patterns take the back burner.
Malone says that "It is difficult, but not impossible to predict the aurora – forecasts are strongest during very strong earthward directed events on the Sun,  but even with a strong forecast you can get skunked."
There are a few sites that offer some level of forecasting. Here are a few worth looking at: NOAA, Space Weather, or Space Weather Live.
Regardless of whether you elect to hike up Sugarloaf or pull to the side of M-28 to enjoy the Aurora, it's an experience you should consider taking advantage of this winter, no matter how much effort you hope to exert in the process.
"It's almost hard to put into words how amazing they are," Malone says, struggling to vocalize what she has so effectively shared through her images. "But they're better than any fireworks display that you'll ever see."
It goes without saying that you should probably take her word for it. If you'd like to see more work by Malone, Check out her gallery online at lakesuperiorphoto.com, check out her shop on 211 South Front Street in the Rosewood building, or give her a call at (906)228-3686
-Words by Amanda Monthei