​Snowmobiling in Marquette County, MI
Centrally located on the shores of Lake Superior in Michigan's Upper Peninsula, we average 150 inches of snow annually, making Marquette County a premier snowmobiling destination. Explore the woodland scenery, waterfalls, wildlife, and epic views of Lake Superior that Marquette County has to offer. 

Snowmobile Trails
Click the links below to see or download snowmobile maps for Marquette County. 

Recommended Snowmobile Experiences 
Ride along UP Trail 8 from Marquette to Gwinn through a forest of jackpines. Hop off the trail and stop at the Crossroads Restaurant and Lounge or the Up North Lodge for a great meal that will leave you full, happy, and ready for more snow. 
Along UP Trail 8 in Negaunee, check out the Michigan Iron Industry Museum for a break from riding to learn the fascinating history of the iron range and find solace along the Carp River. 
Head Northeast of Marquette on UP Trail 14 to Big Bay. Stop along the way to view the scenic Alder Falls, and continue on to warm up at the Historic Thunder Bay Inn, or Jeff Daniel's favorite UP Bar & Grill, the Lumberjack Tavern.  
Ride the UP Trail 417 along the shoreline of Lake Superior towards Alger County. The Dry Dock Bar & Grill and Lake Superior Smokehouse Brewpub are perfect places to stop along the trail for a bite to eat. Just 10 miles west, is the Lakenenland Sculpture Park, a fun attraction that people of all ages will enjoy.
Nearby Lodging
These accommodations are conveniently located on the trails in Marquette, Big Bay, Greater Ishpeming - Negaunee Area, and Gwinn.
Before Your Adventure
Buy your permit
Familiarize yourself on these ways to 'Winter Safely' 
Know how to 'Ride Right'
Check weather and trail conditions
Complete a pre-ride vehicle inspection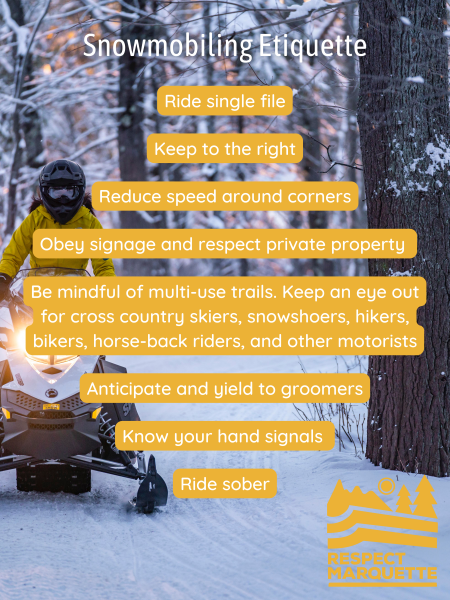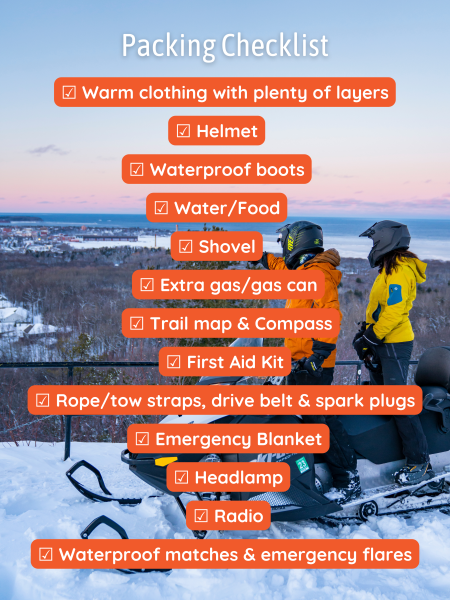 ​Who Maintains the Trails? 
The trails around Marquette County are managed and maintained by many dedicated organizations and volunteers:
Additional Resources
​Parking 
Snowmobile Maintenance and Repair