Westend (Ishpeming & Negaunee)
Ishpeming and Negaunee, locally referred to as the West End, draw in sports fanatics, history buffs, vintage shoppers, and outdoor enthusiasts. Home to the U.S. Ski and Snowboard Hall of Fame, Ishpeming is located 15.6 miles from downtown Marquette, while Negaunee, located 9.8 miles away, is a great day trip to explore the public lakes, discover great vintage finds, and learn about UP mining history.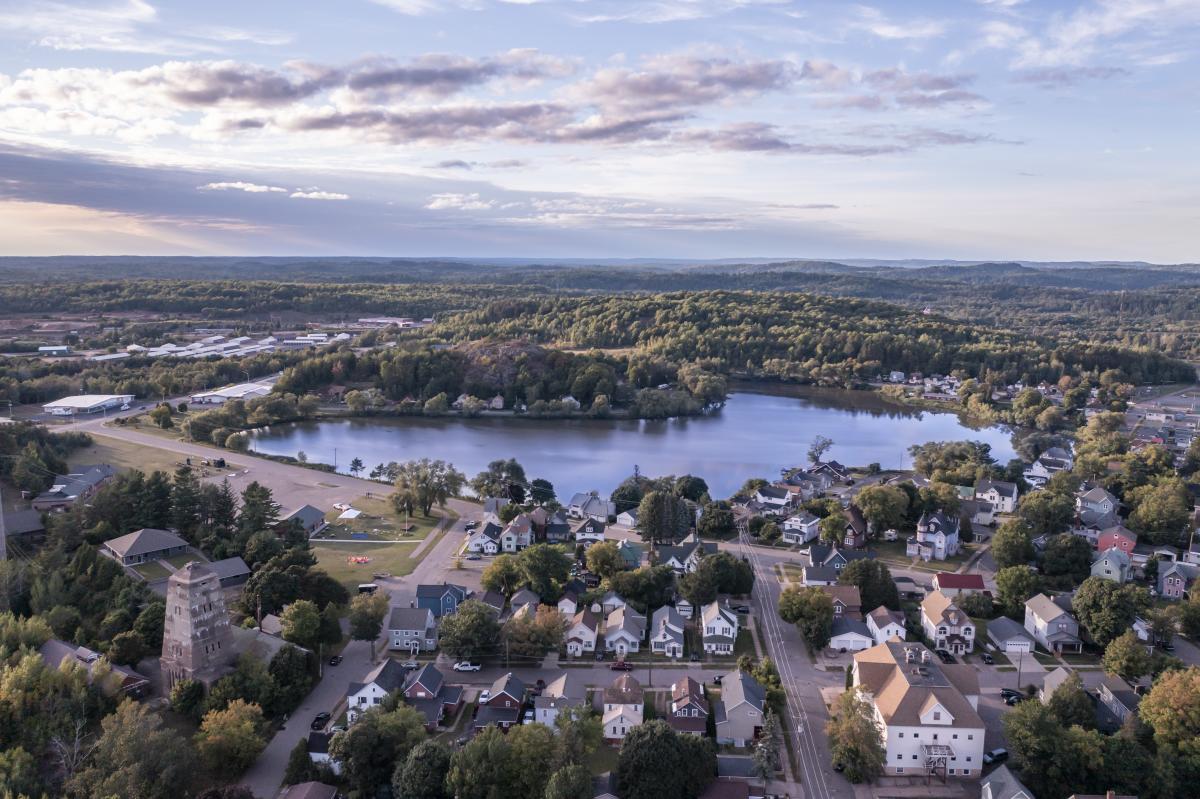 Ishpeming
Before getting the name of Ishpeming in 1862, this city was known as the Lake Superior Mine. Ishpeming is also known as the birthplace of organized skiing, making it a must-visit for ski lovers. This small town is packed to the brim of history, culture, and passion. In the summer, outdoor lovers can find access to a wide array of public trails used for hiking or biking. 
During the winter, Ishpeming draws in competitors from across the globe to compete in the annual Ishpeming Ski Club Ski Jumping Tournament. Ishpeming's Al Quaal Recreation Area hosts The Fat-Ish snow biking race and features miles of excellent cross-country ski trails. 
Find a hidden gem in the heart of Ishpeming, Rare Earth Goods. This art co-op/cafe combo offers a varied mix of natural goods, organic foods, local art and apparel, craft beer, and more. After that, if you still have an appetite, hit Congress Pizzas before you head out for some of the best thin crust around.

Negaunee
Check out Marquette's neighbor, Negaunee, for even more outdoor adventure, eclectic shops, and local eateries. 
Today Negaunee is home to Michigan's Iron Industry Museum. The Jackson Mine Park, which opened in 1845, is one of Michigan's historical sites you can visit during your trip to Negaunee. As you learn about the region's iron history, do not pass up the chance to explore Negaunee's public trails and parks, including the 47-mile Iron Ore Heritage Trail.
Negaunee is home to several vintage shops perfect for eclectic shoppers and skilled thrifters. And don't forget to grab a UP delicacy, a savory (veggie or meat) or sweet pasty from Iron Town Pasties before you leave town.
Blogs Featuring the WestEnd