The stunning nature all around isn't the only eye-catching beauty to appreciate in Marquette. From the serpent of Blackrocks to Anishinaabe-inspired water-giving-life scene, public art is on the rise in Marquette County.
"NATURAL"
CORNER OF NORTH THIRD AND WEST OHIO STREETS

Artists: Lead artist Mia Tavonatti
Painted by Tara Tavonatti, Michele Tuccini, Sabrina Lang- don, Taryn Okesson, Emmalene Oysti and Patty Gagnon

There is perhaps no better word to describe the surroundings of Marquette, as this stunning mural shows. "Natural," was the word chosen for this Power of Words Project—from 15 others submit- ted—that best depicts the region.
One look, and you'll see why.

Photo Credit: Taryn Okesson & @jamielcote
MONDRIAN GARAGE
ON NORTHERN LIGHTS GLASS 415 N. THIRD ST.

Artist: Taryn Okesson

Look for this cheery Red-winged Blackbird and Mondrian-inspired color block design when you're exploring about on Third Street. The sight can't help but make you smile. Snap a selfie in front of this iconic piece that brightens neighborhood faces.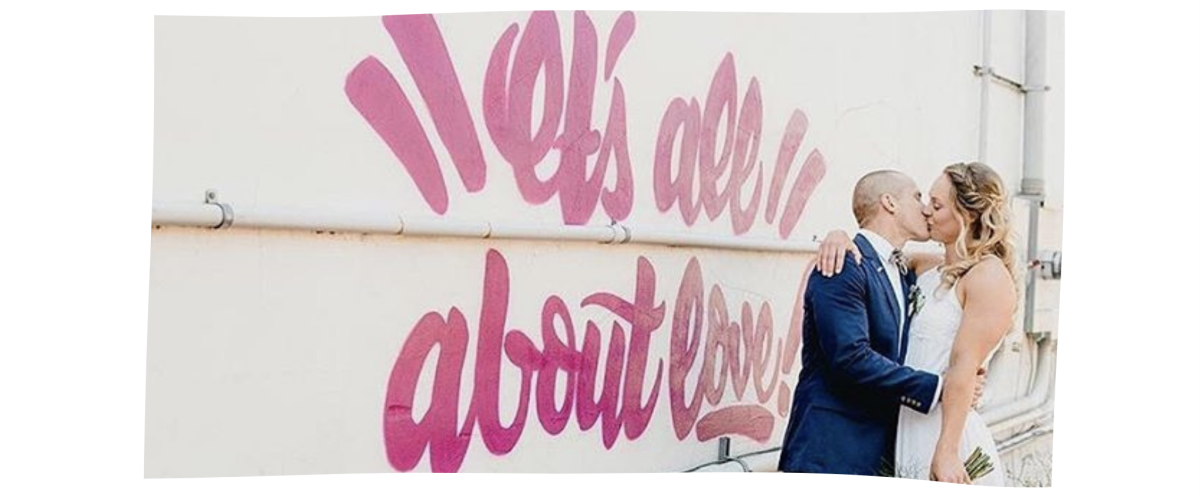 Photo Credit: Kim Aisthorpe (By Kimgirl / Studio South MQT) 
"IT'S ALL ABOUT LOVE!"
MARQUETTE CHILDREN'S MUSEUM 123 W. BARAGA AVE.

Artist: Josh Everingham

Inspired by a graffiti mural she discovered while visiting her daughter in Austin, Texas, Children's Museum director Nheena Ittner wanted to bring a similar style mural to Marquette. The Austin mural's simple saying "I love you very much," sprayed graffiti-style on a wall, had become a popular selfie spot and stop on tours in that city.

"It became this iconic thing and I just loved that idea of something as simple as that," Ittner said.

Marquette's iteration "It's All About Love" has since become a popular spot for families, couples, wedding shots, and more.

Photo Credit: Sawftsea / Chelsea Monaghan
"KEVIN," THE SAW WHET OWL
LOCATION: BLACKROCKS BREWERY 424 N. THIRD ST & BREWING FACILITY 950 W. WASHINGTON ST.

Artist: Sawftsea

Slithering across the back wall of Blackrocks Brewery's production facility is the mysterious Blackrocks Serpent. Birthed from the depths of local tattoo artist Shawn Wolfman's imagination, the mural draws on the mysteries of the deep, dark waters of Lake Superior. While there is no official name for the serpent, Wolfman said some around town call it Sigmund the Sea Monster.

After meeting Sigmund and seeing where the magic is brewed, make your way over to the pub to say hello to newcomer, "Kevin," the Northern Saw Whet Owl, a permanent visitor on the patio at Blackrocks Brewery brought to life by artist Chelsea Monaghan (@Sawftsea). Snap a selfie in front of this cute, feathered creature while you toast to your Northwoods adventure or plan your next one.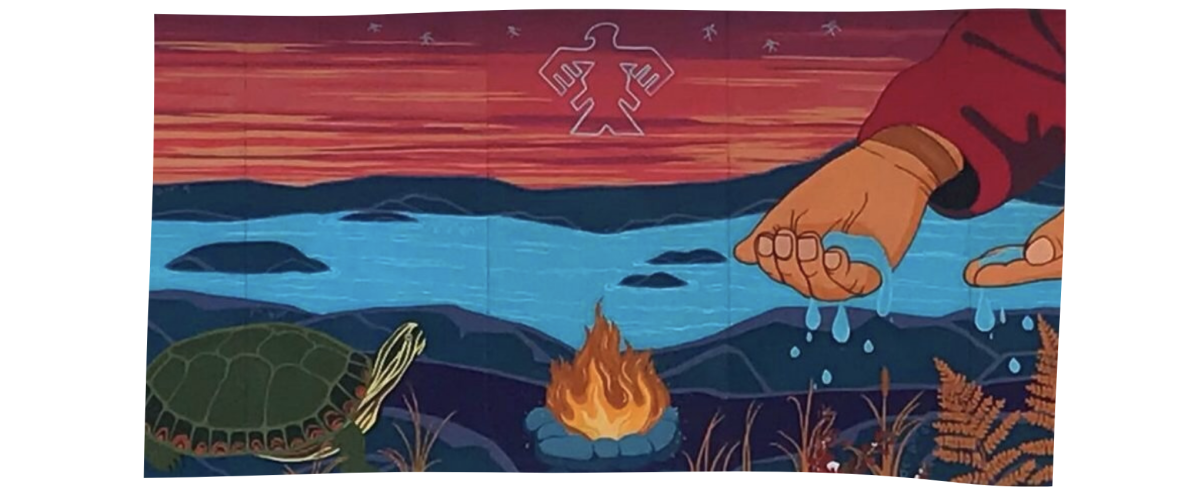 "LIVING THE GOOD LIFE"
"MINO BIMAADIZIWIN"
PETER WHITE PUBLIC LIBRARY CORNER OF THIRD AND RIDGE STREETS

Artist: Chelsea Monaghan (@Sawftsea) with direction of Glen Bressette Jr. and his father, Glen Bressette Sr.

A celebration of Anishinaabe heritage, this gorgeous display honors Water Walker Josephine Mandamin, who walked more than 10,000 miles on sacred water walks around the perimeter of all five Great Lakes. Sacred water, fire, Thunderbird, turtle, and birch tree all feature prominently in Anishinaabe teachings.

Photo Credit: @kfunkit & @rowdelaney
EVOLVE & STAY INVOLVED
LOYALTEES CUSTOM APPAREL 321 S. FRONT ST.

Artist: Chelsea Monaghan (@Sawftsea)

Inspire positive vibes with a selfie in front of this colorful symbol of unity and hope designed by LoyalTees owner Brandon Sayen and artist Sawftsea. Hidden syllabics of Anishinaabe words were added by Northern Michigan University Professor Jud Sojourn. The mural welcomes visitors and residents into Marquette with a message of inclusivity.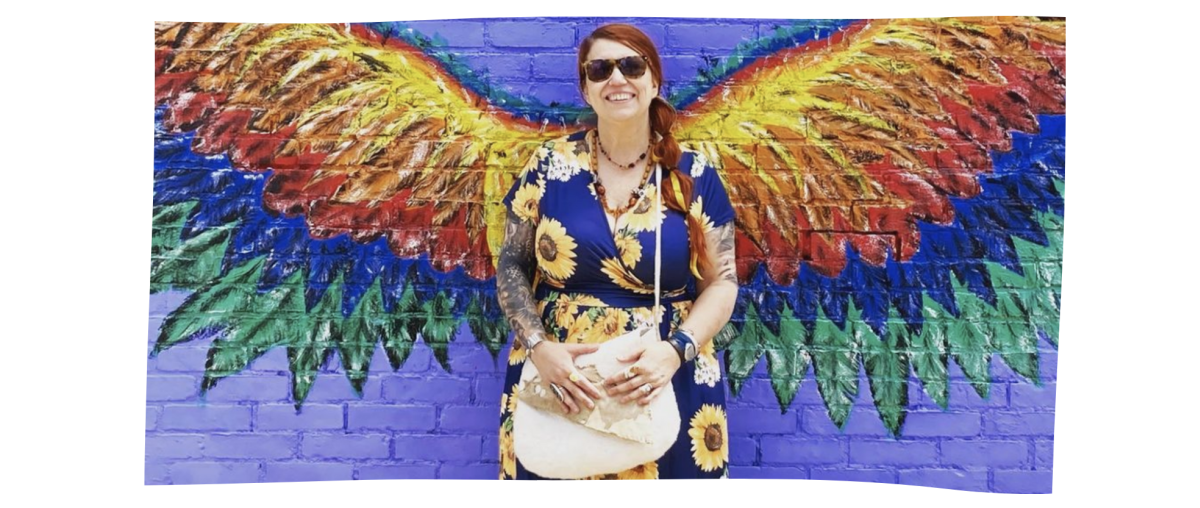 Photo Credit: @poetickuma
RAINBOW WINGS
RARE EARTH GOODS 200 DIVISION ST., ISHPEMING

Artist: Owner Pamela Perkins

Spread your wings at this eclectic cafe, natural food store, and art co-op with a pic in front of this colorful, uplifting selfie wall.