If you missed Art on the Rocks or the OutBack sale this year, never fear. There's a homegrown, year-round option for durable, creatively made jewelry right in the heart of Marquette: Beth Millner Jewelry. With a wide selection of necklaces, bracelets, rings, pendants, earrings and more - often locally made, with locally sourced materials - you're sure to find something appealing here. And if you're not a big jewelry fan, Millner's relentless focus on education and outreach makes wearable fashion accessible and fun. Plus, her shop is a great place to find last-minute gifts for birthdays, the holidays, or just because.
Who Is Beth Millner?
Perhaps unsurprisingly, the inspiration and driving force behind Beth Millner Jewelry is Beth Millner herself. According to a recent profile in Upper Michigan's Source, the Marinette, Wisconsin native moved to Marquette in 2005 and graduated from Northern Michigan University's Fine Arts program (with a concentration in metalsmithing, naturally). She got her start on the local art show and festival circuit, quickly making a name as one of the U.P.'s most innovative craftspeople. She still does a brisk online trade, but her physical jewelry store - opened in 2012 - is the clearest embodiment of her success: She owns the building where it's located and now employs NMU arts graduates who help her design and craft memorable pieces.
What You'll Find at Beth Millner Jewelry
With so much variety on offer, it's hard to pin Beth Millner Jewelry down to a single style or approach. It's definitely safe to say that Millner takes an eco-friendly and socially responsible view of her craft, adhering to strict diamond purchasing standards and using as much recycled material as possible. Her designs reinforce her philosophy, with many evoking nature themes like trees and abstract animal silhouettes. According to Miller's website, all pieces begin their life as flat metal sheet or wire. Some of the highlights of the shop's collection include: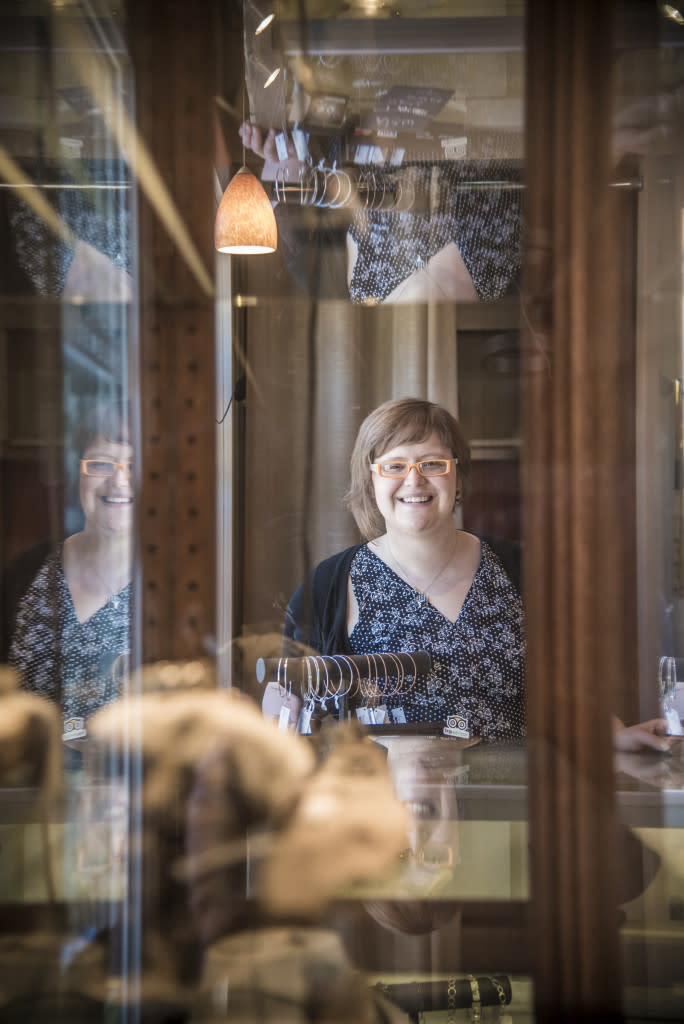 Silver pendants that celebrate outdoor recreation, local geography, social causes and nature in general
Copper pendants and earrings that celebrate the U.P.'s deep connection to the copper industry
Durable mixed metal earrings and pendants
A wide selection of rings, including wedding rings
Millner also works closely with Kelly Gilligan, a local designer who specializes in handcrafted charms and other items. Gilligan's work can only be found at Beth Millner Jewelry, offering yet another reason to stop by!
Educating Customers and Curious Observers Alike
Marquette County residents don't just love Beth Millner Jewelry for Millner's naturalistic, eco-friendly designs and broad selection. They're also impressed by her obvious knowledge of the jewelry business and her passion for educating her clientele about her craft. Miller's jewelry blog is the clearest indication of her commitment to education, outreach, and community enthusiasm. She's not shy about sharing the secrets of her craft, either: A recent post, for instance, offers three easy tips for making silver rings. She also showcases side projects she's working on and discusses how to find inspiration in the everyday.
Location and Contact info
Beth Millner Jewelry is located on Washington Street in downtown Marquette, right across the street from the new location of Marquette Food Co-op. 521 W Washington St, Marquette, MI 49855 (906) 226-3540 Directions Website