[embed]https://vimeo.com/138629436[/embed]

This is how I imagined my first Marquette Enduro bike race coming up this Sunday, October 4th:

A tangled mess of girl, bike, dirt, and brilliant autumn leaves. Beyond certain self-injury in the name of my perverse sense of pride, I imagine bearded dudes in flannels with $4,000 wonder bikes and hardcore biker chicks who probably eat more vegetables than I do. I expect to have to make up excuses about why I suck compared to these women—maybe that I have to pee, or that my bike is having mechanical issues. Or maybe I'll just say that I've literally never done anything like this in my life and am resisting my impending doom. Something like that. What great expectations, right? From an outsider's perspective, Enduro is a mountain bike race format enjoyed by serious cyclists chasing adrenaline and raw speed more than the folks looking to test their lungs. But it's really a format for people who like to like to take snack breaks, go fast, and spend the day with their friends.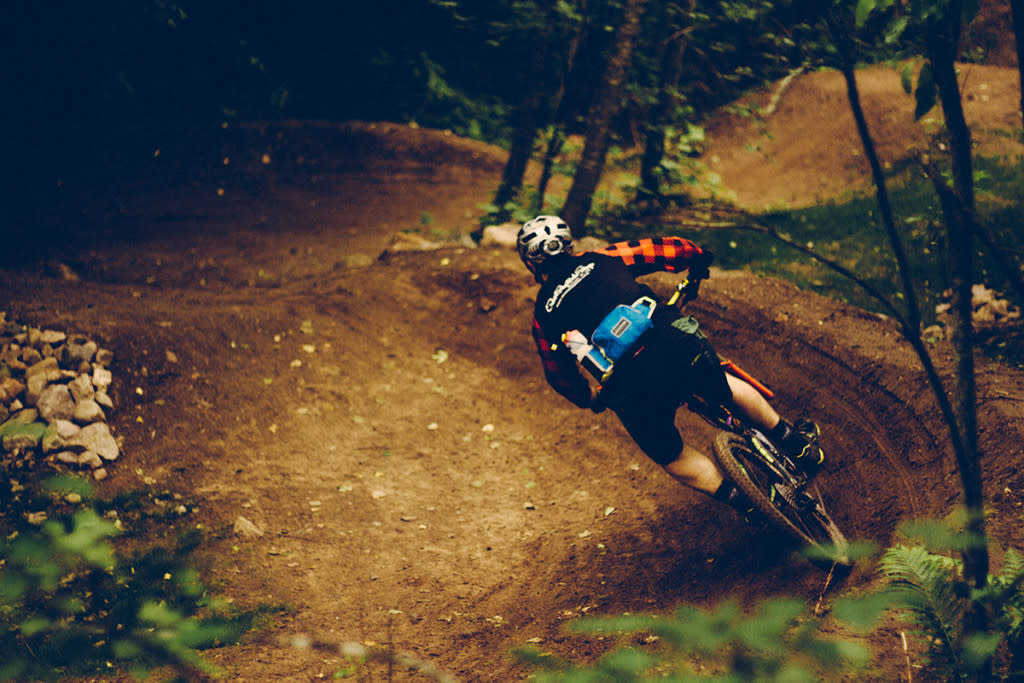 The whole thing consists of fun technical downhill 'stages' sandwiched between untimed uphill slogs. Ya gotta go up to get down, but why make the "un-fun" stuff even less fun by timing it? With all this in mind, I broke my first mild sweat while hovering over the 'purchase' button on the beginner registration page on Marquette Mountain Enduro's website last week. 30 bucks isn't much of a high-consequence situation, but my heart still palpitated when I thought about it because my ego, and maybe a good portion of my body, might be in for a good bruising. I'm guessing my spontaneous registration was an impulse from the same unchecked curiosity that tells me "yeah, this totally worked out last time I did something like this." It's the same instinct that signed me up for the Ore To Shore last summer, and for countless untrained-for 10Ks. Through inner-compromise, I figure what this decision really hinges on is having the kind of fun that my parents still don't fully understand. A couple days after registering, I ask a friend if he thought I'd be okay biking an enduro. He was sure that I'd be fine (his assertion slightly suspect given that he'd never biked with me) before adding that he was biking one of last year's stages that night. I asked to tag along.
We met up at the South Trails that night after work, he avoiding homework while I the couch. An hour later the sun was gone and we finished the ride with a high-five and my hurting hip. I'd gone over my handlebars on the descent back to the parking lot, landing on rocks from a few feet up. My dreams came true in advance.

It's a pretty standard operating procedure—I assume—for anyone that has ever biked the South Trails, but I was

stoked

. I had taken the over-the-handlebars fall off its silly pedestal, thereby showing myself just how un-scary it can be. Beyond that, though, I had shared the experience with a new riding partner who seemed just as excited about my progression into enduro racing as I was.

In lieu of being scary and unobtainable, my first foray into enduro racing began to feel friendly and welcoming, made complete with a healthy dose of the fear that I'd managed to overcome.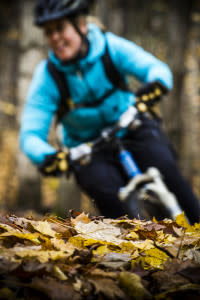 Now I imagine my first Enduro race to look like this: A tangled mess of girl, bike, dirt,  brilliant autumn leaves, and a whole lot of fun. And what better motivation is there than that? To sign up for the event, click HERE For lodging info, click HERE     Words by Amanda Monthei