If you've never been to Negaunee or Ishpeming, MI, you're missing out on a slew of hidden gems. Here's where to eat, shop, and adventure in Marquette County's West End.
  📍NEGAUNEE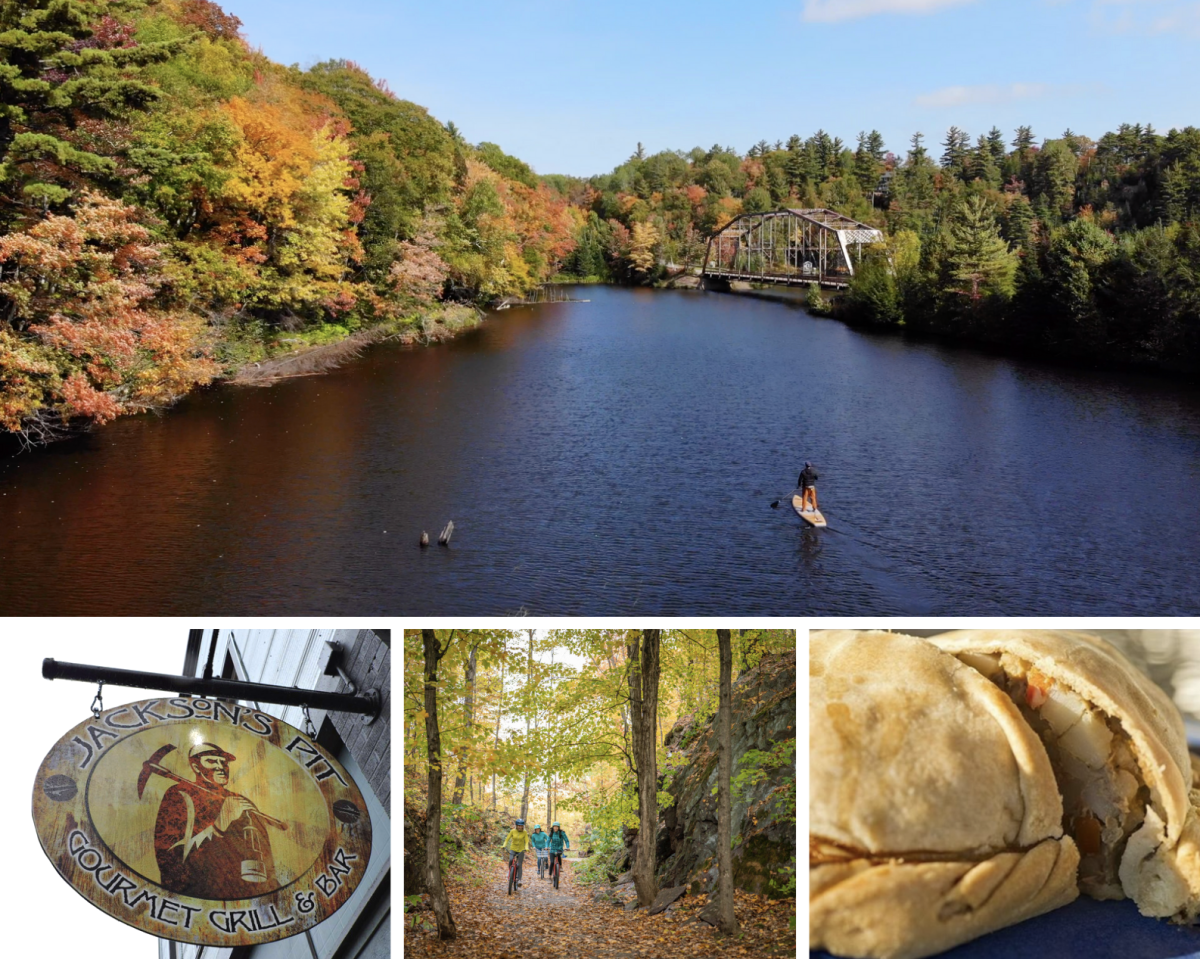 FOOD
IRON TOWN PASTIES // Feeling UP for a pasty? Iron Town in Negaunee bakes a wide and tasty variety of pasties, from traditional-style to veggie, vegan and gluten-friendly, so you're sure to walk out full & happy.
JACKSON'S PIT // The name Jackson's Pit is a homage to Neguanee's mining history, but the interior is modern and sleek. A must-stop for a burger and a beer, Jackson's Pit features one of the U.P.'s largest tap systems with Michigan craft beers, great burgers—and black bean burgers.
TINO'S BAR AND PIZZA // Are you team Cudighi? While Tino's is best known for its specialty 'zas, Tino's secret family cudighi recipe has been a local favorite for generations, too. It features an Italian sausage patty on a bun with pizza sauce, onion & mozzarella. Yum.
 SHOPS
LOWENSTEIN'S ANTIQUE MARKETPLACE // If you're looking to spend an afternoon sifting through antiques and vintage collectibles, then you're in the right place at Lowenstein's. Located in a 1916 department store building, this huge antique mall in the historic downtown district of Negaunee is sure to give you a genuine retro shopping experience.
1844 ORE // In 1844, William Burt accidentally discovered iron ore on the shores of Teal Lake which would lead to an ore-mining mecca at the center of Michigan's pristine Upper Peninsula. 1844 Ore prides itself on selling high-quality, modern and vintage apparel, as well as separate collections focusing on "Irontown", AKA Negaunee.
 ADVENTURE
TEAL LAKE // Teal Lake is a public fishery located within the city of Negaunee. This 466-acre lake is home to Large and Smallmouth Bass, Crappie, Sucker, Sunfish and Walleye. While there are no gas motors allowed, most of the lake's shoreline is publicly accessible.
JACKSON MINE PARK // Part of the Iron Ore Heritage Trail, this 5-acre recreation area is as scenic as it is historic. As the first iron mine in the Lake Superior region, it was designated as a Michigan State Historic Site in 1956 and in 1971 was listed on the National Register of His- toric Places. While Jackson Mine Park is accessible in any season, it is especially magical in the fall for a beautiful walk or bike ride among the colorful foliage.
CR 510 BRIDGE // Just a short drive up US41, the CR 510 Bridge is another excellent place to fall leaf peep. While this view requires minimal effort, it offers a panoramic look at the vast green, gold and auburn leaves over the Dead River.
UPPER PENINSULA LUGE CLUB // Negaunee's Lucy Hill is the only full-length natural luge track in the country. While the track is mostly occupied by professional athletes and Olympic-luge- hopefuls, the bottom section of the track is open for public sliding and the UPLC even provides sleds, helmets and braking shoes—all you need to do is arrive dressed ready for the weather and thrill of a lifetime.
📍ISHPEMING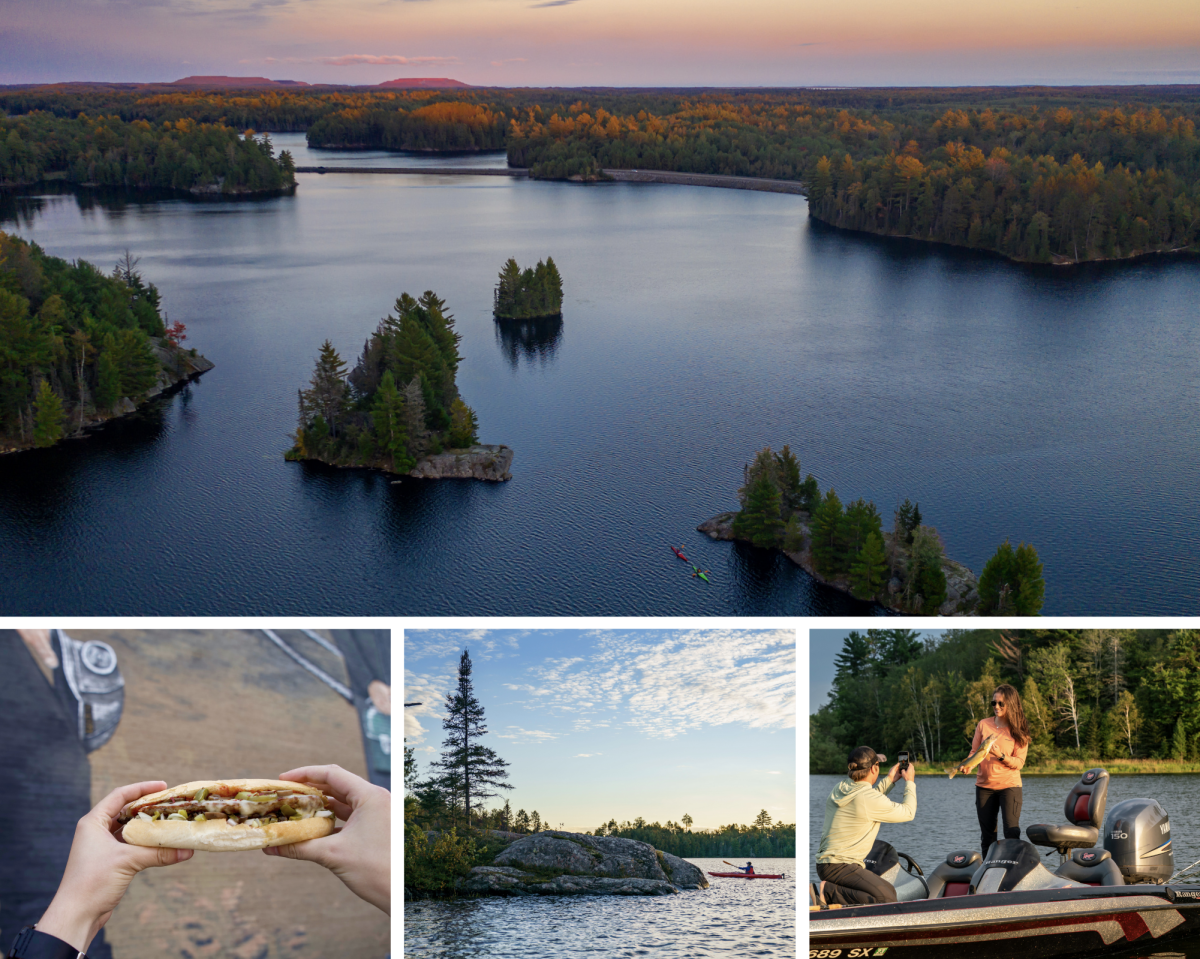 FOOD
CONGRESS PIZZA // One of the most celebrated Pizzerias in Marquette County, Congress Pizza was established in Ishpeming in 1934. This eatery boasts a small-town atmosphere and big flavor— with thin-crust pizzas brick oven-baked to perfection.
RALPH'S ITALIAN DELI // Ralph's eclectic Italian deli and party store was voted the U.P.'s best cudighi. Cudighi, bread, pizza dough, sausage, spaghetti sauces and pasties are all made from scratch and fresh daily.
 SHOPS
RARE EARTH GOODS // Unearth local art, apparel, craft beer and organic goods at Rare Earth Goods in the heart of Ishpeming. This general store/art co-op/cafe offers an eclectic mix of natural, healthy & organic foods, medicine, alternative clothing and more.
DA YOOPERS TOURIST TRAP // If you're looking for the full tourist experience, get your fill at Ishpeming's Da Yoopers Tourist Trap. Your one-stop shop for all things U.P.—U.P. t-shirts, sweatshirts, postcards, greeting cards, food and goods, arts and crafts and so much more. After you purchase some souvenirs, be sure to check out the gallery of unusual yooper inventions, the rock and mineral display and also the world's largest working chainsaw and the world's largest working rifle.
MAIN STREET ANTIQUE MALL // Set in the historic Gately's Department Store, this multi-dealer antique and vintage mall features a variety of finds from over 45 vendors and consignors. Before making a trip to Main Street, be sure to call or check online for their hours first as they're typically only open six days a week in summer and fall and only Thursdays, Fri- days and Saturdays from mid-October through mid-June.
 ADVENTURE
AL QUAAL RECREATION AREA // Ishpeming's Al Quaal Recreation Area has miles of trails surrounded by beautiful scenery. Depending on the season, you can enjoy many recreational activities such as hiking and biking, disc golfing, cross country skiing, snowshoeing, snow tubing and more.
DEER LAKE BASIN // Located north of the city of Ishpeming, this inland lake is known for its incredible scenery and fishery. Deer Lake is a catch-and-release-only area is great for catching Walleye and Northern Pike by boat or even right from the shoreline.
SUICIDE SKI BOWL // Ishpeming Ski Club's Suicide Bowl has five ski jumps including the beginner's K13 hill, K25, K40, K60 and the famous K90 Suicide Hill. While the hill provides year-round ski jumping opportunities for young skiers, we recommend visiting during the Annual Ishpeming Ski Jumping Tournament to see local and international skiers alike soar as they launch off of the notorious 90-meter ski jump to compete for the greatest distance.
RANGE AREA MOUNTAIN BIKE ASSOCIATION (RAMBA) // Experience incredible biking in Marquette County's West End on trails built over the decades by grassroots trail organization RAMBA (Range Area Mountain Bike Club). Between RAMBA's Ishpeming and Negaunee trails you can ride 77 miles of hand built single-track, plus 20+ miles of groomed winter trail. Ride on.