Celebrating the Fourth of July in Marquette is a memorable experience. From Food Fests to Fireworks, and a new Laser Light Show, there's plenty to see and do all weekend long in Marquette County, MI.

The Fourth of July Weekend in Marquette kicks off with the International Food Fest in Mattson Lower Harbor Park. The Marquette County Exchange Club is hosting Food Fest from 12 PM - 10 PM on July 2, 3, and 4! Come down for some good eats, a cold beer, games and activities for kids, and catch your favorite local live musicians and performers. Musicians are scheduled to hit the stage all day on the 2nd and 4th 12 PM -10 PM and from 2 PM - 10 PM on Monday the 3rd. Check the Marquette County Exchange Club Facebook Page for the full lineup of music throughout the weekend.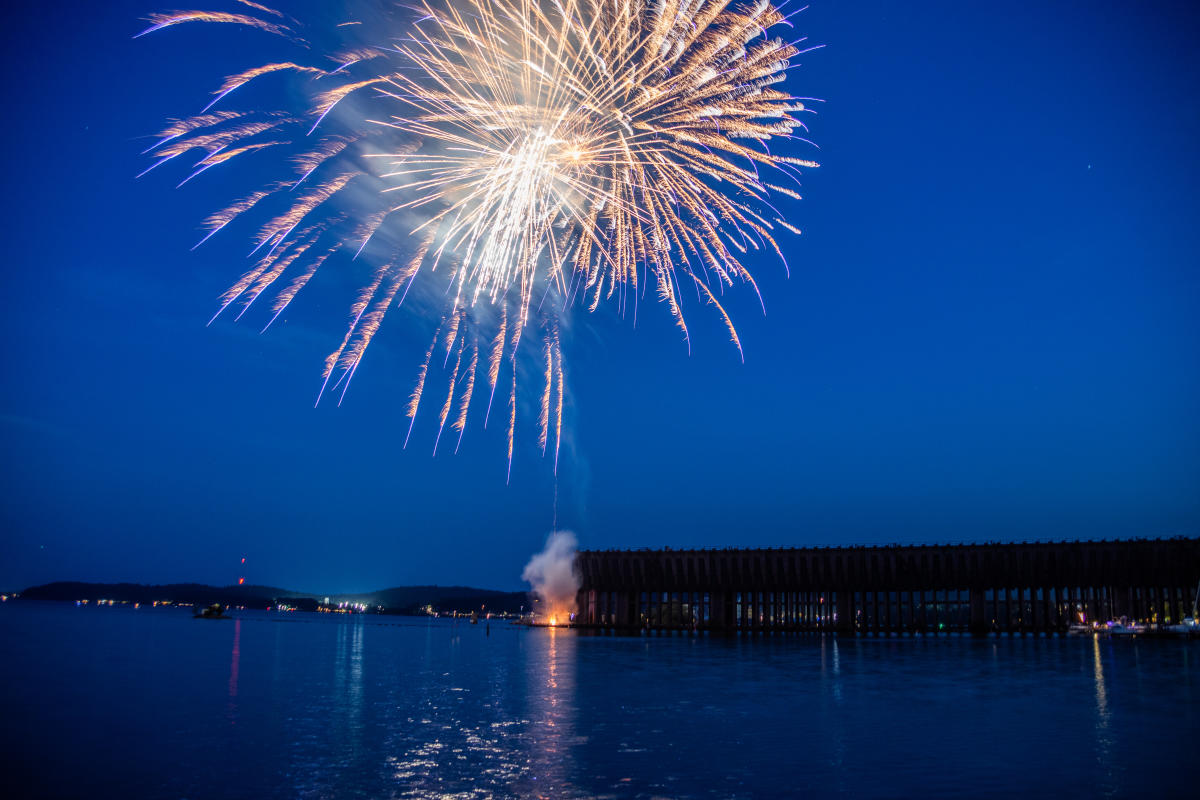 July 3, 2023
Monday evening is packed full of music and activities. Bring a lawn chair, blankets, and some cash for a snack at the ice cream stand. The Marquette City Band will be performing at 6:30 PM. The Boat Parade of holiday-themed decorated boats starts at 9:30 PM with the Fireworks show to follow. The colorful explosions will start at dusk, so you'll want to make sure you have your spot in the park by 10:30 PM. The lasers will be active during the fireworks show complimenting the explosions, so if you would like to view both, Mattson Lower Harbor will be the best viewing location.
Rain Date
In case of inclement weather on July 3, the fireworks display will be rescheduled for the evening of July 4 at dusk. Dusk occurs between 10:30 and 10:45 PM, so head down to the Lakefront or Mattson Lower Harbor Park to catch a glimpse of the 2023 Marquette Fireworks Show.
July 4, 2023
Celebrate Independence Day all day long in Marquette. Enjoy delicious food, kids activities, and live music at the International Food Fest at Mattson Lower Harbor. Find a spot on Washington St between McClellan and Third St for the Independence Day Parade.
The parade starts at 2 PM and will be making its way down Washington Street. Hear the marching band's cadence, see the colorful floats and majestic horses, and taste a piece of candy that brings back the nostalgia of summertime Fourth of July festivities.    
The evening of July 4th, The Fresh Coast Light Lab, Travel Marquette, and the Marquette Area Celebration Committee teamed up to present something new, a laser light show display on the Ore Dock! This new event will allow additional groups of residents and visitors, like veterans with PTSD, a sensory-friendly opportunity to participate in Marquette's Fourth of July Celebration. Head down to Mattson Lower Harbor Park to see the new laser light show. 

WHAT TIME DO THE SHOWS BEGIN?
The city of Marquette Fireworks begin at dusk (approximately 10:40 PM) on July 3rd
The Marquette 4th of July Laser Light Show begins at dusk (approximately 10:40 PM) on July 4th
WHERE CAN I PARK FOR THE FIREWORKS DISPLAY?
You'll find free & convenient parking at these locations:
Lakeshore Lot, Downtown Parking Structure, North Main Street Lot, South Main Street Lot, Spring Street Lot, Rock Street Lot.
WHAT SHOULD I BRING?
We recommend bringing some picnic blankets, lawn chairs, snacks, and beverages to enjoy the show. There will be light concessions on site.
CAN WE LIGHT OFF OUR OWN FIREWORKS?
Fireworks are illegal in the city of Marquette, in parks, and on beaches and public property.
FRIENDLY WEEKEND REMINDERS:
Glass is not allowed on the beaches. Please pick up your trash.
Do your best to leave it better than you found it. Enjoy!
See parking and safety maps below
---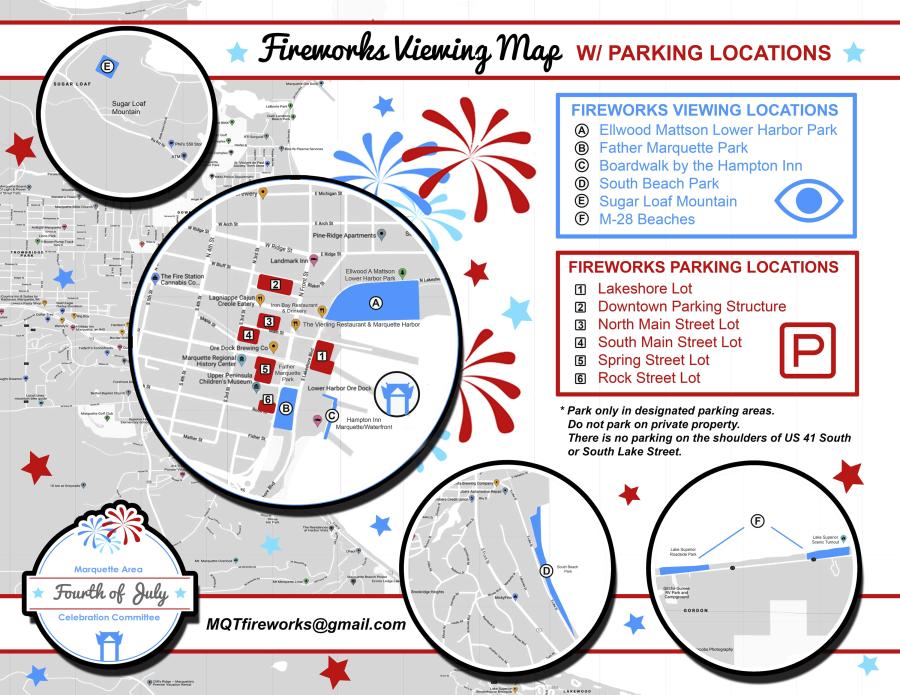 ---
July 3rd Fireworks viewing and parking map. The lasers will be active during the fireworks show so if you would like to view both, Mattson Lower Harbor will be the best viewing location. 
(Note: Spot C will be closed on July 3rd and 4th at 6 PM due to the new addition of the Laser Light Show)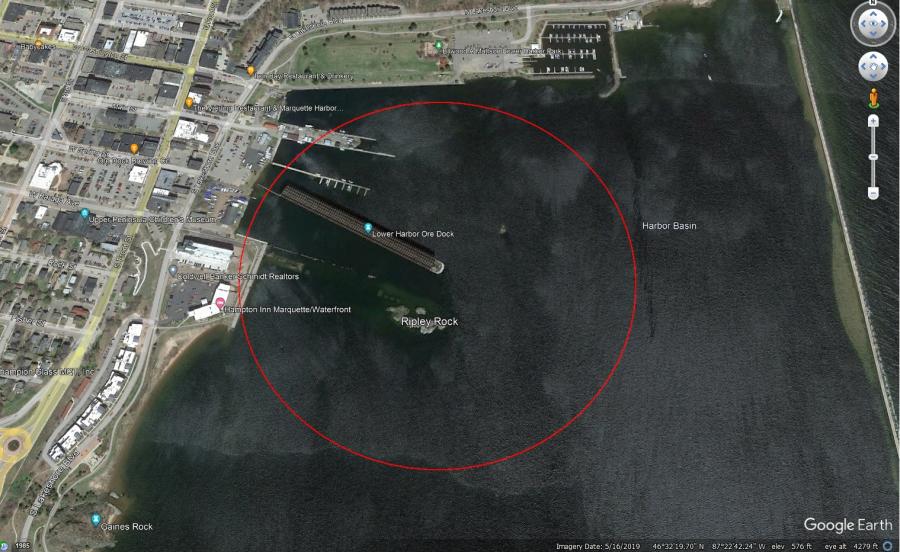 If you wish to view the fireworks and laser light display by boat, the safety zone is located outside of the red circle. Please avoid being within the red circle to avoid serious injury. The South Side of the Ore Dock by the Founders Landing Pier will be closed by 6 PM. 
(See safety zone map above)