Marquette County Swimming Holes Plug the words Heat Dome into your favorite search engine, and you'll quickly realize that it may be a good idea to plan some escape routes from the summer sun. With a massive heat wave expected to encompass most of the US this week, your favorite beaches are guaranteed to be a little bit crowded. Check out some of these favorite swimming holes instead:   Rivers Dead River Falls The Dead River snakes through Marquette County offering countless opportunities to catch some relief from the summer heat. However, the portion just west of the city of Marquette drops 90 feet in about a half-mile. Uninhibited by any dams or diversions, this portion of the river is home to a sprawling series of waterfalls. To get here, park your car at the end of Forestville Road just off of Wright Street in Marquette and follow the signs. The hike out crosses sections of unmaintained trail, and can be slightly challenging at times. Once you've made it past the cedars, reward yourself with a dip in one of many swimming holes. With some local knowledge, you may even discover some timeless cliff jumping spots.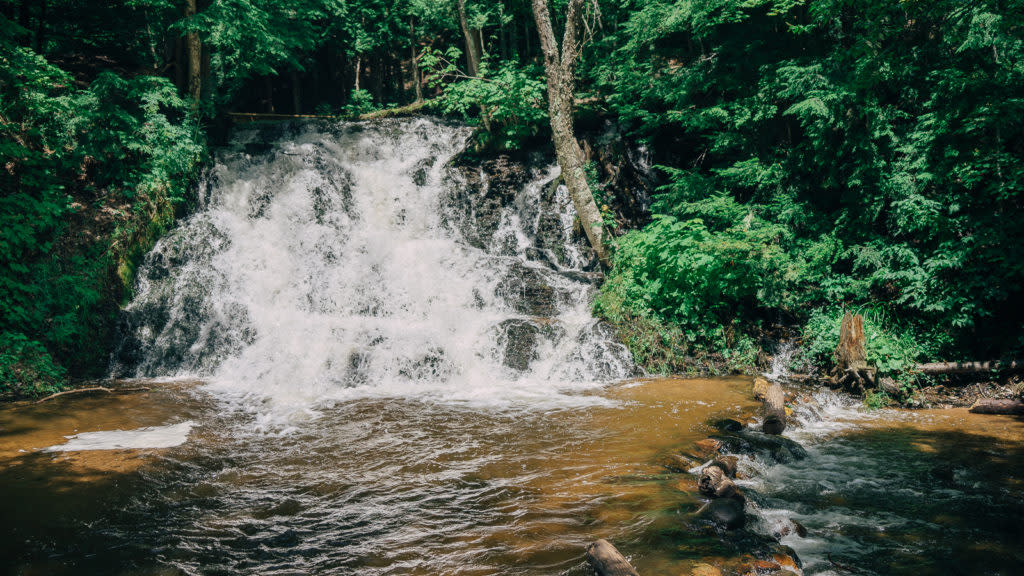 Morgan Falls Also home to several waterfalls in a short span, the Carp River and Morgan Creek offers a nice change of scenery from the Dead River. Rock outcroppings, lushly blanketed in thick green moss, stand tall above the river edge. Cedars twist themselves around one another, their roots crawling above the soil. River mist dances skyward and shafts of sunlight illuminate the forest floor. Located across from Marquette Mountain on M-553, the more easily accessible Morgan Falls lends a great starting point for your hike along the river. Upstream, several more waterfalls await. Many pockets along the river offer a great opportunity to soak in this distinctive natural wonder. Inland Lakes
Teal Lake Drive from Negaunee to Ishpeming and you can't miss this magnificent body of water. On its west end, a small sand beach acts as the gateway to this 505-acre lake. The beach is a nice entryway to the water, but you may want to consider bringing a floatation device. The real joy of this swimming hole is getting out onto the water for better vantage points of the impressive surroundings. Don't be deterred if you forgot your Orca floatie at home. Hike the trail that cuts out to the left of the parking lot. Follow it along the lake's edge for about a half of a mile and you will eventually end up hiking a series of granite rock outcrops. Cuts in the cliffs lead to the water and form coves for a private swimming experience. Echo Lake Echo Lake is a beauty. Located 15 miles outside of Marquette off of Big Bay Road, this small inland lake rests in a 480-acre nature preserve owned by The Nature Conservancy. Pine and hardwood trees cling to exposed bedrock bluffs that tower over the lake on its west end. Take some time exploring the trail system by foot. Vistas from the highest points offer stunning views of Hogback, Little Presque Isle, and Lake Superior. A peninsula cuts into the center of the lake from the north. From here, small rock outcroppings offer good access to the lake. It won't take you long to figure out how it got its name. Certain activities are strictly prohibited, such as dogs or other pets, camping, campfires, biking, or live-bait fishing. For more information visit The Nature Conservancy's Echo Lake Nature Preserve web page.   [embed]https://youtu.be/wG4ce4L3hAo[/embed] That Other Lake Marquette County is home to roughly 83 miles of Lake Superior coastline. Over the years, many portions of the beachfront were donated to their respective local governments under one jurisdiction: they always remained free and open to the public. There are countless access points along this coast that offer inimitable Great Lakes experiences. The Internet offers no shortage of information on famed swimming spots. However, make some friends at a local brewpub, and you might find out that there are some things that float below the reach of the information superhighway.