North of Marquette, a certain corridor of pines is home to scores of secret hiding places. A haven of rivers, rock outcrops, mountains, and beaches—County Road 550 traces the shoreline of Lake Superior for about 25 miles from Marquette to Big Bay. Early one January morning, my roommate Steph and I find ourselves with no obligations and itching to get outside. We toss our cross-country skis in the car, grab her pup Otis, and head out towards the old logging town in search of a change of pace from the trails we frequent. While this stretch of road attracts countless visitors in the summer months, it offers no shortage of opportunities for adventure come wintertime. Pull from our itinerary and carve out a day of your own.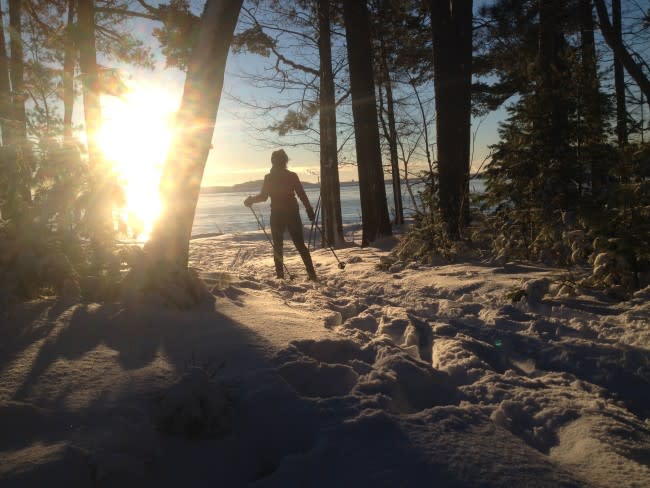 1. Little Presque We start our drive just after sunrise. Each time the road curves closer to the lake, the gaps in the trees open to a sky of pink and orange. Little Presque, makes an invitation for an impromptu stop. We pull over, guide Otis towards the lake, and grab our skis and poles. If you are fortunate to make the trip on a clear day, start it off with a sunrise from Little Presque Park. Gated and closed to vehicles for the winter, the short road to the shoreline liberates skiers and hikers. Continue on the path through the woods, or blaze your own. The trees part to a captivating Lake Superior. Shelves of ice stack themselves on top of one another and blanket the sandy beaches in an otherworldly landscape. This scene is particularly enchanting when contrasted with a cloudless sky and a calm lake. To the South, Sugarloaf stands silhouetted under a rising sun and islands of ice bob gently with the water's movement. 2. Hungry Hollow We load up the skis.  Twenty minutes later the day's first sips of coffee grace our lips at Big Bay's only diner, The Hungry Hollow. Attached to Cram's General Store, this establishment maintains itself as your classic "greasy spoon." Wood laminate and rusty orange accents embellish this no-frills café, offering a nice change of pace to the lavish breakfast spots that seem so abundant these days. You learn a lot about the town just by picking up on pieces of conversation between the waitress and the regulars. If you're looking to eat more food than you should in a single sitting, order the "Big Bay Breakfast." For a meager $8.50, you will find yourself staring at a heaping plate of three eggs, three slices of toast, hash browns, bacon, and sausage. With minor regret, I finish all of my food right before we hit the trails.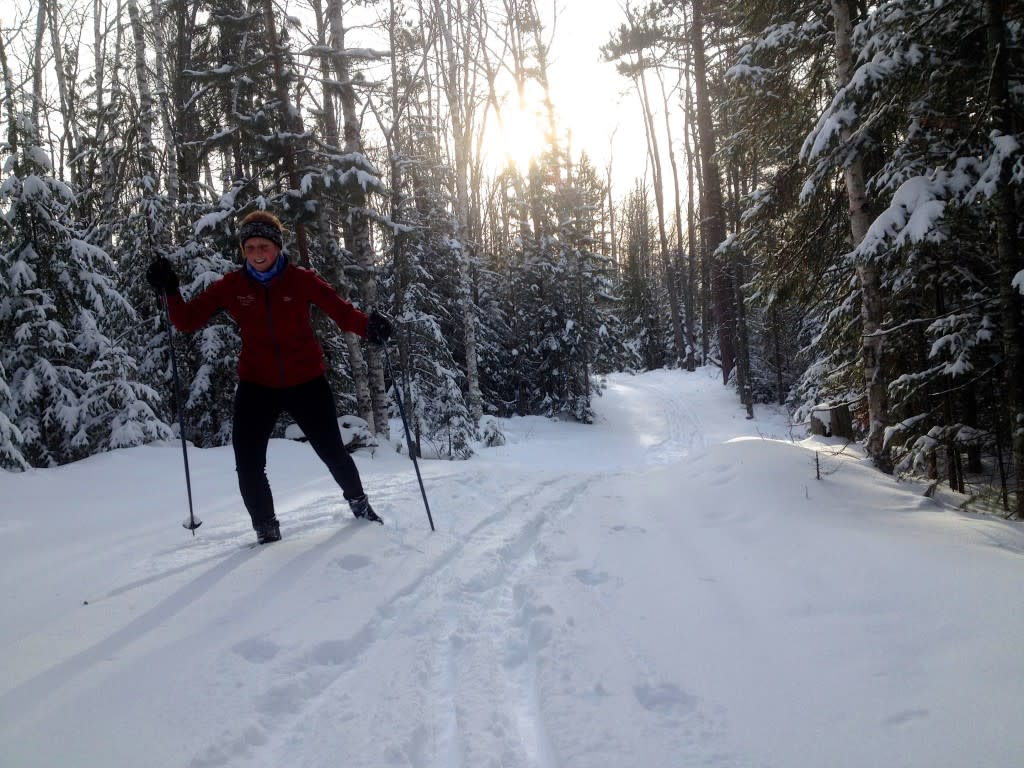 3. Big Bay Pathway  Gearing up for our first ski on the Big Bay Pathway, we are greeted with a freshly groomed trail. Pushing through the frosty forest, I frequently find myself stopping not out of exhaustion, but to soak in my surroundings. Hills roll through snow-laden tunnels of pines. Bridges rise over splitting streams. The trail feels like a quick diversion to Narnia until we shoot back onto the road and see my rusty Subaru. This trail system is a short drive from downtown Big Bay. Just past the Lumberjack Tavern, take a left onto Bear Pit Road. After a little less than a mile's drive, the trailhead will pop up on your right. For a worthy introduction, opt for the Hidden Grin trail. This intermediate loop kicks off with a relatively tame ski through pine forests and hardwood stands. Soon enough, the trail begins to rise, and you find yourself climbing quickly. The combination of impeccably groomed trail and long-winded descents will make this ski a highlight of your trip.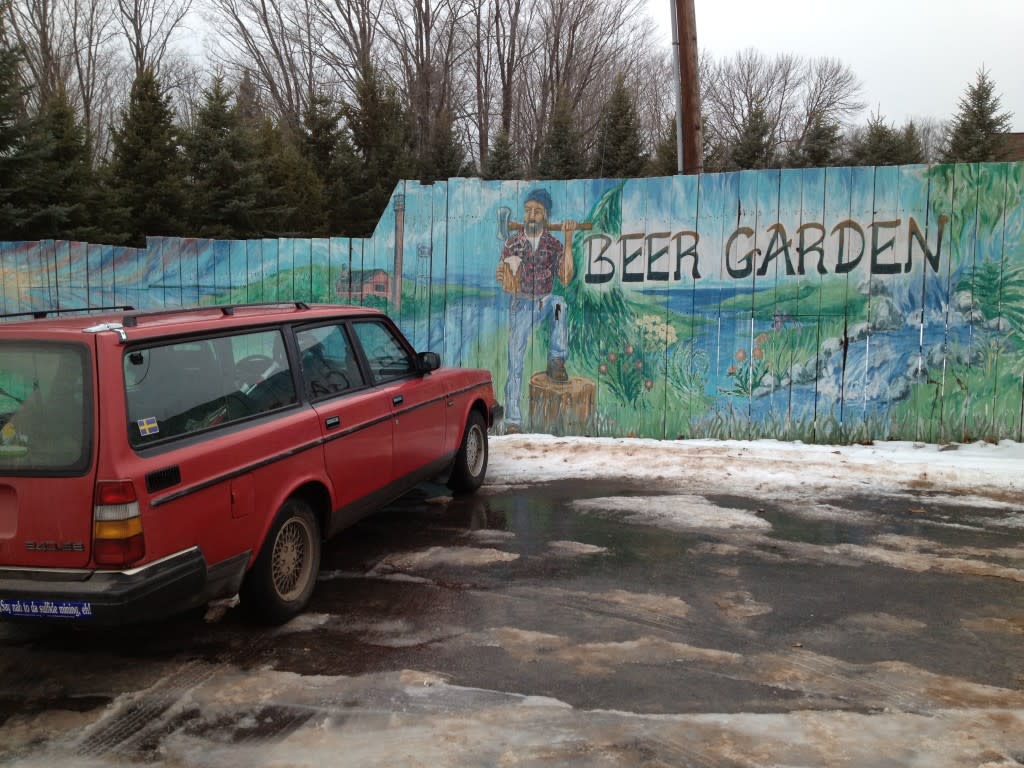 4. Lumberjack Tavern Pulling away from the trailhead, we decided it wouldn't be right to head back to Marquette without a stop at the Lumberjack Tavern. I have never asked if there is a classic Lumberjack drink, but it seems like it's PBR, so that's what I order. The Lumberjack has everything you could ever want in a Northwoods bar: cheap beer, delicious food, and a history rooted in homicide. The case in point is the crime for which the movie Anatomy of a Murder is based on. The murder took place here, the movie was filmed here, and the newspaper clippings and artifacts lining the walls won't let you forget it. If you have never heard of the movie and you could care less, stop by anyways and order a burger. You won't regret it.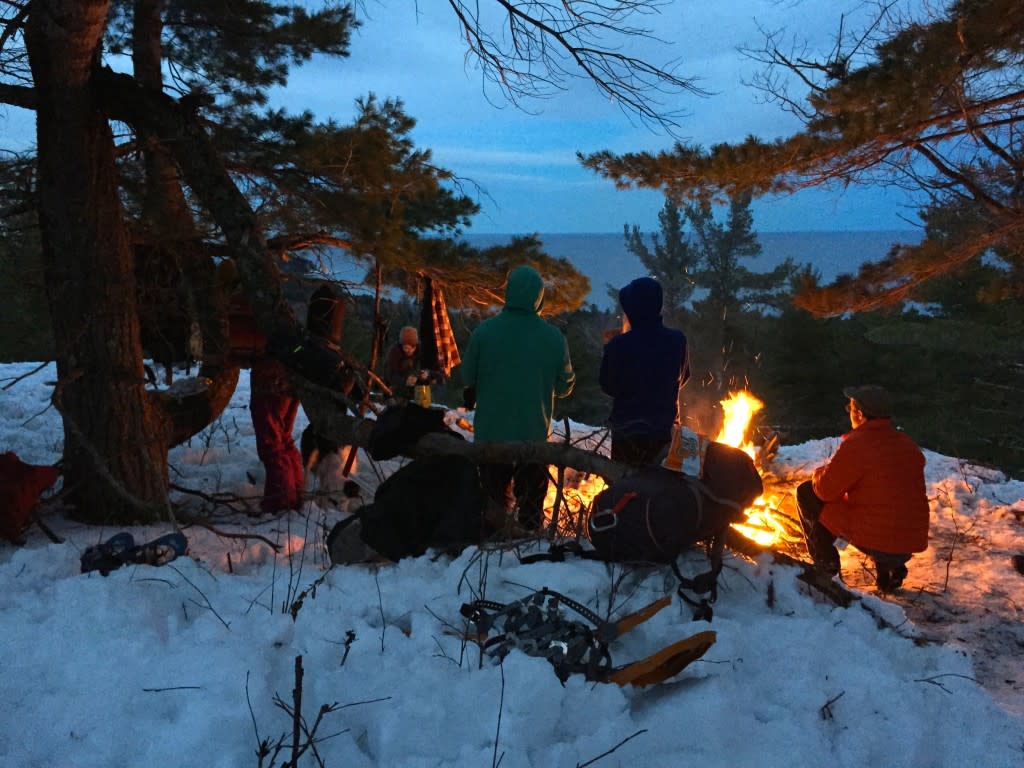 5. Lunar Loaf Driving home, we catch wind that some friends are hiking up near Lunar Loaf. After deeming this pit stop well worth it, and a few long-winded games of call and answer, we find their day camp up in the hills. Cedar groves in sheltered valleys. Rock outcrops with stunning views of the surrounding landscape. Lunar Loaf's often-overlooked ridgeline is not to be discounted. Take County Road 550 north about seven miles. Across the road from Wetmore Landing lies an unmarked lot that offers easy access to this noteworthy hiking spot. Follow the path north through the field and hike the quick uphill.  The first peak opens to a distinctive perspective of Lake Superior's shoreline. Venture up on the right evening, and the view of the full moon's rise will stay with you forever.   Words and Photos by Marquette County Enthusiast, Jeremy Vavrik Cover photo courtesy of Travel Marquette Instagram fan, @kaylarochelle95