Out on the open trail— you'll find ultimate freedom. Out here, you have the ability to leave everything behind and focus only on what lies ahead. The valleys and the peaks, accompanied solely by the sound of crunching snow beneath tire, and the continuous waves of your breathing. So take a moment to hit pause on your daily routine & seek out alternative routes.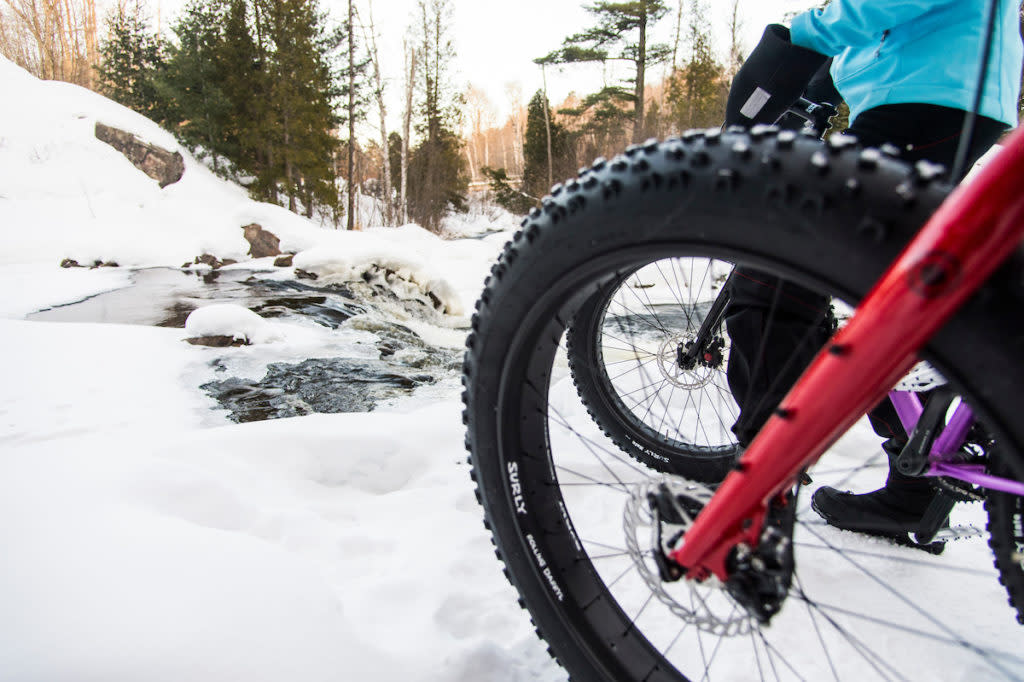 The Challenge
There's no doubt mountain biking is a rigorous sport, between the rough terrain Marquette County's rugged landscape offers, and the variable weather, you're bound to hit some bumps and rocks while riding among the outcrops. But throw two fat tires and some snow into the mix, and you have yourself a whole new adventure. Sure, climbing ice-packed, snow-caked tracks on a bike in frigid temperatures is difficult, but the chilling challenge ensures that you reap the warm, rewarding feeling of finishing up an awesome ride. Not only does Marquette provide trails for all types of riders ranging from beginner to expert, but we're also home to some pretty sweet races, too. Whether you come to compete, or just to ride, you're in for a good time. Rent & Ride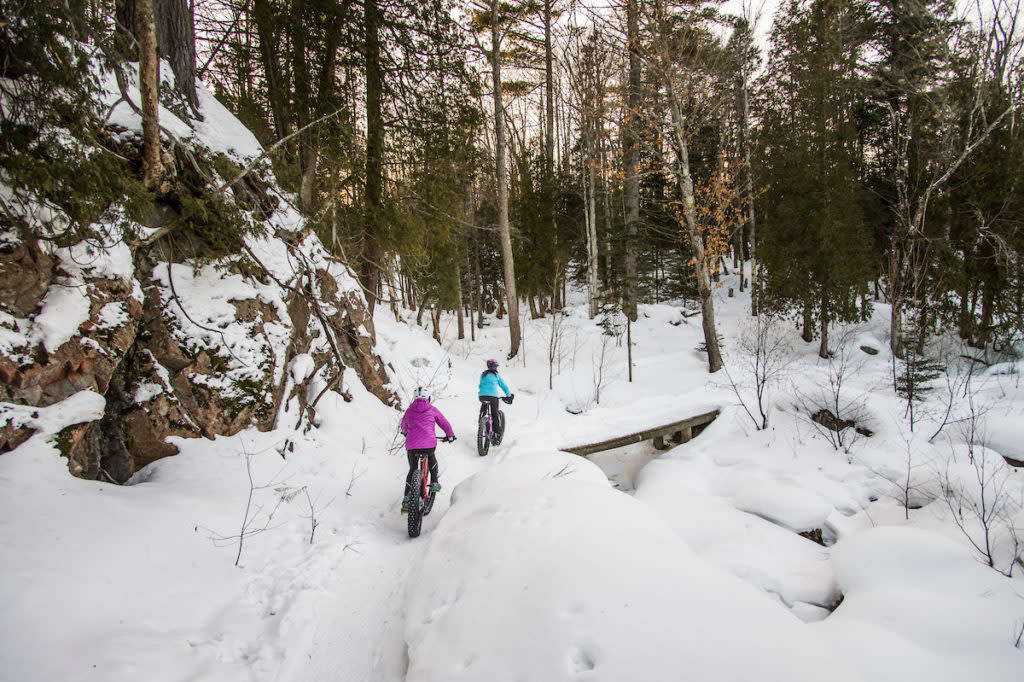 The Open Trail
There's nothing better than an open trail, and exemplary weather. The days when you take to the trail and wind up with perfectly firm, fresh-groomed tracks are the absolute best. You know the days when the sun peeks in and out of the path at just the right patches. "Days like [that] are the best," Candy Kozeluh, an avid biker, and Marquette resident raves. "You know, I just got back from Alaska, and our trails compared to theirs…I couldn't believe it. We're so lucky to have our trails." Candy explains that Marquette is among the best in the nation with its grooming techniques. Other areas offer mostly foot-packed trails and a bumpier ride. Marquette County's grooming methods leave the trails pristine, like pavement. "They're perfect. A solid 10." Noquemanon Trail Network & RAMBA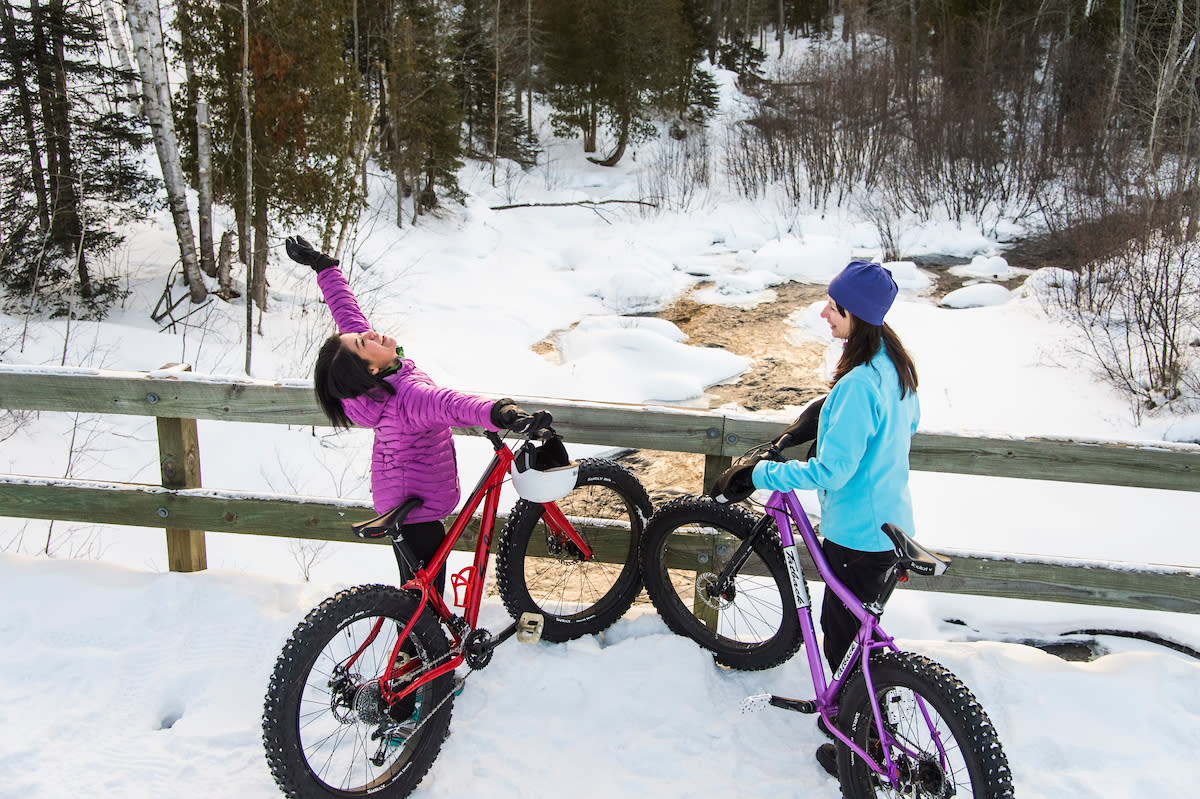 The Thrill
Much like the given confidence boost that the two fat tires provide, there's also a special thrill factor specific to snow biking. It's knowing that at any moment you could wipe out in the whiteout, and simply pick yourself back up and get back on. And lucky for us, Marquette takes snow grooming seriously. So once the snow hits and the sun's up, we're pretty much set to ride until sunset.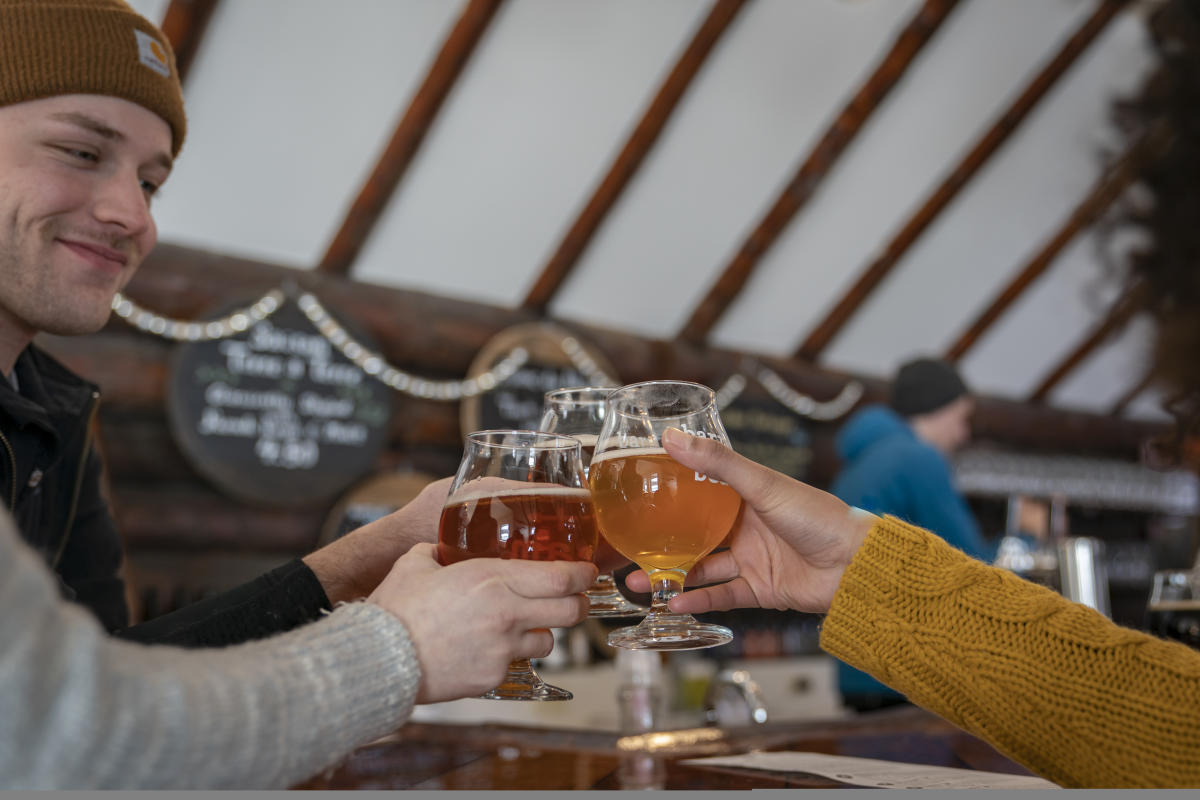 The Aftermath
And of course, the best way to wind down from any outdoor adventure is to crack open or tap into a crisp craft beer, and with six exceptional breweries to choose from, you've got nothing to lose. Grab a Beer