Countless hours of planning and labor have been poured into the Noquemanon Trail Network's South Trails. This expansive trail system is the mountain biker's ultimate playground. 72 bridges, 66 berms, and no shortage of tables, jumps, and drops help to shape over thirty miles of professionally groomed single-track. And all of it lies within ten minutes of biking from downtown Marquette. These trails act as another arm of the single-track maintained by the NTN that helps to shape Marquette as the Midwest's premier mountain biking town. With ample support from the community, the trail systems have only grown and improved since then. Some of the newer options at the South Trails include a dual slalom course, a progressive jump line, and an all-natural terrain park. Like much of the trails in Marquette, this set boasts diversity and offers something for every rider.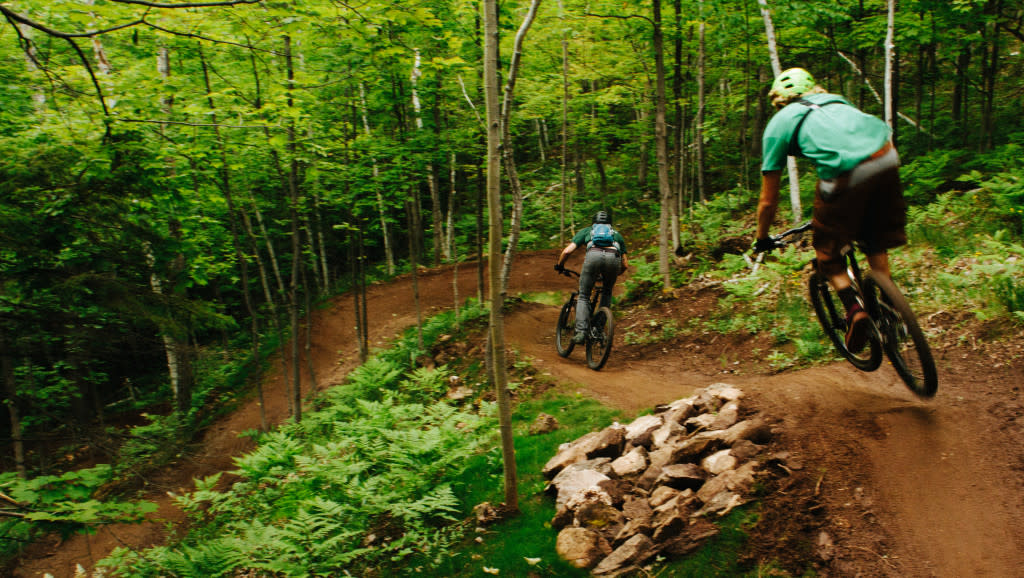 Bikers can find the main hub of the South Trails at the trailhead parking lot just north of Marquette Mountain on M553. For those truly looking to test their riding capacities, the park plays host to over 15 options for downhill and free ride trails. Riders should exercise caution on highly advanced routes—levels are labeled on the trail map. For those looking to explore a mixture of terrain, there is ample ground to cover. Amongst the miles of downhill trails and a 1.5-mile beginner loop named 'Grom', riders can push their endurance with four different longer loops. Ranging between four to seven miles in length, each offers its own take on Marquette riding.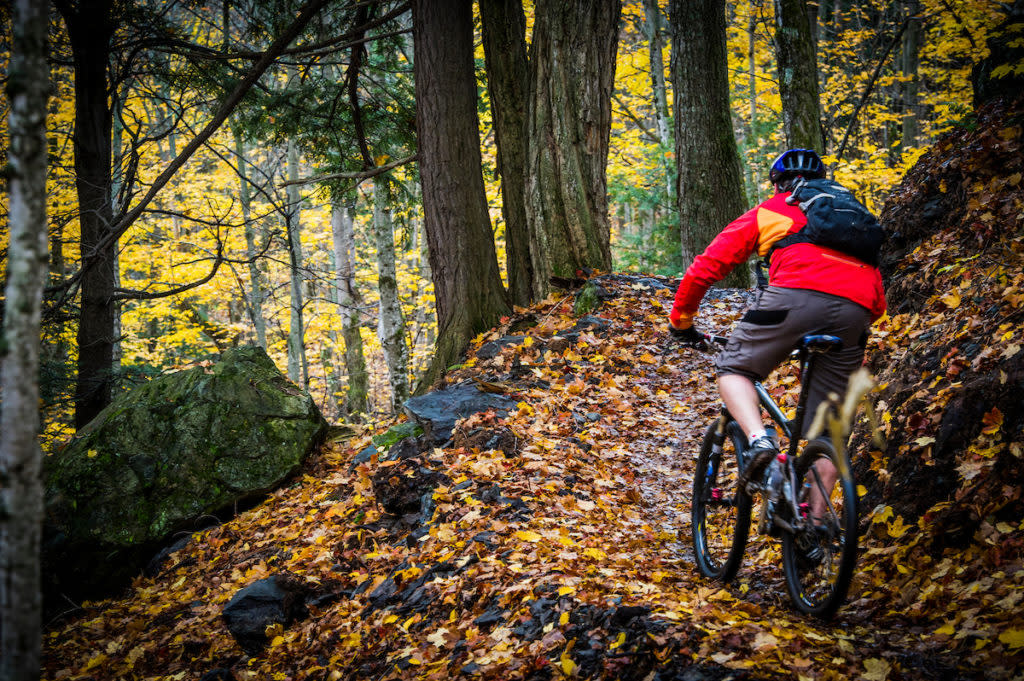 Red Loop: Also known as the Pioneer Loop, this section of trail serves as a great introduction to the South Trails. Following a burning climb up the Benson Grade, the trail dumps into the woods and covers long stretches of epic single-track. From the quick and technical to the long and flowy, this section of trail offers a proper mix of riding to warm up for anything in Marquette. Green Loop: While the beautiful Morgan Creek Loop may be the mildest of the four, it is definitely not to be missed. Cutting through gorgeous Marquette scenery, this intermediate ride carries bikers on 7.1 miles of machine-built trail. Riders follow the Morgan Creek into Marquette's wilderness on this stunning cross-country cycle. Yellow Loop: While work is still being done to connect the yellow trail into its own full loop of single-track riding, bikers on this section are no stranger to Marquette's riding diversity. Its trails Off Grade, Pipe Dreams, and Gorge-ous pair steep, bench-cut climbs with swift and sporty descents. Riders can anticipate scenic views of the Carp River Gorge. Blue Loop: Though this ride is only four miles long, it is the most advanced of the South Trails' loops. The ride begins with a steep, technical uphill section that acts as one of the main climbs of the loop. After the ascent, riders hit a speedy, well-tracked downhill dotted with ups and downs. From here on out the trail gives riders a taste of everything. Sweeping flow trail, root-laden climbs, and technical rock gardens wait to challenge bikers' capabilities. __________ For trail maps and more information, stop into any local bike shop, or head over to the Noquemanon Trail Network's Website. Directions:  Take Front Street south out of downtown Marquette. At the roundabout, continue south on Front Street. At the first traffic light, turn right onto Genesee Street. Then take your first left on Division Street. After about a mile and a half, turn left as the road comes to a T at M-553. Continue for a quarter-mile, and the trailhead will be on the left.