Unpredictable weather is no stranger to Michigan's Upper Peninsula, but when guessing what the weather is going to be like in mid-February, cold and snowy is a pretty safe bet.  Another safe bet is that no matter how cold and snowy it gets on February 20th, hundreds of fat bike enthusiasts will be riding the 35-mile snow bike route from Ishpeming to Marquette while competing in this year's 906 Polar Roll.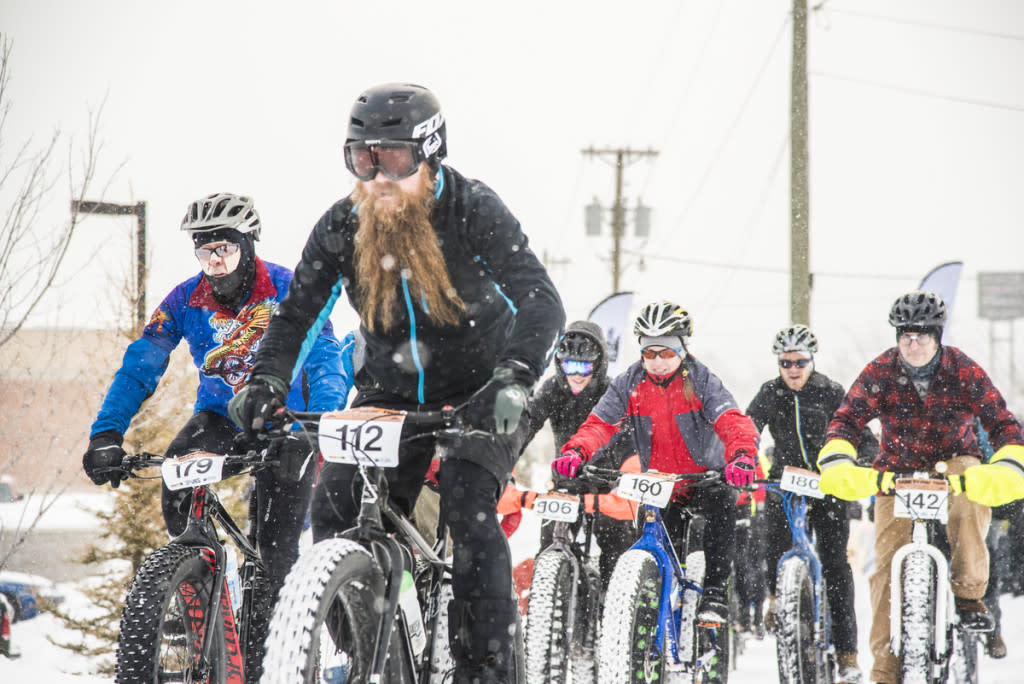 For some, it may be hard to imagine why anybody would want to battle the elements and frigid temperatures of the U.P. by bike.  For devoted mountain bikers however, fat tire bikes offer a long awaited extension to the riding season and blanket familiar trails with newfangled obstacles and experiences.  Such bikes have been around for decades, but it wasn't until recently that more and more manufacturers have been picking up on the possibilities and developing lighter frames with more appeal to the masses.  Marquette's world-class trail systems are no longer inhibited by the snow that covers them for much of the year but are now enhanced by it. Fat biking now stands as one of the fastest growing winter sports, and Marquette County continues to offer more groomed singletrack year after year.  The lucky call it home.  Visitors call it paradise.  Outside Magazine calls it "
heaven
."  Typically, in order to find the ideal hard pack conditions for snow biking, riders must cruise along the already groomed trails of snowmobilers and cross-country skiers.  Marquette, however, is home to some of the country's first-ever singletrack groomed specifically for snow biking ever.  It's a bit dreamlike, ripping through the forest on speedy downhill trails with berms and rollers, while everything around you is blanketed in feet of snow.  If you're looking for a sample of what Marquette has to offer, take a peak: https://www.youtube.com/watch?v=LorRn9NHfiI   The
906 Polar Roll
is a 35-mile fat bike race that guides competitors through some of Marquette County's premier snow bike routes.  This is race number eight in the Great Lakes Fat Bike Series, which showcases the best fat bike races in the Great Lakes region.  Participants can expect to be greeted by everlasting stretches of avidly groomed singletrack.  The race starts in Ishpeming, where riders will cover all of the Range Area Mountain Bike Association's Snow Bike Trail.  After riding the connector trail to Marquette, bikers hop on the Noquemanon Trail Network's Snow Bike Route and eventually cross the finish line in Marquette's Mattson Lower Harbor Park.   If a shorter race sounds more appealing, there is an 18-mile option that starts racers off in Marquette.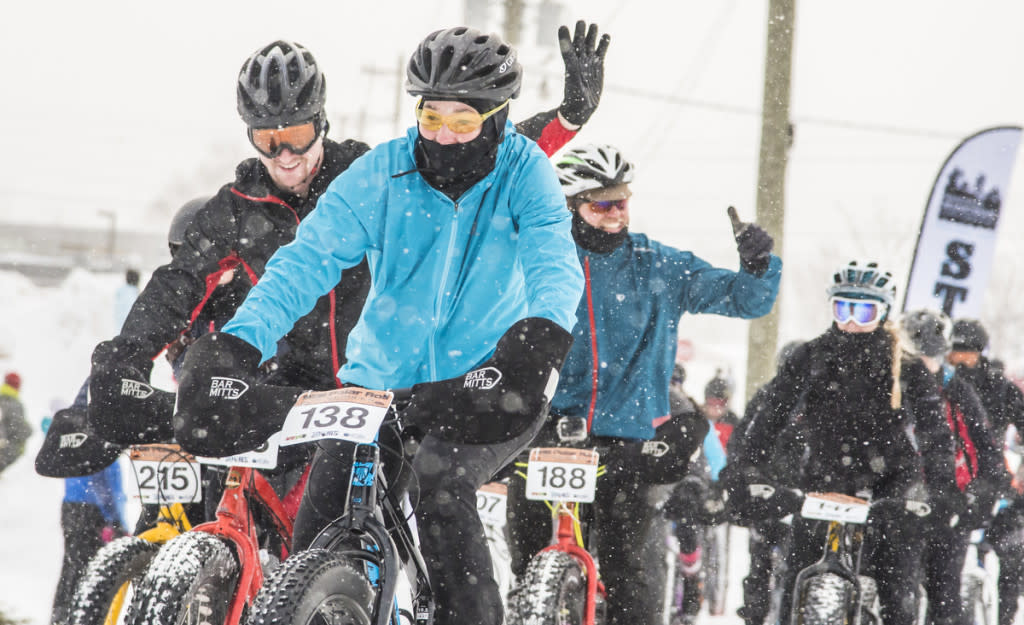 All proceeds from the race directly benefit the R.A.M.B.A. and N.T.N. trail systems that the route covers.  Given that these trail systems have put Marquette County on the map as a mecca of sorts for snow biking, it comes as no surprise that this is the largest fat tire bike race in the state of Michigan.  2016 is only the race's second year.  Race director, Todd Poquette of the 906 Adventure Team, says that the biggest surprise in organizing the event is how successful the turnout was.  Those interested in partaking in this year's race should be sure to register soon.  The race caps off at 400 riders, and over 300 have already signed up.  Registered participants and volunteers also receive passes to the event's after party in the Masonic Mall.  Lubricated by plenty of Blackrocks beer and the funky sounds of hometown heroes, Frank and Da Beanz, the party will wrap up the day's events in proper Marquette spirit. Racing or not, whatever you end up doing on February 20
th
, be sure to include a stop down to Lower Harbor late morning or early afternoon to watch competitors cross the finish line. With one of the finish options leading racers down the double staircase to the park, it is sure to keep things interesting. As an added bonus, beginning at 10 a.m. spectators will have the opportunity to demo fat bikes throughout the park. Come on down and experience the adventure that is Marquette.  
Words By Jeremy Vavrik