Apply Here.
Marquette, Michigan, is a winter sports fanatic's dream
My friends and I had heard about the legendary 200+ inches of snowfall in Marquette, Michigan, and were dying to dive into miles of fresh powder. But we were even more excited to ride the snow bike route—an epic 25-mile groomed trail on the Noquemanon Trail Network developed specifically for fat tire bikes. We were all avid mountain bikers, and had tried winter fat biking elsewhere and were decidedly underwhelmed. But after discovering the films Cold Rolled and its follow up Whack Jobs, about fat biking in Marquette—dubbed the winter fat bike capital of the lower 48—we were excited to experience fat biking heaven firsthand.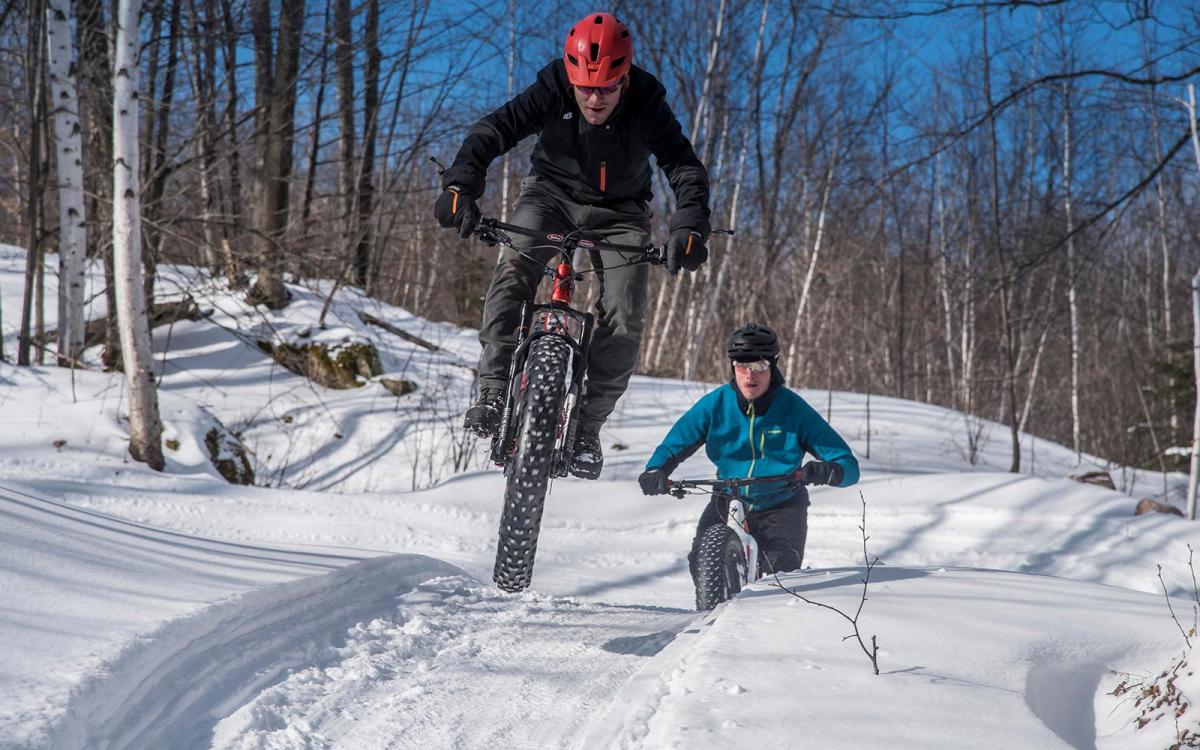 Fat bikes and fat burritos
With its red, white and blue corn tortilla chips and its tri-colored plates, Border Grill was a colorful contrast to the white outside. The staff at Sports Rack Marquette who hooked us up with Salsa Mukluk fat bikes recommended fueling up here before attacking the trails. Our whitefish burritos—filled with a fresh catch from nearby Lake Superior—were massive. The collection of salsas, hot sauces, homemade queso and guac we accumulated to go with them almost warranted a second table. After stuffing our faces with some of the freshest Mexican food I've had this side of the border, I reminded my friends it was time to trade our table for the trails.
These woods were a low-pressure rider's paradise. We spent hours pumping through snow-covered forest and over ice-covered bridges, down flowy hills, and over berms on groomed single-track. It was an adrenaline rush we were still riding later that evening as we recalled every mile over a round of beers.
After leaving the trails, we loaded up the bikes up and headed to Presque Isle Park. We crunched along the shoreline, checking out the Lake Superior "pancakes"—circular ice formations in the water that look like floating pancakes—while we peddled, and bunny-hopped over snow-covered Blackrocks.
We ended the day at Blackrocks Brewery, located in a cute yellow house with a fence of skis. Inside was jam-packed, so we took our beers outside. The crowd spilled outside too. Other riders and snowboarders fresh off the slopes gathered on the porch or around the fire pit.
"Cheers to the genius who designed these," Evan said as we settled into a spacious, see-through igloo on the brewery's front lawn. It was so cozy inside we didn't want to leave. While chatting with a local, we learned there were more trails to shred at Harlow Lake—15+ miles of groomed trails, he said, with epic views and some of the most difficult technical riding in the Midwest. He told us there were even rustic cabins with bunk beds, woodstoves and outdoor fire pits along the trails. I made a mental note to reserve one our next time out.
We took another local's suggestion and headed to the Portside Inn for dinner in downtown Marquette. "Just don't start with the breadsticks," she warned. "If you do, get your entrées to go."
We didn't understand what she meant until an hour later when we were picking the last buttery, garlic- and parmesan-crusted crumbs off the plate.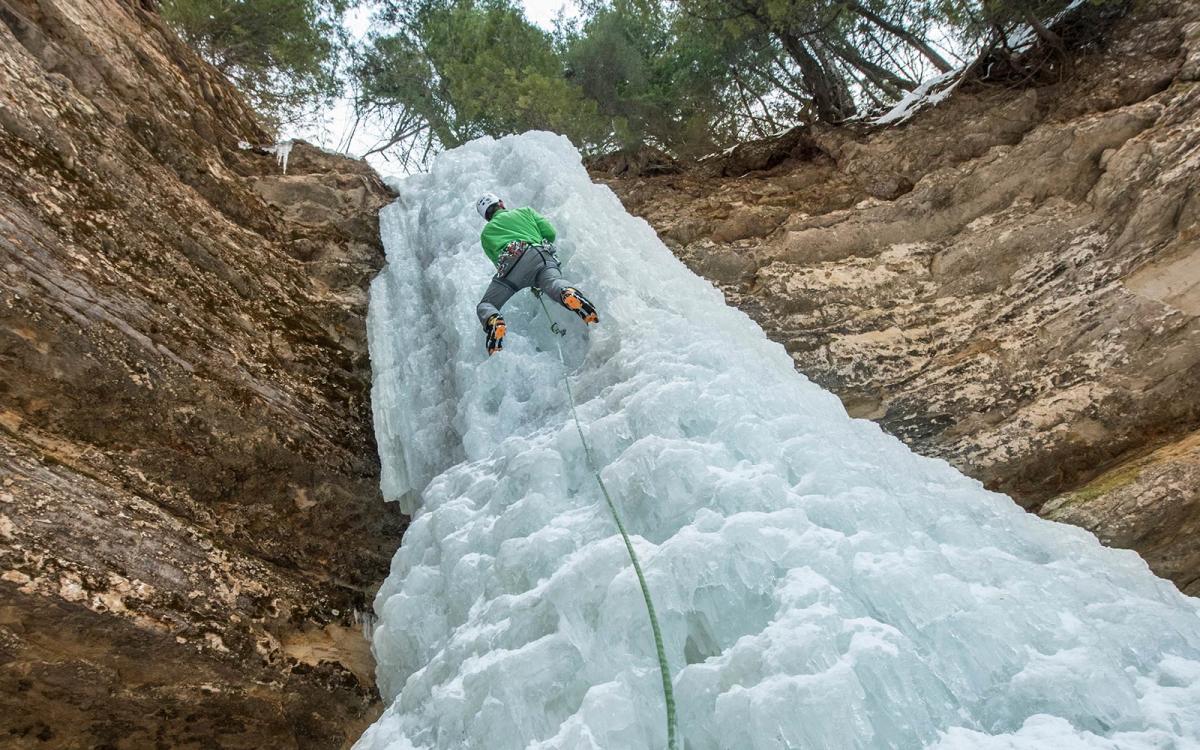 Conquering the curtains
The next morning, after homemade biscuits and gravy at Café Bodega, we walked across the street to Downwind Sports to rent ice climbing gear. This wasn't going to be a footprints-in-the-sand kind of vacay. The guys and I were going to leave etchings in the ice. Our adventure would begin about 25 miles southeast of Marquette.
"How many people can say they've gone ice cave hopping?" Evan asked in anticipation.
We were among the privileged few at Eben Ice Caves that day. More like colossal ice curtains, the caves were as incredible as they were accessible. We donned our Yaktrax—basically ice cleats— and were glad we had because once we hiked across the field to the caves, we had plenty of traction to explore them. We ducked under blue-green tinged sheets of giant icicles frozen together to look out from inside of the cave. But that was just the warm-up for what would come next.
We headed another 30 minutes down the road to Pictured Rocks National Lakeshore. This summer paddler's and hiker's dream was transformed into a giant wall of ice, perfect for climbing. None of us had ever done any climbing, much less on ice, but with the right gear, we felt like old pros after conquering The Curtains.
"We need to come back for Michigan Ice Fest," Matt proclaimed that afternoon, over beverages at Ore Dock Brewing Company. The nation's oldest ice festival offers clinics from beginner to advanced.
"One climb and you're hooked," I said sipping my black-cherry hard seltzer, made with Lake Superior water.
"Let's go," Craig said. "We have a date with Marquette Mountain."
Catching air
Three miles from downtown, we arrived at the slopes just in time for night skiing—or in our case, snowboarding. We hit every jump and rail in the terrain park, checked off a few black diamonds, and even explored the backcountry area aptly named "The Jungle."
We wound down over poutine and pints at Stucko's Pub & Grill. Well, technically, they were double-pints. Stucko's signature drink is draft beer served in a frozen 32-oz. Shoop glass.
The next morning greeted us bright and early.
"Welcome to Suicide Hill," our ski jumping instructor said. If he was trying to scare us, it didn't work. We wanted an adventure, and Marquette was delivering on all fronts. Just 15 miles from Marquette was Michigan's only ski jumping school with five progressive ski jumps just waiting to be conquered.
"Gain and maintain," said Coach Gary. Speed was essential for successfully making these jumps—13, 25, 40, 60 and 90 meters—the longest nearly the length of a football field. One at a time, we made our bodies as aerodynamic as possible before launching ourselves into the sky. The feeling of flying through the air surrounded by nothing but more air was beyond exhilarating! We celebrated over burgers and wings at Jackson's Pit in Negaunee.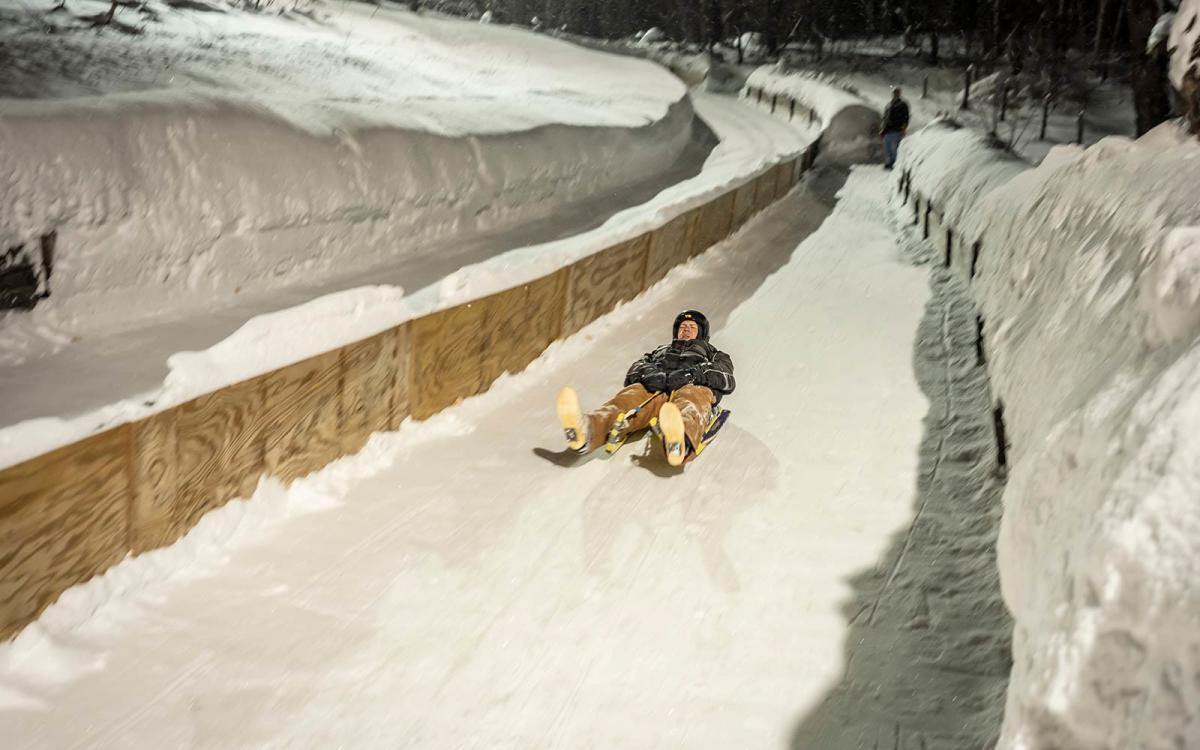 Speed sliding
That afternoon, we joined the Upper Peninsula Luge Club at their Lucy Hill Luge Track, also in Negaunee, where luge Olympic hopefuls train. We spent the better part of the day on our backs, feet first, racing down the country's only full-length natural luge track, shrieking like 5-year-olds sledding for the first time.
On our last night in Marquette, we took turns bragging about who luged faster, rode harder, jumped farther, while relaxing in the taproom of the Cognition Brewery, located in a historic former hotel. With its extensive list of beers on tap, every day is "Cogtoberfest" at Cognition. Then we headed down the street to eat at Congress Pizza.
"Want to try our homemade cudighi?" the waitress asked before explaining cudighi was a type of sausage from Italy that is now a UP specialty.
"When in Marquette," Craig answered for all of us. It was the perfect answer.
"When in Marquette" pretty much summed up our three-day trip. We were dreading our flight back. But now we knew. Marquette was the place to come for outdoor thrills. We couldn't wait until next time.