4 Marquette Waterfalls in 1 Afternoon
Looking to hit multiple falls in a day? Do you have a bit of time between breakfast and the beach, or between lunch and jumping off Black Rocks, or even (because the days will only get longer from here on out) between dinner and a late-night bonfire.
Put these four falls on your list, and you can check them off in just one afternoon, although we don't recommend rushing…

Wright Street Falls
If there were a difficulty rating for Marquette waterfall access, Wright Street Falls would be the bunny hill. Located just a ten-minute drive from downtown, these falls are easy to access and beautiful to explore.
To get to the falls make your way west of town on Wright Street. Shortly after passing the Board of Light and Power on your right side, you'll come to a dirt parking lot. You can either park here and walk a short distance along the river trail, or find parking in a smaller lot directly next to the falls a little further down the road.
These falls sit in the middle of an extensive network of trails known as the Noquemanon North Trail Network. These are non-motorized, multi-use trails that are popular for biking and hiking.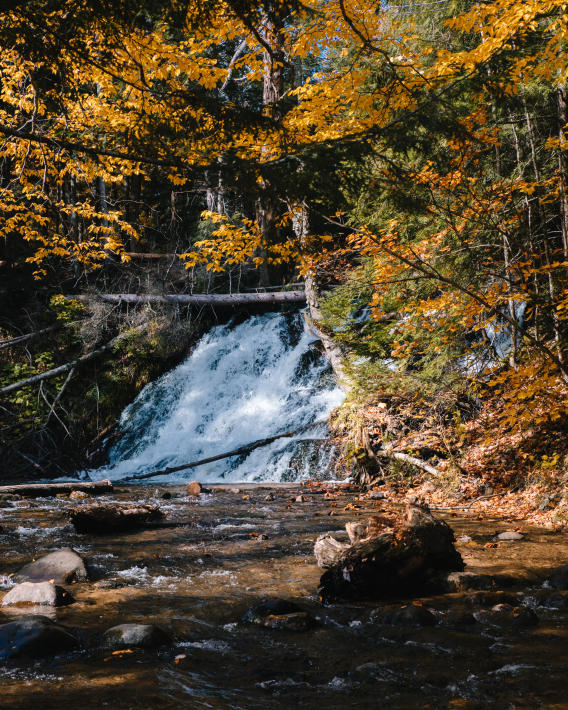 Morgan Falls
If you're looking for a little longer but still casual walk to see a waterfall, this is a great option for you. Morgan Falls is certainly a local favorite. 
To get to Morgan Falls you will travel south of town on M-553. Right before passing the sign for Rippling River Resort, you will come to a large dirt parking lot on your left. This is the Noquemanon Trail Network South Trailhead and is where you have to park. Do NOT park on the dirt shoulder on the right side of the highway, this is not allowed and is dangerous with the short sight distance and high speed of traffic. 
After parking at the NTN South Trailhead you can follow the trail from the parking lot that takes you south to a designated highway crossing and allows those who cross, either on bike or by foot, much longer and safer sight lines for traffic in both directions. Once across M-553, take the path that leads to Mount Marquette Road. This is closed to motorized traffic but is open for bikers and hikers to use. 
Walk the road for approximately 1.5 miles. You'll be able to hear the waterfall from the road — just follow the path down, cross the wooden footbridge and you'll see the 20-foot falls (and large pool) just below you.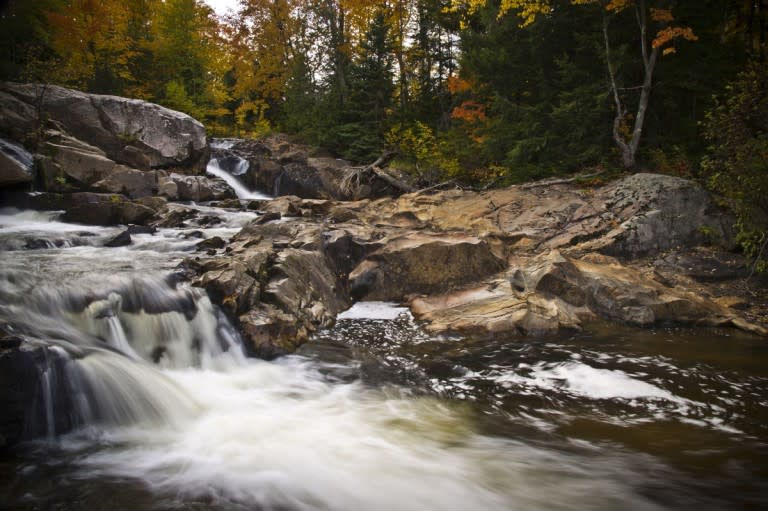 Yellow Dog Falls
Yellow Dog Falls is a further drive from Marquette than the other waterfalls listed here, but they are worth the drive time, and once you get to the trailhead, aren't that difficult to reach. Besides, you'll be glad you made the trip as you meander along one of the wildest streams east of the Mississippi, where native brook trout — Michigan's State Fish — swim lazily in rocky pools and multiple waterfalls can be seen in just a two-mile section of the river.
The drive to the falls begins by heading towards Big Bay and CR 550. Just before Big Bay, turn left onto CR 510 and drive seven miles, be sure to continue on 510 by turning left at the intersection of AAA Road.
After crossing the Yellow Dog River bridge, park on the left side in the small parking area, and follow the trail about 3/4 of a mile downstream to the 20-foot falls. For a longer and more adventurous hike, keep following the river another 1.5 miles downstream to Bushy Creek Falls — an equally awesome, multi-tiered falls that also offers good brook trout fishing in its pools. The Yellow Dog River in general drops very fast over a small distance before emptying into Lake Independence, so if you're heading that way and have a whole day to spend exploring, be sure to look into the many other small falls in the area.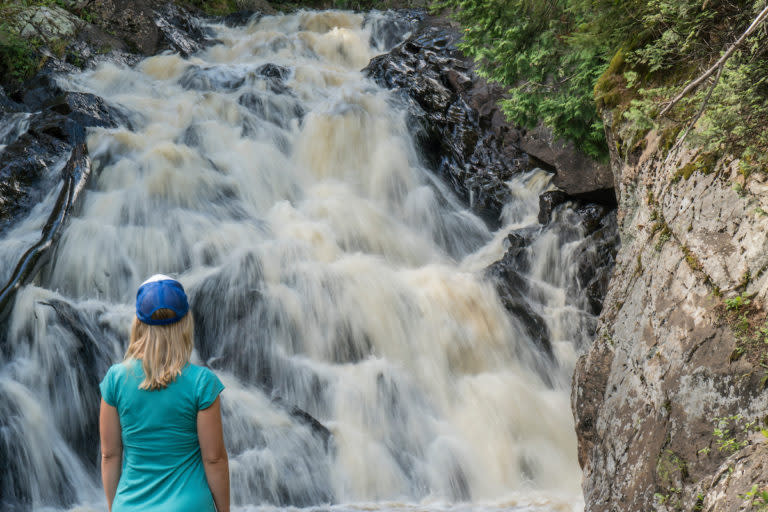 Pinnacle Falls
As long as you're heading up to the Yellow Dog Falls, you should make it a point to check out Pinnacle Falls. Take 510 road south from County Road 550, for about 3 miles to the AAA road. Turn west and travel for about 5.5 miles to Pinnacle trail on the left. Turn south for about one mile, then curve east then south for 1/2 mile until the road dead-ends in a small parking area. Take the foot trail to the south of the parking area and follow the hill downward southeast, for about 15 minutes. Down by the river follow the ancient trail upstream to the falls.