With a hip craft beer and food scene, a bustling downtown and an abundance of outdoor recreation, discover why these Marquette locals wouldn't want to live, work, or play anywhere else.
A bit off the beaten path, Marquette, Michigan sits near the top of the Upper Peninsula, on the shores of Lake Superior, the world's largest freshwater lake by surface area.
Not on the way to anywhere, you have to plan a trip to Marquette to unlock its secrets.
"It's not a travel-through place," explains Drew E., who came to Marquette for college and never left. "You have to make a trip out of it. People who want to see the area have to put in the effort."
Those who do are rewarded with something special. Discover the lure of Marquette and why these locals wouldn't want to live, work or play anywhere else.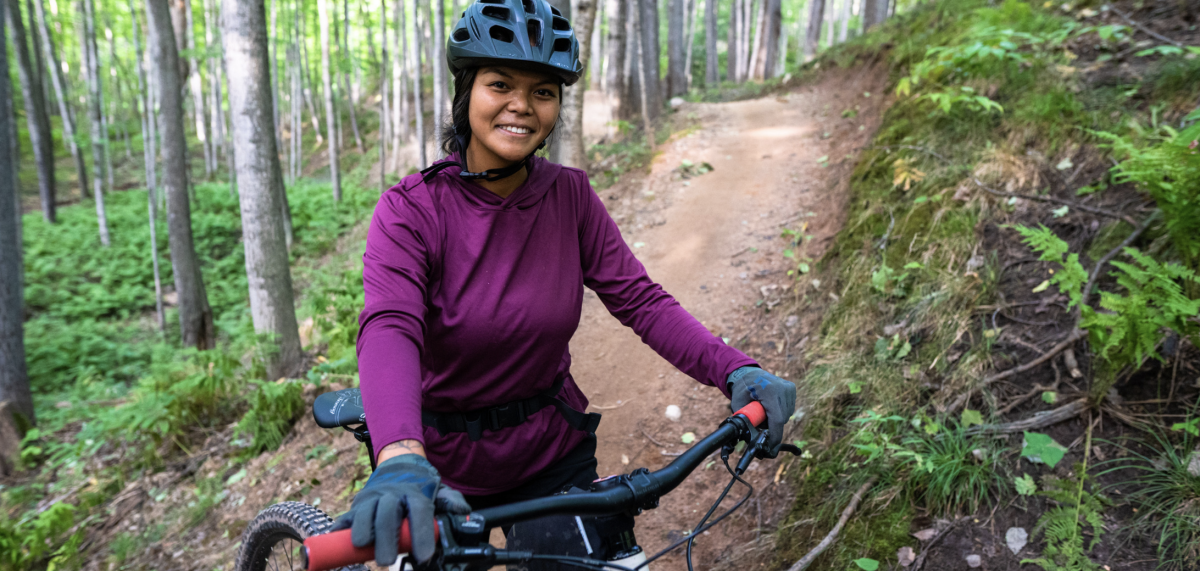 ALEXA
MOUNTAIN BIKER, VEGGIE LOVER, BEER MAVEN
Alexa A. came to Marquette to study outdoor recreation and immediately fell in love with the town.
"I said, 'Wow, this is the place I want to be."
At Northern Michigan University, she learned about the region's indigenous history, which helped establish Marquette's sense of place and her fondness for Gitchi-gami, the Anishinaabe word for Lake Superior, or "The Big Sea."
"It's its own force of nature," she said. "It grounded and inspired me."
After graduation she moved away, first to Montana then to the White Mountains of New Hampshire, then the mountains of Western North Carolina. But all the while, she heard Marquette calling.
"There is something about Lake Superior that always calls you home."
After returning to Marquette, she dove back into all of the experiences that made her fall in love with the town.

"My perfect day in Marquette is a Saturday morning trip to the Farmers Market to gather fresh, local veggies and eggs for a great brunch. Then a walk down to Lake Superior for a mid-afternoon swim.
An avid mountain biker, the trails around Marquette are perfect for all levels of riders, she said.
"My favorite places to go are the Harlow Lake area and South Trails. There is a lot of challenging and varied terrain for anyone, from those just starting to expert level. "My other favorite is to go brewery hopping on my bicycle. The Iron Ore Heritage Trail takes you along the shoreline and you can visit several breweries. That definitely makes for a really fun day."
When she is not riding the trails, or serving up beers at Ore Dock Brewing Company, she enjoys Marquette's many festivals and events.
"One of my favorites is one that Ore Dock hosts, 'Festival of the Angry Bear,' held in early April. It's when we release all of our sour beers. They close down the block of Spring Street and there is music and costume contests and it's just a great time—and a great time to visit, with fewer crowds, but still lots going on."
---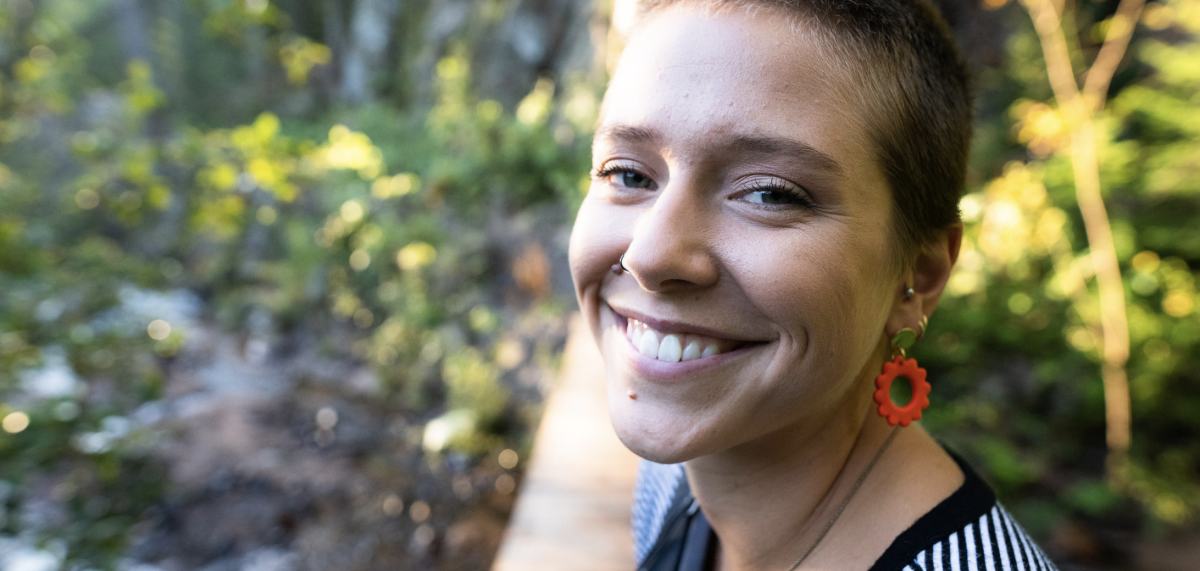 JOSIE
HIKER, DOG MOM, BEER LOVER
Josie D. came to Marquette to visit her sister and fell in love.
After visiting for three years, she finally arrived in Marquette to stay.
"One of my favorite things about Marquette is its proximity to so many natural places," she said. "I do a lot of hiking and Harlow Lake is one of my favorite spots. It's a smaller lake, with a big trail system and cabins you can rent."
She also loves that Marquette is such a dog-friendly city.
"Sometimes I will go to a friend's house and pick up his dog and take him for a hike."
On top of the natural beauty of the area, Josie fell in love with the community.

"Marquette has this crazy sense of community that I haven't experienced before. There's always something going on whether it's music, an art event, a group bike ride. It has a small-town vibe, but has a lot more going on than a small town. And I honestly think we have the best beer. And the people. Some of the greatest people I have met are here."
Between the natural splendor, fantastic beer and amazing people—what's not to love?
"Every time I leave and come back and see the lake for the first time on my drive back, I get overcome with emotion. It's never not going to be beautiful."
---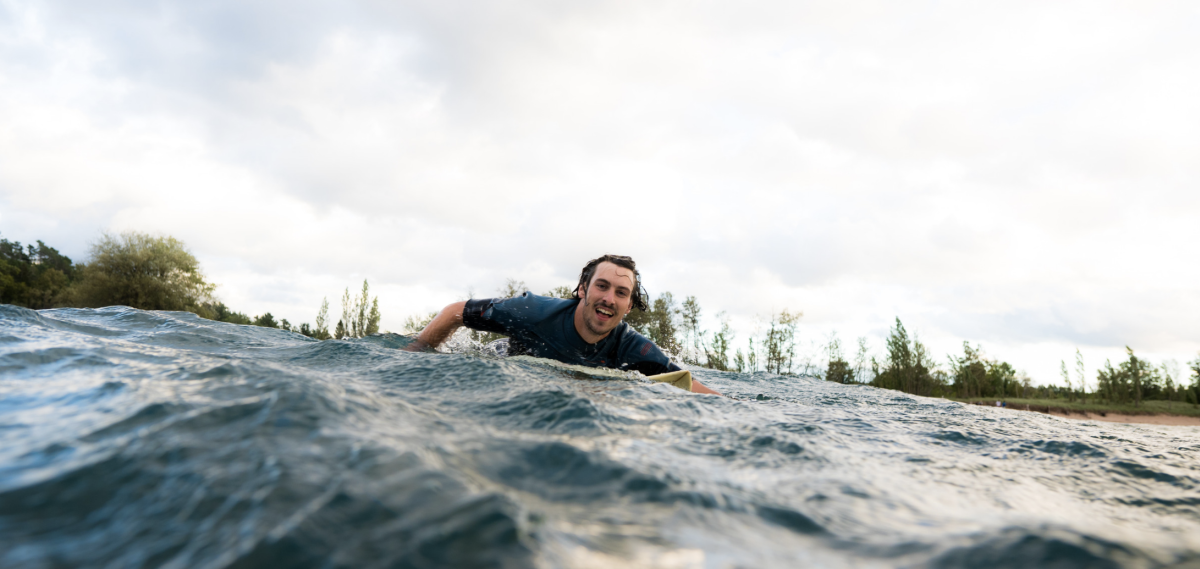 REISS
SURFER, FOODIE, COCKTAIL ARTIST
Reiss S. had been a visitor to Marquette for eight years before making it his home.
Growing up on Lake Michigan, he found the landscape in Marquette rivaled even that.
"Marquette is hard to beat," he said. "Everything is just a bit more spectacular here."
Having grown up in his family's surf shop, he's been an avid surfer for years and is one of a small but growing number of hardy souls who winter surf on Lake Superior.
"It's been a super niche sport for years, but has gotten a lot of traction recently. On a good day, at this break called The Zoo, there are maybe 15 to 20 people out there."

While Lake Superior doesn't have sharks or coral reefs, what it does have is dangerously strong currents, making
surfing one of the more extreme sports best left to the experts. But Lake Superior still offers plenty of spots for water activities for the less experienced. "Right around Presque Isle, there is a beautiful little peninsula where you can kayak or paddleboard around Blackrocks. It's an easy way into the water."
When he's not riding whitecaps, you can find Reiss behind the bar at Delft Bistro, mixing up a craft cocktail.
"I found something here, I haven't found anywhere else," he said of Marquette. "We've got this really lively city, but you can be completely away from it all and then be out in the life of it at Blackrocks Brewery having a beer. I can walk to Lake Superior in a few minutes. I can get in my car and in a five-minute drive, be in the forest surrounded by spectacular waterfalls. There is a huge diversity of activities you can hop into here. You can go from playing on the water in the morning to being surrounded by forest on a peaceful hike in the afternoon."
---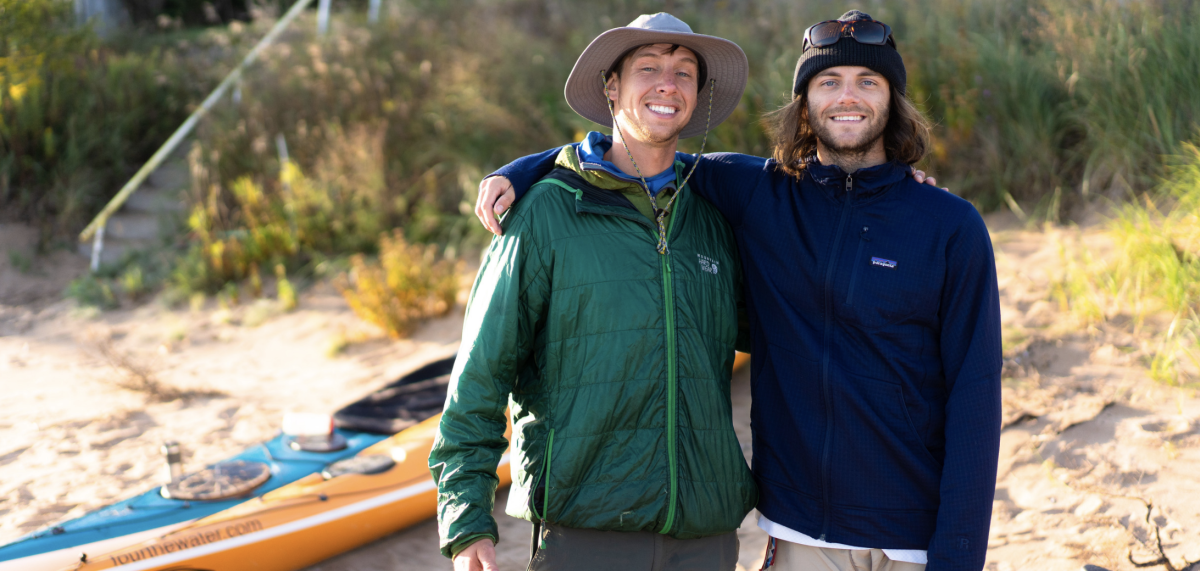 JARED & DREW
KAYAKERS, SURFERS, SNOWBOARDERS
Jared V. and Drew E. are roommates, kayakers and fans of all things Marquette. Both came to Marquette for college and stayed after graduation.
In the summer of 2018—along with friends Karol R and Ryan B—they embarked on a paddling adventure around Lake Superior documented in the film "Four the Water."
"We thought it would be a cool opportunity to explore our interests in environmental studies, meet locals and see what's going on on the lake."
For 102 days, they paddled around the shores of the massive lake. The trip solidified their love of the lake and Marquette.
"It's a great place to explore the outdoors and enjoy the town and the people," he said.
"That is one of the greatest things about this city," explained Drew. "With Marquette, everything is so accessible."
"It's a big enough town to have all these great restaurants, coffee shops and breweries, but you can drive for 10 minutes and you are out in the woods surrounded by the quietness of nature," said Jared. "The accessibility to the outdoors makes it a playground for all sorts for activities."

Every season brings its own spectacular scenery and opportunity for adventure.
Summer is for jumping off rocks, hiking, mountain biking, rock climbing, standup paddleboard and kayaking or just combing the shore for beach glass and Lake Superior agate.
"There are five different beaches right in town," said Drew.
Fall is great to see the fall colors. Winter is for all things snow and ice, from skiing and snowboarding at Marquette Mountain to ice climbing, cross country skiing, snowshoeing and Marquette's celebrated UP200 dog sled races.
"Spring is for snowboarding and skiing and a good time to get back out on the town and for heading to the beach for that first cold dunk of the season," said Drew. "Between all of the outdoor activities and the people here, Marquette is just a great place to be."
Now, when you plan your trip to Marquette, you can explore like a local, now that you know all the inside tips and hidden places.
Well, maybe not all.
"I definitely don't want to give away all my secret spots," said Drew. "You've got to come and find them!"