Whatever your family's vacation style is, Marquette County has an adventure for you! Love to be outdoors, surrounded by nature? Curious for knowledge and hands-on exploration? Prefer to wander and see what you can discover? We've got that!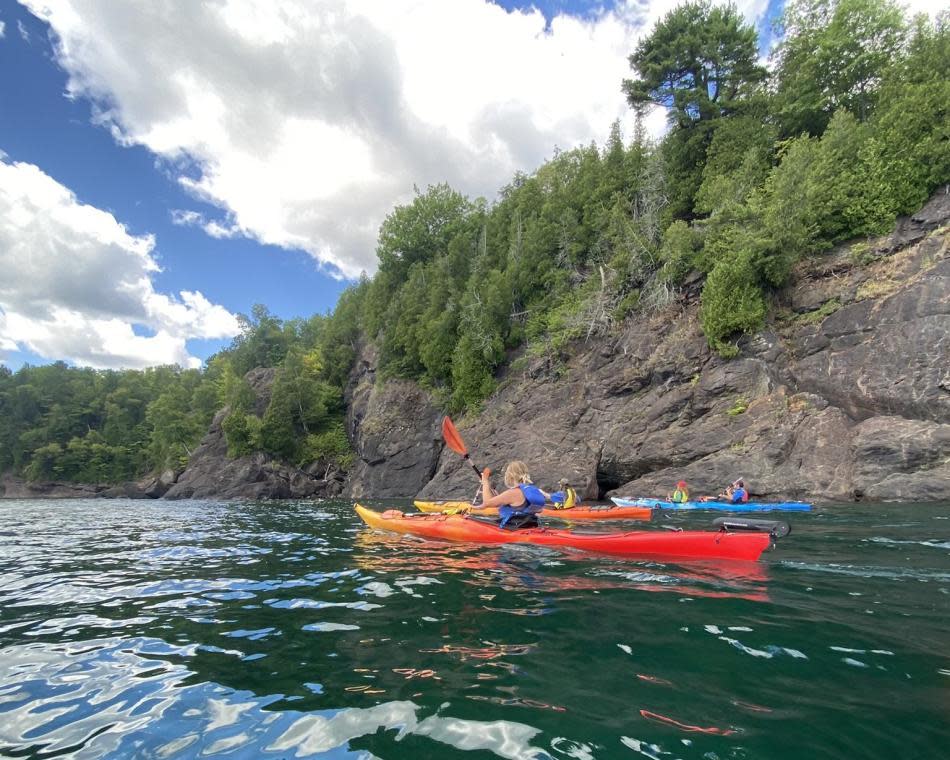 Full Speed Ahead Adventures
EXPLORE THE SHORE
A visit to Marquette isn't complete without experiencing an adventure involving our star attraction, Lake Superior, the largest freshwater lake in the world! With 83 miles of shoreline to explore, you can walk or paddle along this natural beauty to your heart's content. Marquette Mountain offers guided kayak tours that are perfect for inexperienced paddlers and families with children.
SPLASHABLE FALLS
With an abundance of waterfalls — Marquette County is home to 10 you can hike to — you are sure to find one that offers easy access for the kiddos with refreshing wading pools for splashable fun. Morgan Falls is just a 10-minute drive from downtown Marquette but feels world's away tucked in a cool green forest.
Hike or bike the mile and a half down the rugged two-track and look for the sign, then descend the staircases to get to the falls. If you get to the wooden bridge, you've gone too far.
HIKES WITH 360-DEGREE VIEWS
Both Sugarloaf Mountain and Mt. Marquette (not to be confused with Marquette Mountain, the ski hill) offer climbs with rewarding views from the top. Sugarloaf's half-mile climb on mostly stairways takes just a short 20 minutes and features several viewing platforms with stunning 360-degree views of Lake Superior to the north and east, and the city of Marquette to the south. You'll want to linger and take it all in. 
You can hike or drive to the top of Mt. Marquette, making it super accessible for explorers of all ages and abilities. The road up is a bit rugged, narrow, and steep. It's also a seasonal road, only open to snowmobiles in winter. There are several viewing areas. The first requires a few steps up over rocky, uneven terrain. The second offers easier walking over flatter terrain. The panoramic view of Marquette and all its splendor from the top of this 1,200-ft. peak is simply awesome!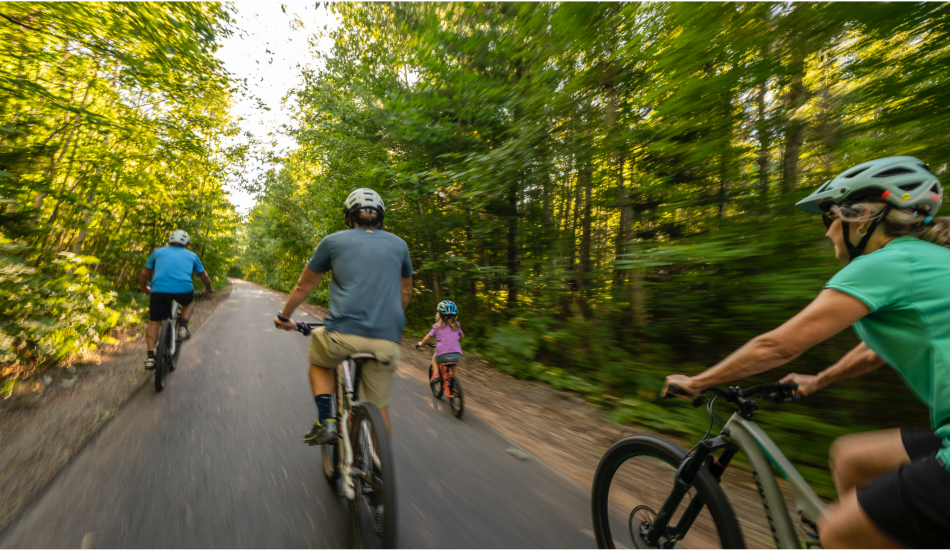 Curious By Nature 
Ride through History 
For a relaxing and rewarding way to explore, discover the region's iron ore history by biking a section of the 47-mile Iron Ore Heritage Trail. The trail winds through woodlands and small towns, past cool streams, and along Lake Superior shoreline, and features interpretive signs and mining displays, like a restored kiln. Head to one of the ten trailheads to begin your ride. There's even a bike repair station with an air pump on the trail.  
If you are not sure where to start, Jackson Mine Park in Negaunee is a great place to begin. The site of the area's first open pit mine, which opened in 1845, the park features kiosks with maps and stories of the hardy miners who immigrated from the British Isles, Scotland, and Finland and helped shape this region. 
Cliffs Shaft Mine Museum, just a 3.5-mile ride down the trail, is full of artifacts and more mining history, and don't miss a visit to the Michigan Iron Industry Museum, the site of the first iron forge in the region, for the full picture of mining history.
More than Mining 
Mining isn't the only thing the area is known for. The historic town of Ishpeming is known as the birthplace of organized skiing in the U.S. and is home to the U.S. Ski & Snowboard Hall of Fame.
For a nature escape for the whole family, head to Moosewood Nature Center at Presque Isle Park, and take the short, easy bog walk, suitable for all ages. Check out the interpretive center for animal exhibits, educational displays, and events. For winter exploration, the Center offers snowshoe rentals for a small fee. 
Kids of all ages will love a visit to Lakenenland Sculpture Park, a true hidden gem full of whimsical sculptures all created by one man and local legend, Tom Lakenen. You can walk or drive through, but we recommend walking to get the full experience. Fun photo ops anytime of year.  
For some indoor thrills, head to Escape Marquette and book a family adventure of your choosing. Search the Magic Castle for the dinosaur egg, Break into da Yooper Camp, Catch a Killer, or find the oxygen supply while you're Submerged for a fun experience the whole family will enjoy! 
Downtown Explorer     
Play Day, Clay Day or Hands-On Fun 
Downtown Marquette is packed with opportunities for exploration and fun! Start your day at the Upper Peninsula Children's Museum where little explorers can participate in an archeological dig, crawl through the Fantastic Forest, interact with turtles and snakes and see a live bee hive in action, or play pilot, conductor, or miner in one of the museum's interactive exhibits. 
For more hands-on fun, head on over to HOTplate Clayworks, choose your pottery from piggy banks to plates, mugs, planters, picture frames, and more, and paint your masterpiece! 
Now that you've worked up an appetite from all that play, it's time for a snack. Step into Donckers and you'll see why this restaurant and old-fashioned soda fountain, candy counter, and chocolate shop has been a Marquette mainstay for nearly 130 years! 
Escape from Reality
Full and ready for more fun, Edge of Reality VR Arcade offers up more than 50 games and experiences that change monthly. Don a headset and escape for an hour into a virtual world of robots, zombies, pirates, gladiators, and more. You can even soar over the Grand Canyon or stroll around the Eiffel Tower with Google Earth!

Fresh Coast Fun
Step out into the sunshine and head down the block to Ellwood A. Mattson Lower Harbor Park and stretch your legs on the city walking/bike path, take in the view of Lake Superior and the Ore Docks, and let the kids enjoy the playground. 
Stay on the path (or take Lakeshore Boulevard) down to the Marquette Maritime Museum to explore the region's nautical history, including the ill-fated Edmund Fitzgerald. Next door, visit the Marquette Harbor Lighthouse and take the guided tour, and don't miss the spectacular view from the lookout!
End your afternoon at the popular, lifeguard-staffed beach at McCarty's Cove. Stroll along the sandy shore and dip your toes in the cold clear waters or go for a swim for some unsalted Fresh Coast Fun!